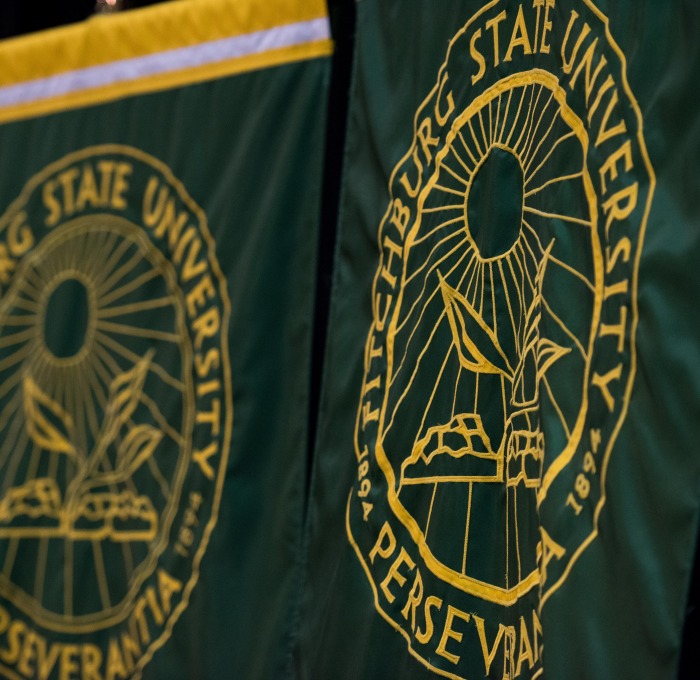 We celebrate our 125th Commencement Exercises in 2021. Based on public health guidance, we are conducting these ceremonies virtually. Links to the ceremonies will be posted below. 
Watch Our Virtual Ceremonies
Thursday, May 13 at 6:30 p.m.
Graduate Commencement Ceremony
The Graduate Ceremony premiered at 6:30 p.m. Thursday, May 13. The event included remarks from Graduate Student Leadership Award Winner Christopher S. Brooks.
Saturday, May 15 at 10 a.m.
Undergraduate Commencement Ceremony
The Undergraduate Ceremony premiered Saturday, May 15. The event included remarks from Valedictorian Joseph A. Bourgeois.
Congratulations from Fitchburg State Alumni!
The Class of 2021 has much to be proud of, and we will create a memorable ceremony, worthy of your achievements.
---
Caps and Gowns
Caps and gowns are available for purchase in the Bookstore and online. For online purchase, students should go to fitchburgstateshop.com and enter the term graduation in the search bar.
Commencement Honorees
Graduate Student Leadership Award
Christopher S. Brooks
Christopher Brooks was already an established professional when he decided to return to Fitchburg State to pursue another advanced degree.
Brooks briefly attended Fitchburg State after graduating from high school, but decided to pursue a different path by enlisting in the U.S. Navy. He credits his military service for helping him grow as a person. After serving, he went to physician assistant school. Because he was taking his boards, he missed his undergraduate commencement in 2001.
His lengthy health care career has included service as a physician assistant in emergency room settings, as well as orthopedics, and currently in neurointerventional radiology, where he shares duties as a stroke coordinator in his current role.
Brooks was inspired to pursue a business degree by one of his patients, who described how it could broaden his professional horizons. He completes his Master of Business Administration with a concentration in healthcare management tonight, for which he earned with a perfect grade point average.
He lives in Gardner with his wife and their 16-year-old daughter.
Valedictorian
Joseph A. Bourgeois
Joseph Bourgeois distinguished himself as a driven student during his years at Fitchburg State, balancing the demands of working on- and off-campus with a commitment to excelling in the classroom.
Bourgeois came to Fitchburg State in the fall of 2017 to pursue a degree in business administration with a concentration in accounting, as well as a degree in economics. In each of his eligible semesters he was named to the President's List in recognition of his outstanding academic performance.
Bourgeois was also inducted into Sigma Beta Delta (the business honor society) in 2019, and this spring received the Alex Donker Award for Excellence in Economics and the Outstanding Senior in Accounting Award.
Beyond the classroom, Bourgeois was a valued member of the university's Financial Services team, where he was a student worker since May 2019. In that role, he executed accounting functions as well as provided office support. In addition, he supported his fellow students as a tutor in his junior and senior years. Bourgeois also maintained an off-campus job as a tech sales associate.
With his degree now complete, Bourgeois is looking for a full-time position in accounting. He lives in Gardner.