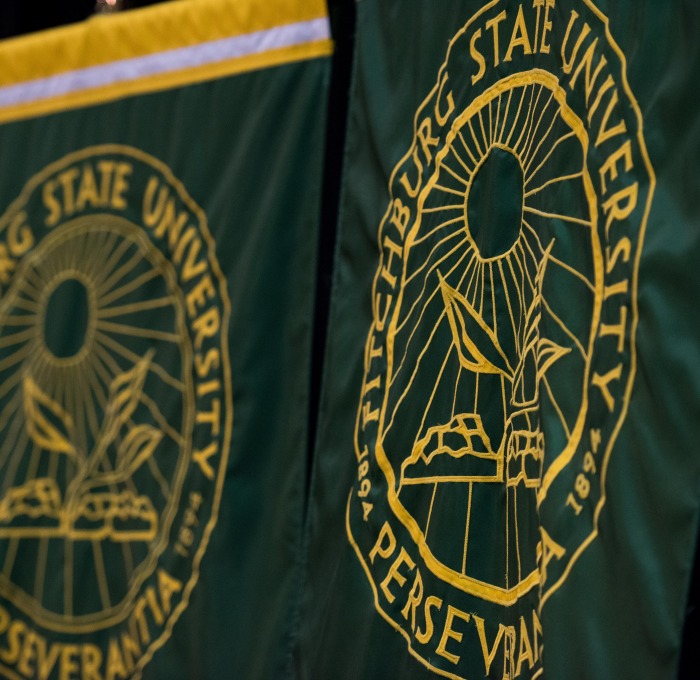 We celebrate our 125th Commencement Exercises in 2021. We will hold our Winter Commencement Exercises at 6:30 p.m. Friday, Dec. 17, at the Athletics and Recreation Center, 130 North St. This page contains important information for graduates planning to participate in the ceremony, along with details about the Falcon Graduation Walk where graduates and family members may get free, professional photographs in advance of the ceremony.
In addition to the in-person ceremony, the event will be streamed live via Fitchburg Access Television.
In compliance with Fitchburg State University policy, masks are required for the Winter Commencement Ceremony. The celebration will be a ticketed event at the campus Recreation Center. A maximum of three guest tickets will be available to each graduate. More information for acquiring tickets will be sent to students registered to graduate via their university email.
All guests must attest they are free of COVID-19 symptoms before being allowed to enter the Athletics and Recreation Center. The university's attestation form can be printed and signed in advance, and forms will also be available outside the ceremony.
Remote viewing locations will be made available during the ceremony for additional guests, in addition to the livestream for off-campus viewers.
Learn more below or read our graduate information booklet.
Important Information
Graduates can see the steps they need to complete to participate in the ceremony on Friday, Dec. 17.
We have created a free, in-person experience for graduates and unlimited guests to celebrate their achievement with a professional photo shoot.
Ceremony Information
Commencement Schedule
Commencement is scheduled for Friday, Dec. 17 at 6:30 p.m. There is no rehearsal. Graduates are asked to arrive at the Athletics and Recreation Center no later than 5:45 p.m., where volunteers will be standing by to assist. The ceremony will be approximately two hours long. The guests' seating area will open at 4:30 p.m.
Graduates will be lined up alphabetically within their division and major. Each graduate's name will be read as they cross the stage and they will receive a diploma cover from President Lapidus. Graduate students will be hooded by the deans on stage prior to receiving their diploma cover.
You will be given an index card on which your name has been typed. If you have a name that is difficult to pronounce, please provide the phonetic spelling. Please do not lose this card! When you approach the platform, this card will be handed to the reader. The chair of your program will lead the graduates on stage and present them to the president and the chairman of the Board of Trustees. Please return to your seat promptly upon exiting the stage. Commencement can also be viewed streaming online by going to fitchburgstate.edu and clicking on Commencement 2021.
Parking
Find directions to the campus and designated parking lots for the ceremony. Shuttle buses will be in operation between the Intermodal Center parking garage and the Athletics and Recreation Center from 5 to 9 p.m.
Contact Information
Registrar: 978-665-4196
Academic Affairs: 978-665-3168
Graduate & Continuing Education: 978-665-3182
Bookstore: 978-665-4026
Alumni: 978-665-3025
Campus Police: 978-665-3111
Disability Services: 978-665-4020