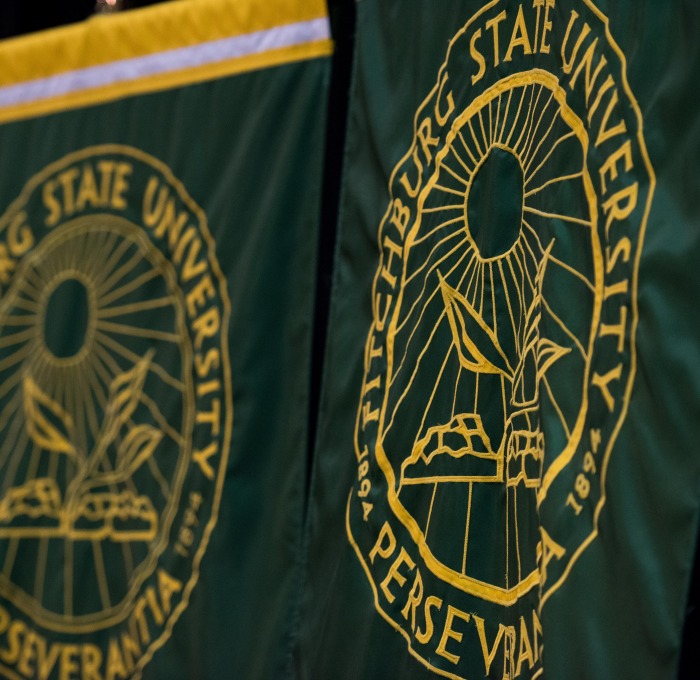 We celebrated our Winter Commencement Exercises at 6:30 p.m. Friday, Dec. 16, at the Athletics and Recreation Center, 130 North St.
Important Information
Graduates can see the steps they need to complete to participate in the ceremony on Friday, Dec. 16.
Learn more about how and when to apply to graduate.
Ceremony Information
Commencement Schedule
Commencement is scheduled for Friday, Dec. 16 at 6:30 p.m. There is no rehearsal. Graduates are asked to arrive at the Athletics and Recreation Center no later than 5:30 p.m., where volunteers will be standing by to assist. The ceremony will be approximately two hours long. The guests' seating area will open at 4:30 p.m.
Graduates will be lined up alphabetically within their division and major. Each graduate's name will be read as they cross the stage and they will receive a diploma cover from President Lapidus. Graduate students will be hooded by the deans on stage prior to receiving their diploma cover.
You will be given an index card on which your name has been typed. If you have a name that is difficult to pronounce, please provide the phonetic spelling. Please do not lose this card! When you approach the platform, this card will be handed to the reader. The chair of your program will lead the graduates on stage and present them to the president and the chairman of the Board of Trustees. Please return to your seat promptly upon exiting the stage. 
Parking
Find directions to the campus and designated parking lots for the ceremony. Shuttle buses will be in operation between the Intermodal Center parking garage and the Athletics and Recreation Center from 5 to 9 p.m.
Contact Information
Registrar: 978.665.4196
Academic Affairs: 978.665.3168
Graduate & Continuing Education: 978.665.3182
Bookstore: 978.665.4026
Alumni: 978.665.3025
Campus Police: 978.665.3111
Disability Services: 978.665.4020
Commencement Honorees
Graduate Student Leadership Award - Spencer D. Fuller
Spencer Fuller is an officer with the Northborough Police Department, where he has worked since September 2021. He reported to his first shift just days after completing Fitchburg State's police program, where he was a squad leader in the 4th recruit officer course. Fitchburg State's program allows graduates to complete their bachelor's and master's degrees, as well as certification to work in municipal police departments in Massachusetts and neighboring states, within a span of five years.
Officer Fuller began his graduate studies as soon as he reported for duty in Northborough. Just over a year into his professional career, Officer Fuller enjoys the opportunity to serve his community and appreciates the diversity of experiences he has encountered. He has also remained engaged with his alma mater, returning to address undergraduates in the police program about his own experiences, and to offer advice as they begin their own careers. Recognized by his peers, faculty, and police academy staff for his maturity and professionalism, Officer Fuller is celebrated tonight as a model of true leadership.
Valedictorian - Helen Dyer
Helen "Hallie" Dyer has been a standout scholar since her arrival at Fitchburg State University. Motivated by an interest in serving her community, Dyer was attracted to the university's criminal justice and policing program. That interest in public safety was fostered by her experiences in her hometown's police explorer program, where she continues to be a volunteer, directing program members in their education about criminal law and police procedure. She has also worked as an emergency medical technician for a local ambulance service.
At Fitchburg State, her passion for public safety was recognized with her selection as squad leader in the university's rigorous police program. This summer she interned with the Massachusetts Municipal Police Training Committee, where she researched and updated curriculum and co-authored the lesson plan concerning hate crimes. Dyer's academic interests extend beyond public safety. As part of her minor in biology, Dyer traveled to Costa Rica earlier this year to study tropical ecology. Her stellar academic performance earned her inclusion on the President's List and she approaches commencement with a perfect 4.0 grade point average.
Dyer is about to embark on a master's degree and looks forward to a career in public service. She lives in Westwood.