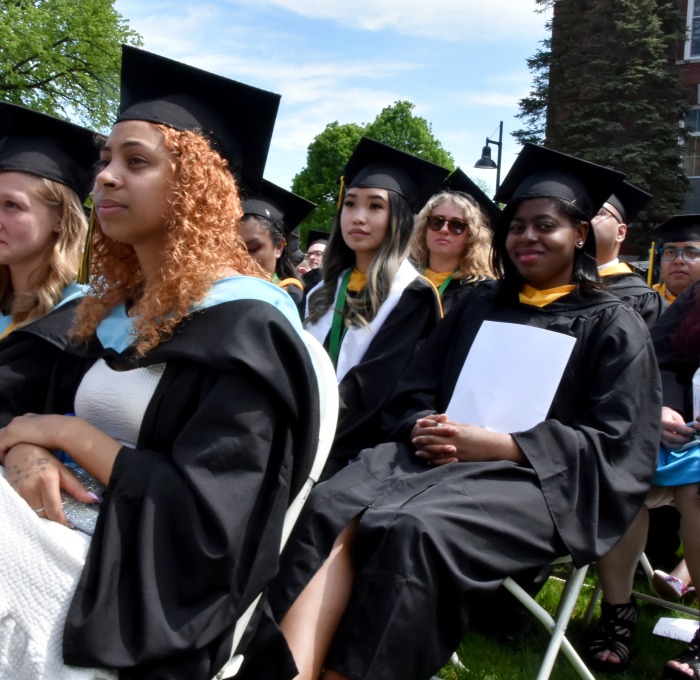 Weather Update
Fitchburg State University will hold its undergraduate commencement ceremony on the main quadrangle at 10 a.m. Saturday, May 20. The processional will begin promptly at 9:30 a.m.
Guests are advised there is a possibility of inclement weather during the ceremony and should dress appropriately. No tickets will be required for this event. Guest seating will open at 8:30 a.m. 
Graduates are asked to report for check-in by 8:30 a.m.
The ceremony will also be streaming live on FATV. The livestream will be shared at the following indoor locations on campus:
Hammond Hall, 160 Pearl St.

Falcon Hub
Ellis White Lecture Hall

Conlon Fine Arts Building, 367 North St.
Because of the forecast weather, the outdoor reception following the ceremony is canceled.
Action Items for Graduation
Undergraduate Commencement Booklet (PDF)
Clearance for Graduation and Confirmation of Attendance
To confirm you have been cleared to participate in graduation as well as to indicate if you will attend, please log in to your Web4 account. Click on Student>Student Records>View Graduation Application. If, while your file is being reviewed for graduation, the Registrar finds that you meet the requirements for participating in the ceremony (two classes or one internship left to take), you will be invited to attend the ceremony
It is essential that we know the exact number of students attending the ceremony. If you will not be able to attend, please contact the Registrar's Office by Friday, May 5 at 978.665.4196 or registrar@fitchburgstate.edu.
Transcripts and Important Information
If you took courses at another university, transcripts must be received by June 2. All unresolved obligations such as library fines, student loans, unpaid bills, and residence hall damages must be resolved before an official transcript will be issued.
Caps and Gowns
Caps and gowns can be purchased through the bookstore in Hammond Hall or through the bookstore's website. The Bachelor's package is $60. The hood distinguishes the institution from which the wearer is graduating and the degree being awarded. The bookstore hours for the week of graduation are: Monday 9 a.m. - 5 p.m.; Tuesday - Thursday, 9 a.m. to 6 p.m.; Friday, 9 a.m. to 4 p.m.; and Saturday, 8 - 11 a.m. Please contact the bookstore directly with any questions concerning academic regalia at 978.665.4026.
Senior Activities
Any questions you may have regarding senior class activities should be directed to Senior Class Committee Co-Chairs, SGA Advisor, Hank Parkinson, who are responsible for coordination of these events. They can be reached at 978.665.3163.
Diplomas
At graduation, you will receive a diploma cover with a certificate enclosed. All diplomas will be mailed to graduates by early July. Your name will be engraved on your diploma as you indicated on your graduation application.
Ceremony Information 
Commencement Ceremony Schedule
Commencement is scheduled for Saturday, May 20 at 10 a.m. on the main quadrangle of the Fitchburg State campus. There is no commencement rehearsal. The processional will begin promptly at 9:30 a.m. Please arrive no later than 8:30 a.m. and report to the area near the flagpoles at Highland Plaza on Highland Avenue on the street side of the Anthony Building. Guests will not be allowed to enter this area. There is no designated area for robing, so please arrive at Highland Avenue in cap, gown, and hood. The ceremony will be approximately three hours long.
Seating areas for guests will open at 8:30 a.m. Please note that there are no tents to shade the sun or ward off raindrops, so plan accordingly. Commencement can also be viewed streaming online at FATV (and digital downloads of the ceremony will be posted later at fatv.org/fsu).
Graduates will be lined up alphabetically within their school and major. All undergraduate students who are eligible for honors will receive honors medallions to wear with their commencement robes. You will be given an index card on which your name has been typed. If you have a name that is difficult to pronounce, please provide the phonetic spelling. When you approach the platform, this card will be handed to the reader. The chair of your program will lead their graduates onstage and present you to the president and school dean. Your name will be read as you cross the stage to receive your diploma cover from President Richard S. Lapidus. Please return to your seat promptly upon exiting the stage.
Commencement Ceremony Decorum
Commencement is a true milestone for each and every student. We welcome your excitement and enthusiasm as we celebrate this grand occasion. We also ask that our graduates and their guests respect the importance and dignity of the proceedings by staying for the entire ceremony. Guest who leave early may distract from the event, which would be disrespectful to the other graduates and their families.
Parking
Directions to the campus and parking lots can be found on our maps and directions page. Shuttle buses will be in operation to and from the Civic Center between 8 a.m. and 2 p.m.
Graduates and Guests with Disabilities
Graduates and any guests who have a disability can request accommodations through Disability Services. To request accommodations, please complete the disability accommodations form by May 2 or contact Disability Services by phone 978.665.4020 or email aernst2@fitchburgstate.edu. All requests will be reviewed, and seating and/or parking passes will be mailed to the address provided.
The ceremony will be ASL interpreted. Please contact Disability Services to discuss seating near the ASL interpreter. Large print and Braille copies of the commencement program are available with advance notice. The event will be captioned live online at fitchburgstate.edu/captioning. Guests requesting accommodations are allowed to have one additional guest seated with them.
Photographs
During the ceremony, access to the stage area for picture taking or videotaping by guests will be prohibited. Please relay this information to your guests. A professional photograph will be taken as you receive your diploma cover and congratulations from the president, and a free digital download will be sent to your university email address courtesy of the Fitchburg State University Alumni Association.
Campus Buildings and Services
All buildings will be open for restroom facilities. Medical services will be located in Hammond Hall. There will be several water stations throughout the quad. Snacks and water will also be available for purchase.
Commencement Honorees
Commencement Speaker and President's Medal Recipient - John Honeycutt '91
John Honeycutt is an Emmy Award-winning media and information technology pioneer. During his more than 30 years in the media industry, he has been at the forefront of innovation. 
In 2019, Honeycutt and his teams' contributions to the media industry were recognized with a Technology and Engineering Emmy Award from the National Academy of Television Arts and Sciences for advances in the utilization of cloud technology in the global media industry. 
Honeycutt began his media career as a member of The Mustang News, his high school newspaper, in Medford, Mass. He went on to serve in senior leadership roles at FOX, Discovery, and Google. In 2020, he founded Sandy Valley Media, a specialist consulting firm that is currently advising sports leagues, media companies, and investors in a disrupted media landscape. 
At Google, Honeycutt served as Vice President for Google Cloud's Media & Entertainment, Telecommunications and Gaming business, where he established and implemented GCP's initial product and go-to market strategy globally. 
Prior, Honeycutt spent 15 years driving innovation and transformation at Discovery Communications, culminating his tenure as chief technology officer. 
In London, Honeycutt served as chief operating officer for Discovery Networks International where he drove Discovery's global expansion into new territories and new platforms. 
He began his career at Liberty Media and NewsCorp working to establish FOX Cable Networks, FOX Sports, and National Geographic Channel as category leaders. 
Honeycutt serves as chair of the International Broadcasting Convention Council, is a non-executive director at Blackbird PLC, an adjunct professor at The American University's Kogod School of Business and a charter member of AU's Cybersecurity Executive Advisory Council, a member of The Society of Motion Picture and Television Engineers and a volunteer at Harbor Homes of Martha's Vineyard Homeless Shelter. 
Honeycutt is a 1991 alumnus of Fitchburg State University and lives in Edgartown, Mass. 
Valedictorian - Kenneth R. Aubuchon
Kenneth R. Aubuchon pursued his undergraduate degree with drive and focus, embracing and creating opportunities to excel at the highest level. 
The Leominster native knew about Fitchburg State's successful business programs from relatives in the field, and with two younger siblings he was mindful of affordability concerns for his family. 
He had success in Fitchburg State's classrooms and found he could support fellow students by working at the university's tutoring center, where he offered help in courses like business law and accounting. A course on world literature inspired him to study Japanese, where he translated his proficiency into additional tutoring opportunities. 
Beyond academics, Aubuchon was a member of the university's lacrosse club team, which he joined in its early stages before the COVID pandemic disrupted so many elements of campus life. The club resumed in his senior year, and again found success. 
Aubuchon plans to begin a career in accounting, but soon after graduating will be joining classmates on a study abroad trip to Japan. 
Important Contact Information