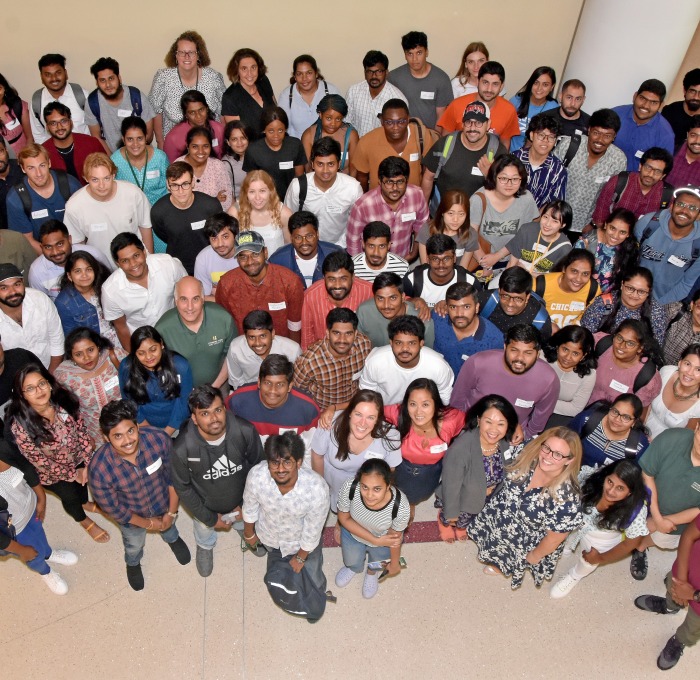 We welcome students from all over the world to our university! We work with you at all stages of your academic career to make sure you're getting the most out of your international college experience.
Future International Students 
We work with international undergraduate and graduate students from around the world to ensure you're getting the most out of your international college experience.
Accepted International Students
Resources for our accepted international students.
Transfer Students
Q: When is my Transfer Verification Form due to Fitchburg State University? Where do I send the completed form?
A: Completed Transfer Verification forms can be emailed to inthelp@fitchburgstate.edu. Alternatively, original completed forms can be mailed to:
Office of International Education
Fitchburg State University
160 Pearl Street
Fitchburg, MA 01420
Obtain your U.S. F-1 visa (OR, if you are transferring from another U.S. institution, have your current SEVIS DSO complete a transfer verification form).
Arrange your travel plans such that you arrive in time for the mandatory New International Student Orientation.
Notify the Office of International Education (OIE) of your visa approval (or completed transfer verification form) and your travel plans.
Determine how you will pay for your tuition and fees before your arrival.
Find either temporary or permanent housing near campus.
Make sure that the Office of International Education has up-to-date contact information for you, especially if you have purchased a U.S. mobile phone.
Health Records and Health Insurance
Please see the Health Services - International Students page.
Getting to Fitchburg
Q: How far is Fitchburg from Boston's Logan Airport (BOS)?
A: Fitchburg is approximately one hour from Boston, though students who take public transportation (subway and commuter train) from the airport to Fitchburg will need to budget at least two hours to allow for transfers and train schedules.
Q. Can I take a taxi from Logan Airport to Fitchburg?
A: A taxi from the airport to Fitchburg will be exceedingly expensive. Some students might find an airport limousine service affordable. Although these services are called "airport limousines" in the United States, the vehicles are not actual limousines. The vehicles are usually vans, sport utility vehicles, or regular four-door automobiles. A one-way trip from the airport to Fitchburg will cost approximately $100 to $150 per student. Students placing a reservation are reminded to ask whether the fare will include the gratuity to the driver. Here are a few local airport limousine services that you can call to compare fares and make reservations; other airport limousine services can be found in Fitchburg area online telephone directories:
Majestic Limousine Service: 877.970.0100
First Choice Limousine: 978.582.0005
Q: Can I take public transportation from Logan Airport to Fitchburg?
A: The commuter rail from Boston to Fitchburg is a much less expensive option than a taxi service or airport limousine; however, it is a bit more complicated to manage. Use the online MBTA trip planner.
Check the commuter rail schedule carefully if your flight will arrive in the late afternoon or evening, as the commuter rail might not be in service after you arrive at the airport.
Finances
Q: By what date must I pay my tuition and fees (and housing and meal plan / food, for on-campus residents)? Are installment plans available for tuition payments?
A: All students are required to pay tuition and fees (and housing and meal plan / food, for on-campus residents) in full within 24 hours of course registration. Course registration will take place during Orientation. Students who are not prepared to pay their tuition and fees in full at Orientation will not be permitted to register for courses.
Q: Can I pay my tuition and fees via credit card? What are my other payment options?
A: The Student Accounts website has detailed guidance on the frequently asked questions related to payment options.
Students interested in setting up a payment plan can find the directions for doing so through Student Accounts.
In addition, students may choose to authorize a wire transfer from a non-U.S. bank to Fitchburg State University to pay for tuition and fees. Please contact Student Accounts regarding Flywire (formerly Peertransfer) or go to the Flywire website.
Q: How soon can I open a local bank account?
Local banks have requirements for the types of documents a new customer must provide when opening an account. Several local banks allow international students to open new accounts on the basis of the following documents:
A valid passport
A current I-20
Evidence of local U.S. address (such as a copy of an apartment lease)
The student's Fitchburg State ID

The Fitchburg State ID is called a "OneCard," and each new international student will receive his or her OneCard on the second day of Orientation.
Please note that either U.S. currency or a check drawn on a U.S. bank is necessary to open a local bank account. Students should not plan to open an account using foreign currency. Alternatively, a student may authorize a wire transfer from a bank outside of the U.S. after opening a local U.S. bank account.
During the fall semester orientation, bank are invited on campus to meet with students. Here is a list of banks within walking distance of campus; each bank name is a link to the bank's website, so that students can examine the bank's rates and account options Please note that only Sovereign Bank has an ATM on campus.
Communication
Q: Where might I access the Internet to communicate with home soon after arrival?
A: New international students will receive their campus computer network login and password during orientation, and are welcome to use campus computers to email their families during breaks in the Orientation program. Some students prefer to set up WhatsApp prior to arriving. 
Q: Where can I purchase a mobile phone for my use in the U.S.?
A: During the fall semester, cell phone vendors are invited on campus to meet with students. There are several mobile phone vendors accessible via the public bus routes, as well as within walking distance to the CVS on Main St. 
Course Registration
Q: When can I register for courses?
A: New international students can register for courses during Orientation, provided they have met health requirements, are prepared to pay tuition and fees in full upon registration, and have undertaken placement testing, if required.
Q: Will there be any placement testing during Orientation?
A: For some students, placement tests will be conducted during Orientation:
Masters in Computer Science candidates will be tested to help determine proper placement and prerequisite courses.
Undergraduate students will be tested in algebra, reading, and writing. Details about this placement testing can be viewed at the Academic Support Services website. Please note that international students do not need to make their own appointments for placement testing. You will be tested during Orientation.
Q: When do courses begin?
A: The graduate school calendar can be viewed on the Academic Calendar page.
The undergraduate day school calendar can be viewed on the Undergraduate Calendar page.
Housing
Q: Can I apply for on-campus housing?
A: The University does not offer on-campus housing for graduate students. Undergraduate students interested in housing should contact the Graduate Assistant at the Office of International Education at inthelp@fitchburgstate.edu.
Q: How can I find out about off-campus apartment availability?
A: All international students are required to live within 50 miles of the Fitchburg State University campus.
The Fitchburg State Office of Housing and Residential Services has listings of off-campus housing. Newly arrived students can visit the office to view the advertisements. Check Craigslist and other online rental sites for availability. 
Finally, OIE occasionally learns of local landlords who wish to offer accommodation to international students. Contact information does not imply that our office has evaluated the apartments in any way. Our office merely offers rental information to new international students.
Orientation
Q: I can't arrive in Fitchburg in time for the first day of Orientation. Can I be excused from the first day?
A: No. Orientation includes several tasks that are necessary for enrollment of students in courses at the University and in SEVIS, and those tasks cannot be rescheduled to a later date. Students must make arrangements to attend orientation.
Q: Where do I report for the first day of Orientation and at what time?
A: Orientation begins promptly at 10 am. The information will be sent in your orientation packet. Check the communication that we have sent you for the exact room numbers. The Office of International Education is located in Hammond Hall, shown on the campus map (PDF).
Q: What do I need to bring to Orientation?
A: Please bring (or wear) the following items to Orientation:
A pen
Appropriate outerwear for Fitchburg's very cold and snowy winter temperatures if you are attending Winter Orientation, as some of our Orientation activities require walking across the campus. A very warm coat, a hat, gloves or mittens, and shoes or boots that can walk safely on slippery or slightly snow-covered surfaces will be needed. Weather for Fall Orientation is generally very mild.
Your passport 
 I-94 printed from the Customs and Border Patrol website
Your completed Student Health Form
Any supporting documents for your Student Health Form, such as original vaccination records.
New local address.
Q: I plan to drive a car to Orientation. Where am I permitted to park my car on campus?
A: New international students attending Orientation may park in either the North 2 Commuter Parking Lot or the Ross Commuter Parking Lot, which are lots #5 and #13, respectively, on the campus parking map (PDF). Please note that students must have parking permits to park on campus when classes begin.
Packing
Q: What kind of weather can I expect in Fitchburg?
Average daily temperatures in the Fitchburg area range from 35°C in the summer (June-September) to -15°C in the winter (December-March). During spring, summer, and fall, moderate periods of rainfall occur. During the winter months, snow falls periodically. For your comfort, we suggest that you either bring or prepare to purchase the following clothing items:
Shorts
T-shirts
Jeans or pants
Sweaters
Gloves
Boots
Winter coat and raincoat
Also, you may find that from time to time formal attire (shirt, tie, and suit for men; and dresses, skirts, or pant suits for women) may be appropriate.
Graduate students should be aware that graduate courses are usually scheduled during the late afternoon and evening, when winter temperatures can drop to extreme lows. Graduate students should be prepared to dress very warmly when traveling to and from the campus for late afternoon and evening classes during winter.
Q: Do I need to bring bedding and towels?
A: Students will need to provide their own bedding and towels unless other arrangements have been made. There are stores accessible by public bus to purchase bedding and towels if you decide not to bring your own. However, students arriving in Fitchburg late at night to unfurnished apartments should consider bringing their own bedding and towels, as local stores will be closed and bus service does not extend to late evening hours.
Q: Where can I shop for bedding, towels, and other items I will not bring in my luggage?
A: During Orientation, you will receive your Fitchburg State ID, which is called a OneCard. With your OneCard, you can ride the Fitchburg/Leominster routes of the Montachusett Regional Transit Authority (MART) for free. Information about MART bus routes can be viewed at the MRTA website.
Grocery stores accessible on MART bus routes from our campus include Market Basket and Hannaford.
Discount and department stores accessible on MART bus routes from our campus include Wal-Mart and Kmart.
Updated July 24, 2017
Current International Student Information
Resources for our current international students. 
If you are sending any documents to our office for review, please send them in the following format:
Last Name_First Name_Type of Document (i.e. Smith_John_I-20, or Smith_John_I-94)
F-1 students may study less than full-time and have a reduced course load (carry half a course load or more) if:
The student is in their first semester in the U.S. and there is initial English language difficulty, unfamiliarity with American teaching methods, or improper course placement.
The student has a documented medical reason.
The student is in their last/final semester of their degree program.
For each of these cases a request for less than full time enrollment must be submitted, along with any required documentation, so that the Director of International Education can update that student's SEVIS record. These forms can be found on our website or picked up in the Office of International Education. The Director of International Education is the only official who can authorize a less than full-time course load. Remember that if you are a graduate assistant, two courses (6 credits) are considered to be full-time. If you have completed your formal coursework and are enrolled in your thesis course, you are considered to be a full-time student at Fitchburg State University automatically.
All F-1 and J-1 students are required to complete the SEVIS Immigration Information Forms when they arrive as new students or whenever there are any changes in their programs of study or address. Please use the Change of Address form. Changing your address with any other office on campus will not automatically change it within the SEVIS system. According to the USCIS requirements, a student has ten days to notify the Office of International Education on their campus about their new contact information after they have moved.
Any address, phone or email changes must be reported to the Director of International Education immediately so that they can be entered into SEVIS and so that F-1 students can retain their status. Failure to comply with any of these reporting requirements will cause your status to be terminated in SEVIS.
In order to follow the USCIS regulations, these changes should be completed online on the office website, using the SEVIS Immigration Information Form, so that the appropriate actions can be taken on SEVIS. A change in immigration status may include leaving and re-entering the U.S. with a new admission number, changing your status within the U.S., and/or applying for permanent residency.
If you lose or damage your I-20 you will need to request a new one by submitting an I-20 Request Form at the Office of International Education. This process will take approximately five working days, unless it is urgent. Please email inthelp@fitchburgstate.edu to request an I-20.
All International Students in possession of an F-1 visa who wish to leave the United States temporarily and return to Fitchburg State University must secure the necessary documents to permit entry to another country and re-entry to the United States.
F-1 Entry into Another Country from the U.S. and Reentry into the U.S.
Students who are in F-1 status and wish to visit their home country of citizenship or permanent residence or a third country (one in which they are not a citizen or permanent resident) should be in possession of the following documents:
A valid passport and visa for reentry into the U.S.
Immigration form I-94
Sufficient funds for the duration of their stay outside the U.S., particularly if they are traveling to a third country
An original SEVIS I-20 form or properly endorsed I-20 form (page #3) signed by the Director of International Education
Depending upon the country that is to be visited, students may be required to obtain an entry visa. Visas may be obtained through consular offices located in Boston. Addresses and phone numbers are available from the International Education Office.
Proof of registration in courses*
Past I-20's*
A recent transcript*
The Financial Support documents you showed the University for your admission/to obtain your visa*
*U.S. law does not require these documents but students have occasionally been asked to show them upon re-entry into the U.S.
Travel while on Optional Practical Training
Once you apply for practical training, you cannot enter the U.S. without an EAD. This means that travel will be impossible from the time you send your documents to USCIS until you receive your EAD. If a time-sensitive emergency arises, assistance may be available. Please see the Director. Routine travel, even to Canada, should not be considered until you receive your EAD.
If you travel outside the U.S. while on Optical Practical Training, you must have the following to re-enter the U.S.:
Your EAD card
A letter from your employer verifying that you have a job (if not, financial support documentation)
Form I-20 with a recent International Student Advisor's signature
A valid passport
F-1 visa stamp
F-2 Travel
A person with an F-2 visa traveling without their spouse needs the following documents:
I-20, which is endorsed and shows his/her name and other information on the back.
Page #3 of the I-20 (dependents entering the U.S.), signed by Director of International Education.
A valid F-2 visa.
A valid passport.
Evidence of current financial support.
A letter from the Director of International Education stating that their spouse (the F-1) is in good status.
Copies of their spouse's I-20, passport information page, I-94 card and visa.
If you choose to leave the University mid-semester, you must meet with the Director of International Education before you withdraw from your courses, to discuss your options. Regardless of when you withdraw, the Office of International Education will need this information in order to make the required changes in your status in SEVIS. If you need to leave the U.S. for a leave of absence before a semester begins, you can do this for up to 5 months. You should also discuss your options with the Director of International Education.
An F-1 student who is compelled by illness or another medical condition to interrupt or reduce a full course of study is considered to be in status as long as they:
Notify the International Education Office of their condition
Provide documentation from a doctor or a licensed clinical psychologist explaining the need for a less than full-time course load
This privilege can only be granted for up to 12 months. The student must resume a full course of study upon recovery. Submit the Request for Less Than Full Time Enrollment so the Director of International Education can update that student's SEVIS record. 
Generally, an international student may not withdraw from a course because it would cause them to drop below a full-time course load and then for their visa to be terminated in SEVIS. If an F-1 student must withdraw from a course after the drop/add time period has lapsed, they must discuss the matter with the Director of International Education before withdrawing from the course. This will grant them a 15-day grace period before they have to leave the country. If a student skips this step, they will be considered out of status and will not be able to easily reenter the U.S. in the future.
An F-1 student is eligible to transfer to another school if:
They are in good F-1 status.
They have been pursuing a full course of study at the school they were last authorized to attend during the term immediately preceding the transfer.
They intend to pursue a full course of study at the new school.
They are financially able to attend the proposed institution.
If a student wishes to leave Fitchburg State and transfer to another college or university, they must fill out a Transfer Release Form (PDF). The form must be submitted to the Office of International Education one week before they would like the new school to create their new I-20. Students should be certain that they have been accepted and will definitely attend the new school before they fill out this request. A transfer request can only be made to transfer to one school.
An F-1 student may be enrolled in two different approved schools at one time, as long as their department chair approves this and as long as the enrollment in both schools amounts to a full-time course of study. The school from which the student will earn their degree should issue and update the I-20. A student must fill out a Concurrent Enrollment Form (PDF) authorizing them for concurrent enrollment. This form must be submitted within the first two weeks of the semester with documentation verifying registration in the other school's course(s), such as a tuition payment receipt or a course registration receipt.
In order to earn money, you must have a social security number. In order to obtain a social security number, you must have a job offer from an office on campus. Once you verbally let us know about the job, the Director will write a letter explaining that you are in status and have a job. You should then take this letter, along with your I-20 and passport, to the Social Security Office in Fitchburg.
The USCIS local director may consider reinstating an F-1 student who has had their F-1 status terminated on SEVIS. The student must fill out a Form I-539 and establish, to the satisfaction of the USCIS, that the violation of status resulted from circumstances beyond the student's control or that failure to receive reinstatement would result in extreme hardship. The student must also be currently pursuing a full course of study, must not have been out of status for more than 5 months, cannot be engaged in unauthorized employment and cannot be deportable on any other grounds. There is always a risk that reinstatement will not be granted. Please email inthelp@fitchburgstate.edu for an I-20 form and see the Director of International Education if you wish to attempt to be reinstated.
The children and spouse of an F-1 student can receive F-2 status. They will need to be recorded into SEVIS and will receive separate I-20s. They are NOT allowed to take classes in a program of study and are NOT allowed to work on or off campus. Children are allowed to study full-time, up to twelfth grade. If you have a dependent that needs to be added to your I-20, please email inthelp@fitchburgstate.edu for an 1-20 Form.
Inviting Family and Friends to Visit You in the United States
Because the purpose of a tourist visa does not directly involve Fitchburg State University's visa sponsorship, the letter you need does not come from Fitchburg State University. You need to provide your family and friends with a Letter of Invitation written by you. With your invitation letter, you should also supply the applicant(s) with an Enrollment Verification Letter (from the Registrar's Office) and/or a copy of your transcripts, available via Banner.
Families, relatives and friends who plan to visit you in the U.S. will most likely need to apply for a tourist visa (B1/B2 visa). There are no specific documents (e.g. Form I-20 with which to apply for a B1/B2 visa). However, there are some guidelines on what a consular official expects of applicants.
Applicants should be prepared to explain the following points and provide related documents:
1. The visit to the United States will be temporary.
Your invitation letter should list the purpose of the visit (i.e. to attend your Commencement or visit family). Please note that the invitation is from you and it is not from the Office of International Education. U.S. Consular Officials will only acknowledge invitation letters from the person who is inviting a family member or friend to visit them in the U.S.
2. There are adequate funds to cover the cost of transportation and cost of living in the United States.
The applicant may need to provide evidence of sufficient funds to support themselves while in the United States in the form of a bank statement. Alternatively, you may provide your own current bank statement as evidence of adequate financial support to cover their temporary stay in the United States.
3. The visitors have residences outside of the United States to which they intend to return.
The Applicant will need to prove the intent to return home. This may need to be documented by the evidence of a job, immediate family members who will be left behind, property, business ownership, or other strong ties to their home country.
Applying for the Visa
For many individuals, a B1/B2 visa from a U.S. embassy or consulate outside the United States is needed to enter the United States. Guidance on the non-immigrant visa application process is available on the website of the U.S. Department of State. Please note that Canadian citizens and citizens of Visa Waiver countries do not need to obtain visas for this purpose. Visa Waiver applicants need pre-clearance authorization, ESTA, prior to traveling. They must present evidence of ESTA approval at the port of entry to the United States. It is important to print out the approval when applying for ESTA, as it may need to be presented at the Port of Entry.
Sample Letter for Inviting Guests from Abroad to Commencement
Do not mail this letter to the embassy/consulate. Ask your guest to bring it with the graduation verification letter to the visa interview.
Your U.S. Address
City, State, Zip
(Date)
Consular Officer
United States (Consulate or Embassy)
(To find embassy/consulate address go to the US Embassy website.)
(City), (Country)
Dear Consular Officer,
My name is (your name) and I am a student in F1 visa status at Fitchburg State University in Fitchburg, Massachusetts, pursuing a (bachelor's/master's) degree in (field of study). I am graduating in (month and year of graduation).
I would like to invite my family (and/or friends) listed below to attend my Commencement Ceremony and other celebration activities that will be held in (month and year).
First Name LAST NAME (as on passport), relationship to you, his/her address
(List same info as above for more guests)
My guest(s) will stay at (U.S. address) during their visit (and may visit a few other U.S. cities before returning home). It would be greatly appreciated if you could grant (him, her, or them) a visitor visa so that (he, she or, they) may join me to celebrate my graduation.
(Please indicate who will cover the expenses of travel, accommodations, personal expenses, etc.)
If you have any questions, I can be reached by email at (your email address) or by phone at (your phone number). Thank you for your time and kind consideration of the visa application.
Sincerely,
(Signature)
(Print your full name)
USCIS regulations refer to the date you complete all requirements for a program of study, not to the date you participate in graduation ceremonies and receive a certificate or diploma. The service ignores your graduation date because it realizes that many students, especially graduate students in thesis or dissertation programs, may complete requirements for a degree any day during the year. This means that the last day of an academic term may not be the date you complete program requirements. Your lawful F-1 status expires 60 days after the date you complete degree requirements. You are expected to leave the country by that date unless you previously file a timely application for practical training or make other arrangements to lawfully remain in the U.S.
An F-1 student who is unable to complete their program of studies by the end date listed on Page 1 of their I-20 must request a Program Extension Request. The form can be found on the website or in the Office of International Education. They will receive a new I-20 when this form is processed. Extensions are only granted due to an academic or medical reason (such as changes of major or research topics, unexpected research problems, or documented illness). A student who does not apply for and receive a program extension will be terminated in the SEVIS system upon the end date and will not be eligible for Optional Practical Training. Under these circumstances the student must apply for reinstatement and/or leave the country.
Please note that choosing to take fewer classes each semester as a graduate assistant or not successfully passing courses are not acceptable reasons under the USCIS rules and regulations for allowing an extension on your I-20.
If you change your major or program of study you should immediately email inthelp@fitchburgstate.edu, request an I-20 form, and submit it to the OIE so that you can receive a new I-20.
To maintain F-1 and J-1 status, students must pursue a full course of study and make normal progress towards the completion of the course of study. Full-course of study and full-time study are defined in the regulations as follows:
Undergraduate Student
At least 12 credit hours per term, or the equivalent (as determined by district director in school approval process).
Graduate Student
Number of hours consistent with institutional definition (at Fitchburg State that is 9 credit hours per term).
Students should also do the following:
Maintain a valid passport
Attend the school they are authorized to attend. In essence, they should be attending the school USCIS last authorized for attendance. See the USCIS stamp in the upper right corner of the I-20 or the school that has processed with the USCIS.
Complete program before the expiration date on the current I-20. If you are having problems with this, you must see the Director of International Education BEFORE your I-20 expires.
Follow USCIS procedures for changing from one program or educational level to another (e.g., from B.S. degree to M.S. degree).
Follow USCIS procedures for transferring from one school to another.
Limit on-campus employment to 20 hours a week while school is in session. Full-time on-campus employment is permitted during vacation periods, such as summer, as long as the student was enrolled full-time the term before and intends to be full-time the following term.
Refrain from off-campus employment without authorization. Limit off-campus employment (with authorization through economic hardship or part-time practical training) to 20 hours per week while school is in session.