Our annual celebration of the contributions and influence of the Latinx/a/o community to our history and culture is observed with a series of entertaining and informative events September 15 - October 15.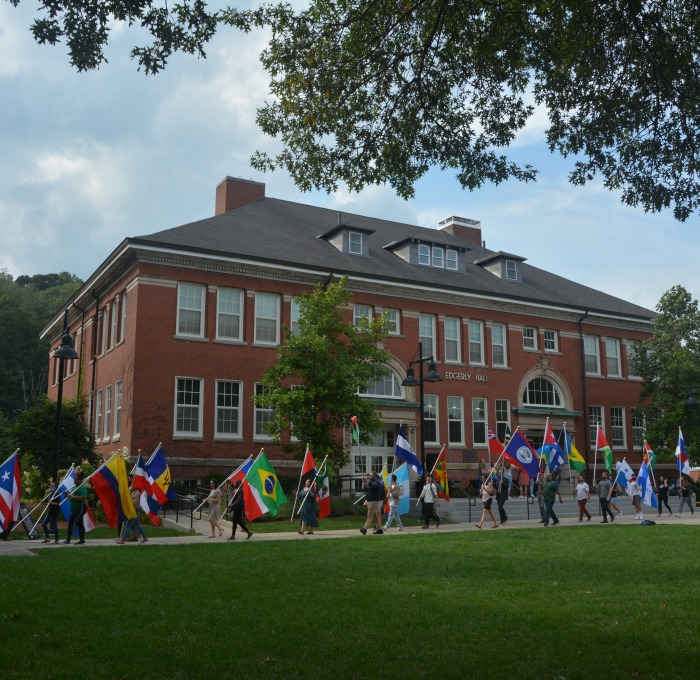 The LatinX/A/O Heritage Month Committee is excited to provide opportunities for our campus and the local community to join us in commemorating the month. We encourage our community to be present, engage, and to make a conscious effort to engage with us. There are plenty of opportunities for our community to enjoy themselves and learn something new in the process. 
We encourage both our campus community and surrounding Fitchburg community to join us as we commemorate the month.
We are committed to providing a comfortable, inclusive, and respectful environment for all members of our community. If you have any accommodation needs or information you feel would be helpful for us to serve you better, we invite you to share it with us directly. 
Events
Monday, Sept. 18 - Driving while Black or Hispanic: The Constitution at Work
3:30 p.m. Hammond Main Lounge
Dr. Mary Fowler (Professor of Mathematics, Worcester State University; Expert witness in Racial Profiling Cases across the Commonwealth). Dr. Fowler will share her experiences as a statistical expert witness in support of making United States Constitutional Provisions effective in Massachusetts. A series of racial profiling cases shows the development of this area of the law. Brought to you by the Fitchburg State University General Education Program and Constitution Day 2023
Thursday, Sept. 21 - Salsa and Bachata Dance Class with Juan Mambo Lopez
6 p.m., Hammond G01/G01B 
Join dance instructor and Fitchburg State alum Juan Mambo Lopez as he teaches you all the steps to get your Salsa and Bachata moves going. Bring a friend and join in the fun. Light refreshments will be provided. 
Saturday, Sept. 23, 12:30 - 6 p.m. - Island Vibes Jouvert 
Join the African Student Association and the Black Student Union for a Caribbean Carnival party at Ross Parking lot. Please plan to wear white clothes for the paint at the event. Entry is free and food will be provided. Sounds by DJ Juukes, DJ Juice, and DJ Donut. Additional performances will take place. 
Tuesday, Sept. 26 - Bomba de Acquí Afro-Puerto Rican Sound and Traditions Workshop
6 p.m., Hammond Main Lounge
Bomba de Acquí is a dance and music company that performs and teaches Afro-Puerto Rican traditions. The workshop will be both a teaching and performance experience about Afro-Puerto Rican music and arts. 
Wednesday, Sept. 27, 6:30 p.m. - LatinX/A/O Heritage Month Mariachi Band and Singer
Join the LatinX/A/O Heritage Month Committee with a live mariachi band named Fiesta del Norte! Fiesta del Norte is a Mexican mariachi band performing the traditional folk and popular music of Mexico. There will be free food, and great opportunities to mingle on the quad. We encourage the greater Fitchburg Community to join us and drop by the event.
Tuesday, Oct. 3 - Career Services Internship Fair 
1 - 4 p.m., Hammond Hall Main Lounge 
The Fall 2023 Internship Fair at Fitchburg State University will be held in-person in the Hammond Main Lounge. This fair focuses on internship opportunities for spring and summer 2024. Meet with employers attending from several different industries. First-year students, sophomores, juniors, and seniors are strongly encouraged to attend and take this opportunity to connect employers looking to hire Fitchburg State students for internships! See all attending employers on Handshake.
For more information, contact the Career Services and Advising Center at careercenter@fitchburgstate.edu, or by phone at 978.665.3151.
Wednesday, Oct. 4 - Spider Man: Across the Spider Verse Movie Showing 
Ellis White Lecture Hall
First Movie Showing: 3:30 p.m. 
Second Movie Showing: 6:30 p.m.
Spider-Man: Across the Spider-Verse is the sequel to Spider-Man: Into the Spider-Verse and follows Miles Morales as he navigates multiples universes of spider heroes. Free popcorn will be provided. *Closed Captioning Provided* 
Tuesday, Oct. 10 - CDI Meet and Greet
3:30 p.m., Hammond G04 
Join the Center for Diversity and Inclusiveness and enjoy some good music, food, and community. 
Wednesday, Oct. 11 - Chartwells LatinX/A/O Food Themed Night
Holmes Dining
Join Chartwells in Holmes Dining for LatinX/A/O themed food night!
Events
Latinx/a/o Heritage Month Events