Our annual celebration of the contributions and influence of the Latinx/a/o community to our history and culture is observed with a series of entertaining and informative events September 15 - October 15.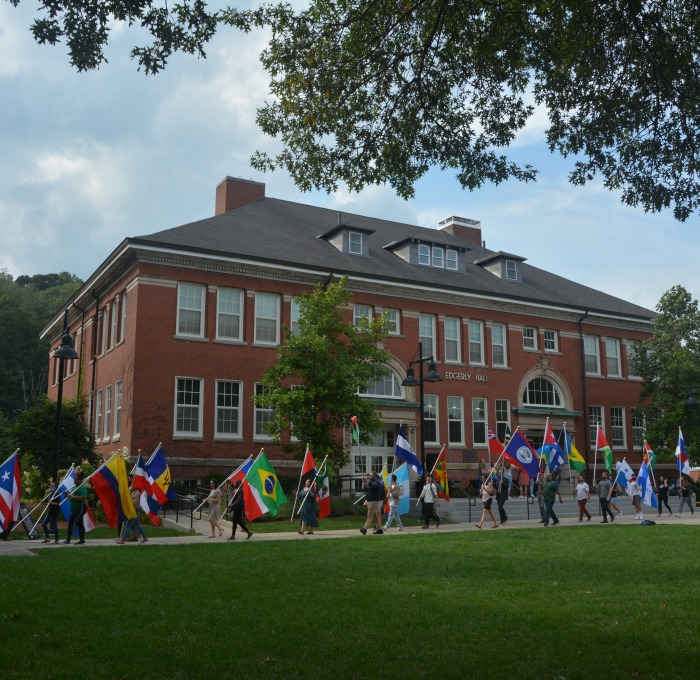 The theme for Latinx/a/o Heritage Month this year was provided by the National Council of Hispanic Employment Program Managers titled Unido: Inclusivity for a Stronger Nation. As the National Council mentions, "the theme and poster reinforce the need to ensure diverse voices and perspectives are welcomed in decision-making processes, thereby helping to build stronger communities and a stronger Nation." 
The Latinx/a/o Heritage Month Committee is excited to provide opportunities for our campus and the local community to join us in commemorating the month. We encourage our community to be present, engage, and to make a conscious effort to learn with us. There are plenty of opportunities for our community to enjoy themselves and engage in thoughtful reflection. 
We are committed to providing a comfortable, inclusive, and respectful environment for all members of our community. If you have any accommodation needs or information you feel would be helpful for us to serve you better, we invite you to share it with us directly. 
Latinx/a/o Heritage Month Committee Members: 
Junior Peña: Director for Student Diversity, Equity, and Belonging Initiatives 
Jamie Cochran: Program Manager, Center for Diversity and Inclusiveness 
Anthony De Leon: Former Latin American Student Organization(LASO) President 
Danibel Peralta: Academic and Career Advisor
Jonathan Harvey: Assistant Professor of Music and Director of Choirs
Bridget Driscoll: Vice President for the Gay Straight Alliance
Events
Tuesday, Sept. 13
Artist Showcase: Nayda A. Cuevas
Hammond Hall Art Gallery, 3:30 p.m.
naydacuevasart.com
Artist bio: "Exploring my identity produces a visceral exchange of personal and political identity while cultivating an awareness of "otherness." My art work represents a journey in my continuous search to make connections with the people around me and in the place I live. Revisiting my history, or Latin@ identity, is a determination to change how we understand the present. When we revisit history, time collapses; what was once present and is now past becomes vividly present once again. I, Nayda A. Cuevas Ramos, was born in Puerto Rico. My family migrated in 1990 to Florida. As a means of negotiating alienation and the absence of familiar people and places I turned to the arts to explore my identity.  I obtained a BFA in Fine Art (2002) from Stetson University in Deland FL and her MFA in Visual Arts (2015) at Lesley College of Art (former Art Institute of Boston) in Cambridge, MA. Ms. Cuevas passion emerged for unearthing a visual language to better articulate through visual arts her observation and/or interpretation of her Latin American experience. As an artist her interest lies in using history, art history, and current cultural trends to produce images of both her physical and emotional experiences of displacement."
Thursday, Sept. 15
Latinx Opening: Food and Music
Main Quad, 5:30 p.m.
Join the Latinx/a/o Heritage Month Committee as we kick off this year's celebration with live music, free food, and great opportunities to mingle on the quad. We encourage the greater Fitchburg Community to join us and drop by the event.
Tuesday, September 20
Latinx/a/o Heritage Month Cafecito and Conversation
Hammond 314, 4:30 p.m.
Join us for our Latinx/a/o Heritage Month Cafecito and Conversation themed around language and identity. Each Cafecito and Conversation will have coffee, tea, and pastries for you to enjoy while navigating timely conversations impacting our communities. This conversation will allow for us to explore do you need to know how to speak Spanish, Portuguese or any other native language to identify with your culture and heritage? 
Thursday, Sept. 22 
Latinx Heritage Month Game Night
Hammond Game Room and the Center for Diversity and Inclusiveness, 5 p.m.
Join us for night filled with Dominos, Loteria, and FIFA 23 video game Soccer matches. Bring a friend and build community. Refreshments will be provided.
Monday, Sept. 26 
Career Conversation: Leveraging Your Language in the Job Search
Hammond G01/G01B Meeting Rooms, 4:30 p.m.
Join the Career Services and Advising Office for an engaging workshop on how to leverage being multilingual in the job and internship search. If you are interested in highlighting your language fluency in the job market and making yourself more viable, please make sure to drop by and bring a friend!
Thursday, Sept. 29
Big Prize Bingo: Latinx Month Edition
Hammond Falcon Hub, 6:30 p.m.
Join the Latinx/a/o Heritage Month Committee and the Fitchburg Activities Board for a fun filled evening of bingo and prizes. Bring your competitive spirit and make sure to join us! Pub will be open for student 21+ and with an I.D. 
Thursday, Oct. 6 
Cafecito and Conversation Mi Orgullo (My Pride) Edition
Hammond G01 Meeting Room, 4:30 p.m.
Join us for our Latinx/a/o Heritage Month and LGBTQ+ History Month Cafecito and Conversation. Mi Orgullo or My Pride will be the theme of our timely conversations that impact our communities. Coffee, Tea, and pastries will be served.
Tuesday, Oct.11
Mi Orgullo (My Pride) Rainbow Reception and Art Exhibition with Worcester Based El Salon
Rainbow Reception at 3:30 p.m. in Falcon Hub, Art Exhibition from 4:30 - 10 p.m.
Express Yourself! Join us for an afternoon of networking, storytelling, and exploration of Worcester Based QBIPOC Art Collective "El Salon" and their amazing art pieces that will showcase artists from the Worcester Region. An art reception and dessert bar will culminate the afternoon. Please note, the Rainbow Reception will begin at 3:30 p.m. in the Falcon Hub and the Art Exhibition will be available for viewing from 4:30 - 10 p.m. in the Hammond Main Lounge. 
Friday, Oct.14 
Latinx/a/o Heritage Month Comedy Closing with Terrence DeLane and Rafi Gonzalez
Location: TBD, 6:30 p.m.
We invite our campus and greater Fitchburg community for a night filled with laughter as close Latinx/a/o Heritage Month with a comedy special. Join us as we enjoy two great Latino comedians!