Fitchburg State celebrates LGTBQ+ History Month in October with a series of gatherings and events based on the theme "We Are A Voice."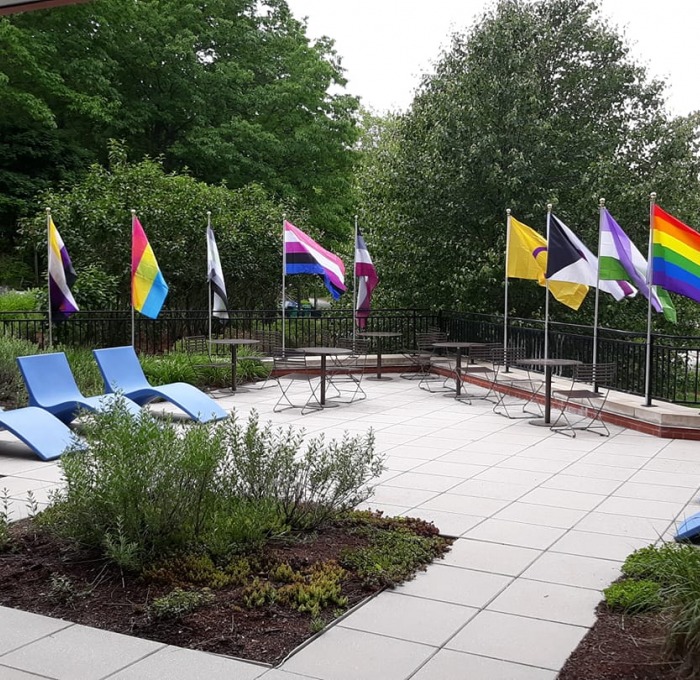 In addition to the events listed below, be sure to check out the selection of LGBTQ+ titles in the first floor of the Amelia V. Gallucci-Cirio Library, as well as its digital LGBTQ+ ebookshelf.
Events
Oct. 1 - 7 Banned Book Week / LGBTQ+ and LatinX Books
Amelia V. Gallucci-Cirio Library Main Floor, Hammond Hall
Oct. 2  - Opening Ceremony - Pride Flag Raising
3:30 p.m., Hammond Hall Street Level Patio. Join us as we celebrate and kick off LGBTQ+ History Month with a presentation of the LGBTQ+ Flags. The Fitchburg State Choir will regale us with a rendition of "I am a Voice and Over the Rainbow". Speakers from across campus will also join the festivities. Refreshments will be served. (Rain location - Falcon Hub)
Oct. 3 - LGBTQ+ Paint Night
5 p.m., Falcon Hub, Hammond Hall. Open to all members of the Fitchburg State community. Canvases and paint supplies will be handed out for an evening of relaxation, and community. Snacks and refreshments provided. 
Oct. 4 - Keynote Speaker: Michael Miller
7 p.m., Hammond Main Lounge 
It's On All Of Us!  What WE Can Do To Support Our LGBTQ+ Community Members
Please join nationally known leadership speaker Michael Miller. Want to learn more about other members of our university community? Would you like to be someone who supports and champions LGBTQ community members? Then join us for a fast-paced session where we'll share stories and more: ways we can serve as allies and supporters to folks who experience difficulties based only upon their identity. Come prepared to learn, interact, and feel more confident in using your voice to support others. Sponsored by: Leading for Change Committee
Oct. 5 - Drag Bingo
7 p.m. Falcon Hub. Victoria Obvious will be hosting LGBTQ+ History Month Drag Bingo. Come play for a chance to win prizes.
Oct. 9  - Indigenous People's Day / Two Spirit Day (SMO)
Two-spirit is a modern, pan-Indian, umbrella term used by some Indigenous North Americans to describe Native people in their communities who fulfill a traditional third-gender ceremonial and social role in their cultures.
Oct. 10 - LGBTQ+ History Trivia Night
7 p.m. Falcon Hub sponsored by GSA. When was the first LGBTQ+ flag created? What does it mean to be a friend of Dorothy? Who is the number one LGBTQ+ performer of all time? Grab some friends and create a team. Prizes to be awarded to the top teams! Sponsored by Gay Straight Alliance
Oct. 11 - National Coming Out Day
10 a.m. - 2 p.m. Hammond Street Level. Every year on National Coming Out Day, we celebrate coming out as lesbian, gay, bisexual, transgender or queer (LGBTQ). 
Oct. 16  - The Book of Queer Series
Episode 1 and 2 (Pride or Die, Sashay it Forward), Ellis White Lecture Hall, Hammond Hall, 7 p.m.

(Ep 1) Uncover shocking revelations about Abraham Lincoln's queer affairs and learn about the gay organizer of the 1963 March on Washington, Bayard Rustin. 
(Ep 2) Some of the greatest artists and scientists of all time were queer. Learn the steamy details about Michelangelo, Da Vinci, Ma Rainey, Alan Turing and more.
Oct. 18 - International Pronoun Day/Week
G-lobby, Hammond, 11 a.m. while pins last. GSA and the Center for Diversity and Inclusiveness will be giving out Pronoun Pins as a way to celebrate yourself and to educate the university community on how to use one's pronouns.
Oct. 21 - NOWOCO Pride Festival
5th Anniversary NoWoCo Pride Festival, 12 - 7 p.m. Fitchburg Riverfront Park
Oct. 23 - The Book of Queer Series
Episode 3 and 4 (Queer Work Makes the Team Work, From Gay to Z), Ellis White Lecture Hall, Hammond Hall, 7 p.m.

(Ep 3) Learning how the power of lust inspired The Sacred Band of Thebes, ancient Greece's army of boy-friends and discovering the history of the rainbow flag.
(Ep 4) Shocking stories about King James and his edition of the Bible, erotic poems from an island of Lesbians and queer secrets about the old American West.
October 23 - 29 Asexual Awareness Week
Oct. 28 - Second Chance Prom Gayla 
7 p.m., Main Lounge, Hammond Hall. A second chance dance is a do-over dance for those who didn't get a chance to attend their high school prom as their true authentic selves, to attend with who they wanted to, or who felt as though they weren't allowed to. The goal is to allow everyone to present the way they want in a safe place with a masquerade theme and have fun.  All are encouraged to dress in their favorite color that expresses who they are!  Faculty, staff, students, alumni, and local GSAs are invited to attend. Sponsored by the Gay Straight Alliance
Oct. 30 - The Book of Queer Series
Episode 5 (Pride or Die), Ellis White Lecture Hall, Hammond Hall, 7 p.m.

(Ep 5) Take a seat inside the Stonewall Inn as the queer revolution begins, and hear about Josephine Baker, the WWII bisexual megastar who was a French spy.
Month Long Events:
Flag Display and Pride Lights in Trees (IP) Front of Hammond Hall
Weekly Trivia Instagram Post (SMO)