Fitchburg State celebrates LGTBQ+ History Month in October with a series of gatherings and events based on the theme "We Are Everywhere."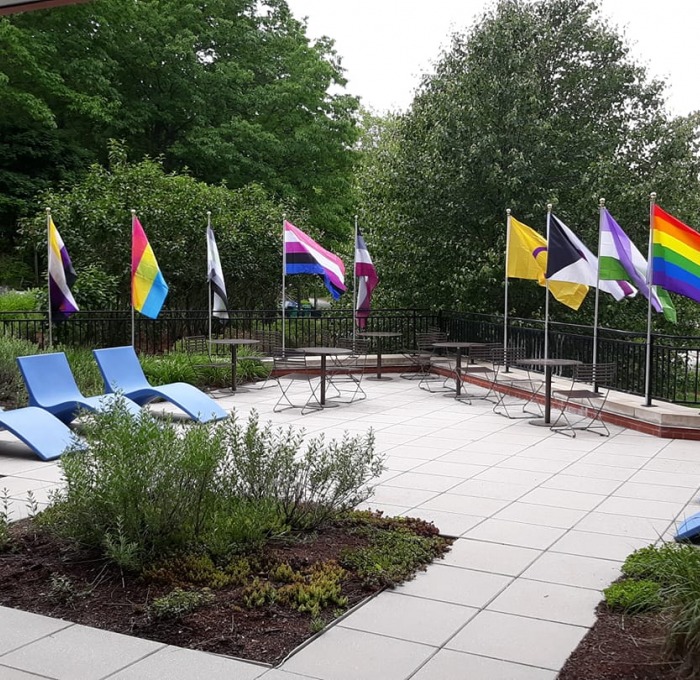 In addition to the events listed below, be sure to check out the selection of LGBTQ+ titles in the first floor of the Amelia V. Gallucci-Cirio Library, as well as its digital LGBTQ+ ebookshelf.
Events
Monday, Oct. 3
Pride Flag Raising Ceremony, Hammond Hall Street Level Patio, 3:30 p.m.
Join us as we celebrate and kick off LGBTQ+ History Month with a presentation of the LGBTQ+ Flags. The Fitchburg State Choir will regale us with a rendition of "True Colors". Speakers from across campus will also join the festivities. 
LGBTQ+ History Month Opening Speaker: Zoey Luna (Virtual), 7 p.m.
Google meet link: meet.google.com/orr-dhxu-xbv
Location: Ellis White Lecture Hall for In Person Viewing
As one of the first transgender youth public figures, Zoey has shared her life story through several documentaries and interviews. Zoey was invited to be a part of "Laverne Cox Presents: The T Word", a documentary for which MTV followed the lives of transgender individuals. Mega star Laverne Cox headlined in the documentary which first aired in October of 2014.
Zoey appeared in the season finale of the wildly popular and ground breaking series, "Pose" as Lacey, a pier girl, and was booked in a lead role in the Blumhouse feature film remake The Craft: Legacy.
Sponsored by Leading for Change
Thursday, Oct. 6
Cafecito and Conversation Mi Orgullo (My Pride) Edition
Hammond G01 Meeting Room, 4:30 p.m.
Join us for our Latinx/a/o Heritage Month and LGBTQ+ History Month Cafecito and Conversation. Mi Orgullo or My Pride will be the theme of our timely conversations that impact our communities. Coffee, Tea, and pastries will be served.
Saturday, Oct. 8
International Lesbian Day
We will observe International Lesbian Day with a social media campaign. Follow the Gay Straight Alliance on GSA Instagram and GSA Facebook to participate.
Monday, Oct. 10
Indigenous People's Day / Two Spirits Day
Two-spirit is a modern, pan-Indian, umbrella term used by some Indigenous North Americans to describe Native people in their communities who fulfill a traditional third-gender ceremonial and social role in their cultures.
Tuesday, Oct. 11
Mi Orgullo (My Pride) Rainbow Reception and Art Exhibition with Worcester Based El Salon
Rainbow Reception at 3:30 p.m. in Falcon Hub, Art Exhibition from 4:30 - 10 p.m.
Express Yourself! Join us for an afternoon of networking, storytelling, and exploration of Worcester Based QBIPOC Art Collective "El Salon" and their amazing art pieces that will showcase artists from the Worcester Region. An art reception and dessert bar will culminate the afternoon. Please note, the Rainbow Reception will begin at 3:30 p.m. in the Falcon Hub and the Art Exhibition will be available for viewing from 4:30 - 10 p.m. in the Hammond Main Lounge. 
National Coming Out Day
Every year on National Coming Out Day, we celebrate coming out as lesbian, gay, bisexual, transgender or queer (LGBTQ). This year, we will mark the anniversary of National Coming Out Day through social media posts with heartfelt stories of coming out.
Gender Affirming Fashion Day 
All are encouraged to wear whatever makes you feel like YOU! Maybe a skirt, a suit, a dress, or a combination of clothing styles that gives you the confidence to slay the runway!    
Wednesday, Oct. 12
Speaker and Author: Lev Rosen (Virtual), 7 p.m.
Google meet link: meet.google.com/hpb-jbey-pgr
Location: Ellis White Lecture Hall for In Person Viewing
Lev Rosen is the author of books for all ages. Two for adults: All Men of Genius (Amazon Best of the Month, Audie Award Finalist) and Depth (Amazon Best of the Year, Shamus Award Finalist, Kirkus Best Science Fiction for April). Two middle-grade books: Woundabout (illustrated by his brother, Ellis Rosen), and The Memory Wall. Two young adult novels: Jack of Hearts (and other parts) (American Library Association Rainbow List Top Ten, Guardian's Best Books of the Year, B&N Favorite Books of the Year) and Camp (Lambda Award finalist, ALA Rainbow List Top Ten, a best book of 2020 from Forbes, Elle, the Today Show, SLJ, Booklist and others), which is being adapted into a film directed by and starring Billy Porter. His books have been translated into many different languages and sold around the world. His next book, Lavender House, an adult historical mystery, will be released fall of 2022.
Sponsored by Leading for Change
Wednesday, Oct. 19
Pronoun Day, G-Lobby, Hammond Hall, 10 a.m. - 3 p.m.
GSA and the Center for Diversity and Inclusiveness will be giving out Pronoun Pins as a way to celebrate yourself and to educate the university community on how to use one's pronouns.
Drag Queen Story Hour, Amelia V Gallucci-Cirio Library, Hammond Hall First Floor, 4 p.m.
Drag Queen Story Hour (DQSH) is a children's event that was first started in 2015 by author and activist Michelle Tea in San Francisco with the goal to "inspire a love of reading, while teaching deeper lessons on diversity, self-love and an appreciation of others. Nikita LeFemme will host our inaugural event.
Drag BINGO, Falcon Hub, Hammond Hall, 7 p.m.
Nikita LeFemme will be hosting LGBTQ+ History Month Drag BINGO. Everyone loves a chance to win prizes!
Monday, Oct. 24
Hindu Gods Celebration / Diwali: Festival of Lights, 19 LGBTQ Hindu Gods
Oct. 24 - 28
Asexual Awareness Week
Wednesday, Oct. 26
Intersex Awareness Day
Saturday Oct. 29
Second Chance Dance: Your True Colors, 7 p.m., Main Lounge, Hammond Hall
A second chance dance is a do-over dance for those who didn't get a chance to attend their high school prom as their true authentic selves, to attend with who they wanted to, or who felt as though they weren't allowed to. The goal is to allow everyone to present the way they want in a safe place with a masquerade theme and have fun.  All are encouraged to dress in their favorite color that expresses who they are!  Faculty, staff, students, alumni, and local GSAs are invited to attend.
Sponsored by the Gay Straight Alliance
Month Long Events:
Flag Display with flag meanings and Pride Lights in Trees (IP/SMO) Front of Hammond Hall
"Journey to Equality" Display Library, Main Floor, Hammond Hall
Book Club First Year Experience (FYE)