Our Career Services and Advising Center is here whether you're looking to declare a major or do some career exploration.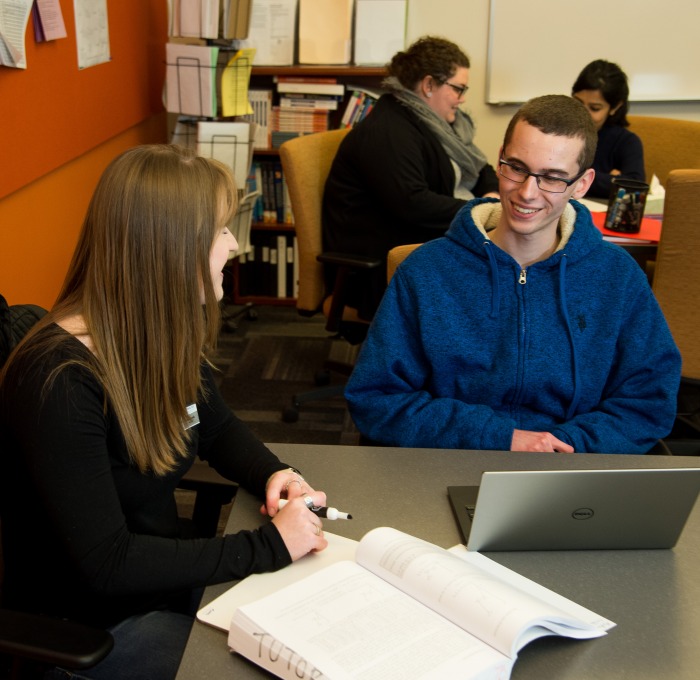 We can help you set goals, stay organized, review your four year plan of study, as well as refer you to other campus support services in order to ensure your continued success.

You're not in this alone and we're here to help.
Common Services
If you're interested in any of the listed services, or have additional questions, please do not hesitate to contact us.
Career & Academic Advising: Individual one-on-one career and academic advising is available to all current students and recent graduates whether you're looking to declare a major or do some career exploration.
Graduate School Advising: Are you considering graduate school as a next step? Our Academic and Career Advisors can support you through the graduate school application process. Whether you are just starting to look at schools or are further along in the process, we can provide additional support and resources.
Mock Interviews: Looking to practice and evaluate your interview skills? Mock interviews provide a great opportunity to practice your interview skills before the big day. 
Interview Rooms: We can provide you with a quiet and interview friendly space for your next phone or conference call interview.
Career Assessment: Do you have questions about life after college, or what fields students in your major pursue?  Uncertain if you are pursuing a career that fits your interests and needs? Let us help you answer these questions. 
Workshops and Events: We offer a variety of workshops each month.
Alumni Job Shadowing Program: Shadowing is a great opportunity to learn about different jobs and industries while also networking. Information about this opportunity will be emailed to students.
Services and Resources
We want to hear from you, but here are some additional external resources you can look at for more information. 
Links to recommended resources you can use to apply for internships, full-time employment, and other job seeker tools. 
Drop-In Hours (No Appointment Necessary)
Hammond Hall - 3rd Floor - Room #318
Monday - Wednesday - Friday
1 - 3 p.m.
Tuesday - Thursday 
10 a.m. - 12 p.m.
Alumni and Employer Resources
As an employer, you have the opportunity to list full-time and internship opportunities at any time, as well as recruit on campus. 
As an alumnus you have access to the services and programs offered by the center free of charge for up to five years post-graduation.
Career Services & Advising Center Staff
Have questions? Get in touch!
The Office of Career Services and Advising will provide assistance to all constituents Monday through Friday from 8 a.m. to 4 p.m. To make an appointment with a member of our team please contact us by phone 978.665.3151 or via email at 
careercenter@fitchburgstate.edu
. If you should require immediate assistance please contact 
Diane Maynard
 at 978.665.3151. Follow us on Instagram
@FSU_CareerandAdvising
for more information on programs, opportunities and services.
The Career Services and Advising Center assists students and alumni in developing, evaluating, and implementing career education and employment goals.
Hammond Hall 318