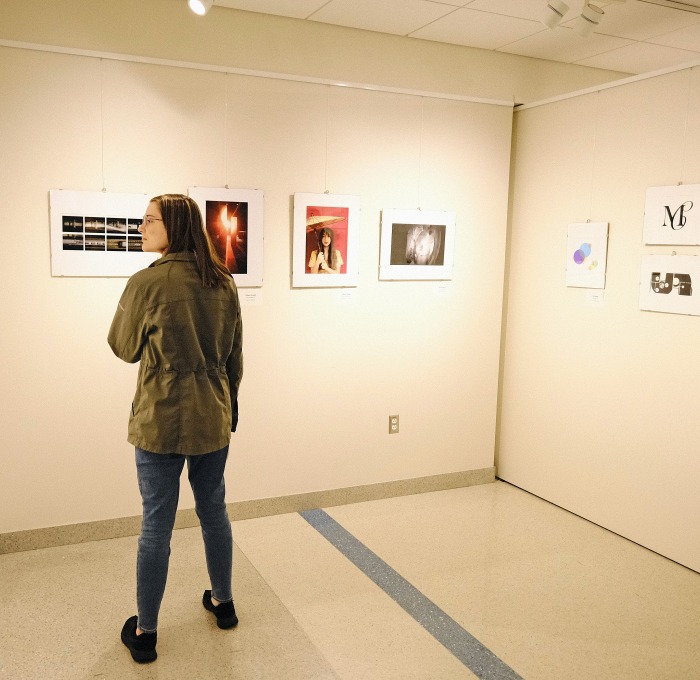 Gallery Exhibitions
Hammond Hall Art Gallery
Fall 2023
Sept. 5 to Oct. 15: Hanna Melnyczuk's "Don't Close Your Eyes: Reactions to the War in Ukraine" 

Artist Talk/Reception Sept. 21, 3:30 p.m.

Fitchburg State University Faculty Show, Oct. 23 to Dec. 15

Artist Talk/Reception: Thursday, Oct. 26 at 3:30 p.m.
Film Screening: Thursday, Oct. 26 at 4 p.m. (Ellis White Lecture Hall, Hammond Hall)
Spring 2024
Candice Ivy, Jan. 16 to March 1, 2024

Artist Talk/Reception Jan. 25, 3:30 p.m.

ARTeries 2024, March 4 to April 18, 2024

Opening reception March 21, 3:30 p.m.
ARTeries is our art department's bi-annual juried exhibition that showcases the strongest original student work in drawing, painting, sculpture, and mixed-media art. ARTeries provides an opportunity for the university community to celebrate the artistic talents of Fitchburg State students.

Visions, April 24 to August 1, 2024,

Opening reception April 24, 3:30 p.m.
Visions is the juried honors showcase of the year's best original student work in the Fitchburg State University's Communications Media Department. The entire campus and local community looks forward to this annual event, which consists of an Alumni Panel, Research Forum, Gallery Art Exhibition, Game Design Demo and Film and Video screening.
Gallery Hours
Monday - Thursday: 7 a.m. - 11:30 p.m.
Friday: 7 a.m.- 5 p.m.
Saturday: Noon - 5 p.m.
Sunday: Noon - 11:30 p.m.
ARTeries
View a slide show from the recent ARTeries exhibit
Please tour our interactive gallery from the 2021 ARTeries. 
Fitchburg Art Museum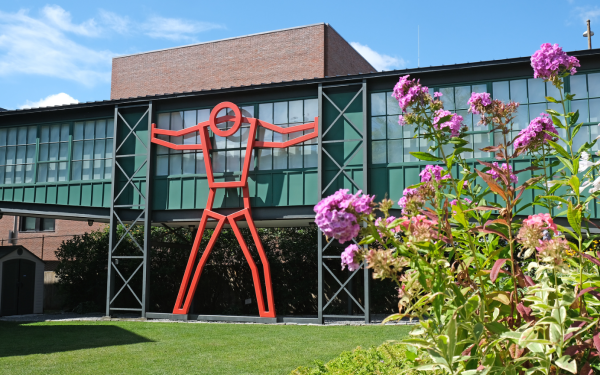 The city of Fitchburg is home to the celebrated Fitchburg Art Museum (FAM) -- the de facto museum for Fitchburg State. Students, staff, and faculty enjoy free admission, quality internships, and classes co-taught by FAM staff and Fitchburg State faculty.
FAM staff regularly collaborates with university students on a range of projects, from the development of marketing materials for museum exhibits, including catalogues and branded campaigns, to gallery space that hosts student work.
Archived Exhibits
Jean Luc Alexandre's gallery talk from March 3, 2021.
Hammond Hall Art Gallery
Spring 2023
January 11 to March 3 New England Wax

Artist Talk/Reception February 1, 3:30 p.m.
Check out the Burg Blog to see more from the event

March 16 to April 20 ARTeries

Opening/Reception March 16, 3:30 p.m.

April 26 to June + Visions

Opening/Reception April 26, 3:30 p.m.
Fall 2022
September 8 to October 20 Nayda Cuevas

Artist Talk/Reception September 13, 3:30 p.m.
Check out the Burg Blog to see images from the reception

October 26 to December 17 Jonathon Wells

Artist Talk/Reception October 26, 3:30 p.m.
Sanders Gallery Wall
June 2022 to June 2023 Glen Shapland
Spring 2022
Fall 2021
Sanders Gallery Wall
Spring 2021
Hammond Hall Art Gallery
Jan. 25 to March 12: Jean Luc Alexandre and Amanda Loebelenz (View the virtual exhibit here.) Above, watch Jean-Luc's gallery talk from March 3.
March 24 to April 22: ARTeries
Sanders Hall Gallery Wall
June 2020 through June 2021: Photography by Nathan McGarigal, '09