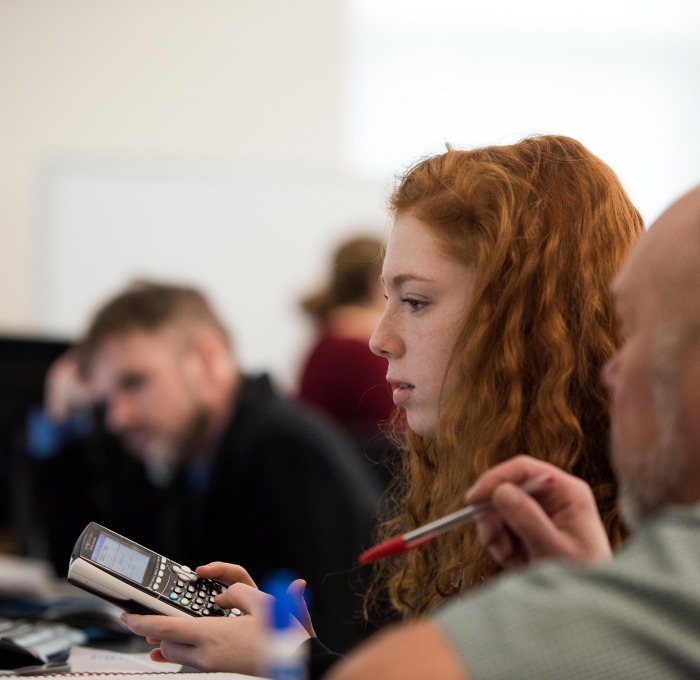 The Office of Financial Aid assists students who, without financial assistance, would be unable to attend college. Last year alone, we awarded $43 million in financial aid to our students through the following:
Merit-based: Awarded to new students through the admissions application process
​Need-based: Awarded to new and returning students through the financial aid application process—including scholarships, loans, grants, and work study assistance
Our commitment to making a Fitchburg State education affordable is evident in our annual cost—among the lowest in the state university system at $21,713 for full-time residential students.
Most Popular Links For Current Students
Getting Started
Financial Aid is a time-sensitive process, so make sure you consult these important pages as you prepare to apply.
An overview of when you should be applying for financial aid, and what you can expect during each timeframe. 
Numbers and Affordability
Demonstrated by our most recent financial aid statistics for our entering class (2018):
All admitted students who demonstrated financial need and met application deadlines received an offer of financial assistance.
The average financial aid package for students living on campus from Massachusetts is $14,717 (from all funding sources).
91% of the class received financial assistance.
And from our graduates:
​The average student loan debt for those in the class of 2016 is well below the national average at $26,684. This equates to $277 per month in standard repayment.
The average graduate's income is $41,900
Our investment in you. With a $15 million endowment from alumni and the foundation, both need- and merit-based awards help to offset the actual cost of your education.
A realistic budget. We base your eligibility for our financial aid on the total cost of attendance not just direct costs, so that you'll have a more realistic budget and financial-aid package.
Honoring outside awards. We do not reduce our institutional scholarship or grant award to those receiving outside scholarships or grants unless the student's total gift aid exceeds charges for tuition, fees, room and board.
Access to distinctive opportunities. To aid our students in making their dreams of study abroad possible, financial aid is portable to approved abroad programs. Students may also benefit from college funding for internships throughout the academic year.
Have Questions? Get in touch.
The Office of Financial Aid assists students who are applying for financial aid and additional financing options.
Anthony Student Service Center 108
160 Pearl Street
Fitchburg, MA 01420-2697
SPRING 2021: The Office of Financial Aid is available to all constituents remotely Monday - Friday from 8am - 5pm for the Spring 2021 semester. For assistance please contact your individual financial aid counselor (see below) regarding any assistance needed in processing your financial aid. Please contact our office by email or phone for other financial aid assistance at: finaid@fitchburgstate.edu; Phone 978.665.3156 or Fax 978.665.3559. You may contact Jennifer Coe, Administrative Assistant/Customer Service Representative, at jcoe1@fitchburgstate.edu or by phone at 978.665.3157.
Denise Brindle- Director of Financial Aid
dbrindl1@fitchburgstate.edu 
978.665.3302 
And by caseload at 
Andrea Johnston- Assistant Director
Last Name A-E
ajohnst5@fitchburgstate.edu
978.665.3422 
Alcira Zadroga- Associate Director
Last Name F-Ma 
azadroga@fitchburgstate.edu 
978-665-3556 
Christopher Cole- Assistant Director 
Last Name Mc-Z
ccole14@fitchburgstate.edu 
978-665-3454