Foundations for Life Long Learning
Heritage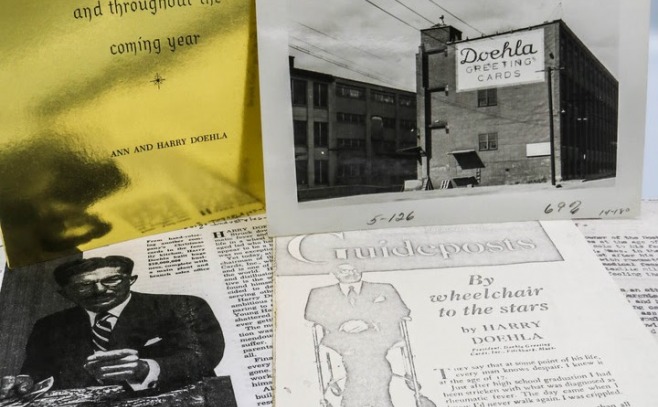 Disability Heritage
"Disability Heritage: From the Medieval to the Local" Exhibition
Created by Fitchburg State University students in Dr. Kisha Tracy's Writing I and Honors English II courses, this exhibit combines local history artifacts and stories with medieval artifacts and stories in order to highlight the lineage of disability and its presence throughout history. The purpose of the exhibit is to engage viewers in conversations about the history of disability and to explore how more distant heritage connects with local heritage. But, more importantly, the goal is to help make visible a heritage that is all too often marginalized and forgotten.
Supported by the Douglas and Isabelle Crocker Center for Civic Engagement and the Fitchburg Historical Society.
Harry Doehla: Doehla Greeting Card Factory
Alexander Maggio
The artifacts shown include: Harry Doehla's short autobiography in Guideposts, an article about Doehla in the December 13, 1951 issue of The Christian Advocate, a history of Doehla Greeting Cards Inc., a picture of the Fitchburg factory, a Christmas Card from the Doehla factory, and a short pamphlet about The Harry Doehla Hydro-Therapy Pavilion, established in 1969. Owned by the Fitchburg Historical Society.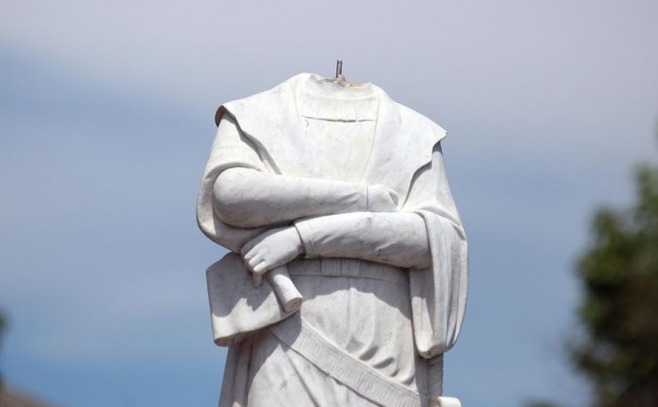 Heritages of Change
Heritages of Change Mini-Exhibitions
Heritages of Change is a collection of mini-exhibitions developed by Dr. Kisha Tracy's Writing II students for members of Adult Learning in the Fitchburg Area (ALFA). Each of the mini-exhibitions practices curatorial activism, bringing attention to the heritages of marginalized topics. Members of ALFA worked with the students to brainstorm ideas, provide feedback on writing, and encourage their work. 
"Silenced No More": "Beheaded Boston Christopher Columbus Statue"
Leah Gorham
Public Service Announcements
Students in Dr. Katy Covino's Writing I and Honors English I courses create short Public Service Announcements that identify and address a problem that exists either within the university or the Fitchburg community. The research-infused PSAs both identify an area of need and propose a sustainable solution. The Mayor of Fitchburg, Stephen DiNatale, reviews the completed work and considers the viability of the solutions proposed.
Mental Health Resources PSA
Abbey Quirbach and Alyssa Fields
Parking PSA
Matthew Sadowski and Nick Sachetta
Recycling PSA
Gabby Callahan and Mohamed Elsayyad