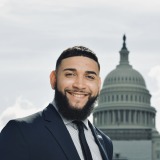 It's surreal. I like the fact that I'm in the center of everything.
Oscar Burgos Pimentel '23 has had a front-row seat to modern American history this summer, interning in Washington, D.C. in the office of U.S. Rep. Lori Trahan. Being in the capital during a season including the Jan. 6 Congressional hearings and the reaction to the Supreme Court's reversal of the Roe v. Wade decision, Burgos Pimentel has seen a lot.
"It's surreal," he said. "You see all the people you see on TV, but they're just normal people. It's an intense environment."
For a political science major, it's been a powerful experience. Beyond the dramatic political events, Burgos Pimentel has been able to gain an appreciation for the process of governance through his internship, where he handles constituent calls and scheduling, among other duties. 
Burgos Pimentel's internship is sponsored by the Congressional Hispanic Caucus Institute, which has created additional opportunities to engage with leaders and guest speakers beyond the traditional work day. 
"I like the fact that I'm in the center of everything," he said. 
Burgos Pimentel is used to being busy. On campus, he has served on the Student Government Association, been a resident assistant, a peer mentor, office assistant and tour guide, among other functions. "It's mostly about managing time and prioritizing sleep," he said. "I take it one thing at a time and take breaks in between."
The drive to engage has been part of Burgos Pimentel's approach since before he arrived at Fitchburg State. He lived most of his life in the Dominican Republic, where he studied English, French and Spanish (and brushed up his conversational English skills by watching the Discovery Channel and History Channel). His family came to the U.S. when he was 15 years old. When he was looking at colleges, he liked the atmosphere at Fitchburg State, as well as the fact that yellow was one of its school colors. "Yellow is my favorite color, so that was part of it," he said. 
He said he also appreciated that he could study political science, as his interests include advocacy and community support systems like those that benefited him and his community as a youth.
Burgos Pimentel's political science studies took on a global perspective when he traveled this spring to Poland with Professor Joshua Spero from the Economics, History and Political Science Department. The voyage occurred shortly after the Russian invasion of Ukraine, so he was able to see and interact with Ukrainian refugees in Poland (and was the topic of a forum on campus this spring).
Spero said he was proud of Burgos Pimentel's continued track record of success, including his selection for the very competitive Congressional Hispanic Caucus Institute. "One of my top political science students, Oscar Burgos Pimentel contributes greatly to our community with enormous dynamism and determination on his wonderful Fitchburg State journey," Spero said. "A leader across campus, his resident advising in Aubuchon Hall, tutoring and mentoring students, and Student Government service underscore his giving greatly to many parts of our community."
Burgos Pimentel is considering graduate school after he completes his bachelor's studies in 2023.