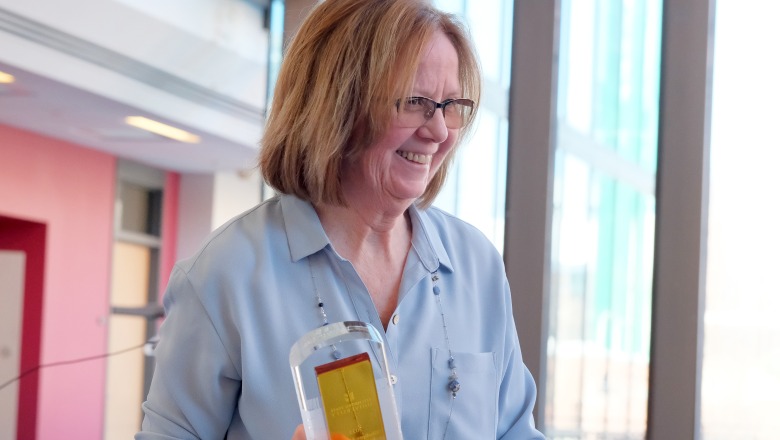 Fitchburg State's School of Graduate, Online and Continuing Education (SGOCE) held its second annual Graduate Education Celebration on April 3, highlighting the accomplishments of its students and faculty.
The university has more than 3,000 students in graduate classes this semester, being taught by approximately 200 faculty members, according to SGOCE Dean Becky Copper Glenz, who presided over the celebration. Of those students, 80% are taking classes entirely online.
"That number keeps going up," she said. "We've seen a lot of growth in graduate education over the last five years, and that's a national trend."
She cited surveys that show those with graduate degrees have higher salaries, enjoy more job opportunities, and report greater job satisfaction than their counterparts without advanced studies.
Vice President for Academic Affairs and Provost Patricia Marshall presented the second annual graduate adjunct faculty award to Dr. Margaret O'Hearn-Curran, chair of the dyslexia and reading specialist program. 
O'Hearn-Curran's students and colleagues praised her commitment to ensuring all children learn to read and described her as an inspiring, hard-working and dedicated teacher who continues to make an impact on all those lucky enough to study with her, Marshall said.
"We are indeed fortunate to have you here at Fitchburg State," Marshall said.
O'Hearn-Curran recalled being recruited to Fitchburg State in 1995 and said the university's teacher candidates and graduate students continue to make an impact on students at the local and state level. "I am very proud to be part of this university," she said.
The celebration continued with a panel discussion on the value of graduate school, in which faculty members Jescah Apamo-Gannon (from the Education Department), David Weiss (from the Behavioral Sciences Department) and student Mary Nankya (pursuing a master's degree in computer science) shared their own experiences.
---
Ten Facts about Master's Degrees
From the Council of Graduate Schools
Increasingly, the nation's workforce needs master's degrees. Jobs that require a master's degree at an entry-level are projected to grow by 15% between 2019 and 2029, the fastest across all education levels.
The majority of college graduates desire master's degrees. Nearly three quarters of all students completing the baccalaureate expect to pursue an additional post-baccalaureate credential; of those, nearly two-thirds plan to complete a master's degree.
The U.S. healthcare system depends on master's education. Over three-fourths of nurse practitioners and nurse midwives are master's degree holders and so are nearly two-thirds of nurse anesthetists. In addition,the plurality of various counseling occupations, such as marriage and family therapists and mental health counselors are held by master's degree holders.
Master's education is a critical pathway to better job security and higher earnings for URM students. Nearly one quarter of master's degree recipients in 2018-19 were underrepresented minorities (URMs), a proportion comparable to URM representation among baccalaureate degree recipients. In the same year, however, only 18.3% of doctoral degree recipients were URMs.
Master's education helps URM students prepare for STEM doctoral education. Underrepresented minority (URM) doctoral students in science, technology, engineering, and mathematics (STEM) fields are more likely to complete their degree objectives when they have prior master's degrees.
Not all master's degrees are MBAs. Master's degrees in business accounted for nearly one quarter (23.6%) of all master's degrees conferred in the United States in 2018-19. Education (17.6%) and health professions and related fields (15.8%) were second and third. The remaining were in a variety of fields, including computer and information sciences (5.5%), social sciences and other applied fields, such as public administration and social services (5.9%) and psychology (3.5%).
The nation's education workforce relies on master's education. Many elementary teachers (46%) and secondary teachers (51%), as well as special education teachers (52%) and education administrators (44.3%) are master's degree holders.
Master's degree holders are an integral part of community college education. Nearly two-thirds of full-time faculty at community colleges in Fall 2003 had master's degrees, while only 18% of them had doctoral degrees. More than half (53.5%) of community college instructors have master's degrees as their highest credentials, while only 11% of them have doctoral degrees.
Master's education preserves our heritage and spurs cultural innovation. The majority of the nation's librarians are master's degree holders, and the plurality of archivists, curators, museum technicians and conservators, and anthropologists and archeologists, and historians are Master's degree holders.
Master's degree holders are essential members of the U.S. research and development enterprise. The largest percentage of survey researchers, mathematicians, statisticians, sociologists, economists, and political scientists are master's degree holders.