Student Support Squad Goals
Squad Leaders introduce Squad members to campus life
Squad Leaders encourage Squad members to participate in campus activities by partnering with them to attend clubs, organization meetings, and/or just hanging out
Squad Leaders act as guides for Squad Members discussing majors, courses, professors, and all aspects of University life
Squad Leader Qualifications
Squad Leaders are students who maintain a minimum of a 2.5 GPA. Each Squad Leader must apply and interview with the TRIO SSS team before being selected for this position. Each year, Squad Leaders are trained by the TRIO SSS team and engage in activities designed to build their leadership skills and help them connect with campus partners, the TRIO SSS team, each other, and to their Squad Members.
Squad Leader Benefits
Access to training from many campus partners and outside organizations
Develop and improve leadership skills
Establish a close working relationship with Squad Members and the TRIO SSS Team
Engage in planning, developing, and implementing fun and interesting activities for TRIO SSS participants
Meet Our Squad Leaders
Cheyenne Coon
I am an Educational Studies major with a minor in Psychology. I am an Orientation Leader and a Squad Leader. I really love working in TRIO SSS because its like it's own little family and the office has the best snacks.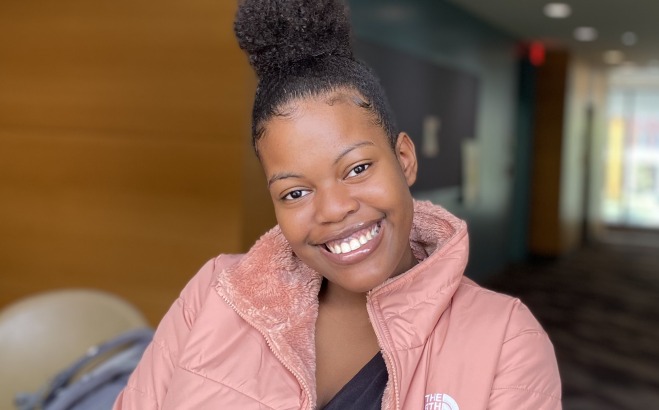 Ashaunti Gordon
My name is Ashaunti Gordon. I am a Human Services major. On campus, I participate in Dance Club both as a dancer and teacher. My favorite things to do in my free time are to cook, and have self-care days.
Justin Bishop
I am a senior Criminal Justice major. I like watching football, working out, and playing video games.
Gianna Meninno
My name is Gianna Meninno. I am a Senior in the Psychology major. In addition to working at TRIO SSS, I also work as a tour guide in Admissions.
Questions? Get in Touch!
The TRIO Student Support Services staff works with students who are from families where neither parent has earned a baccalaureate degree, who are from low-income backgrounds, and/or are students with disabilities.
Hammond Hall 315