We encourage the understanding and appreciation of all aspects of Italian language and culture, including ancient and contemporary studies, and the Italian experience in the New World.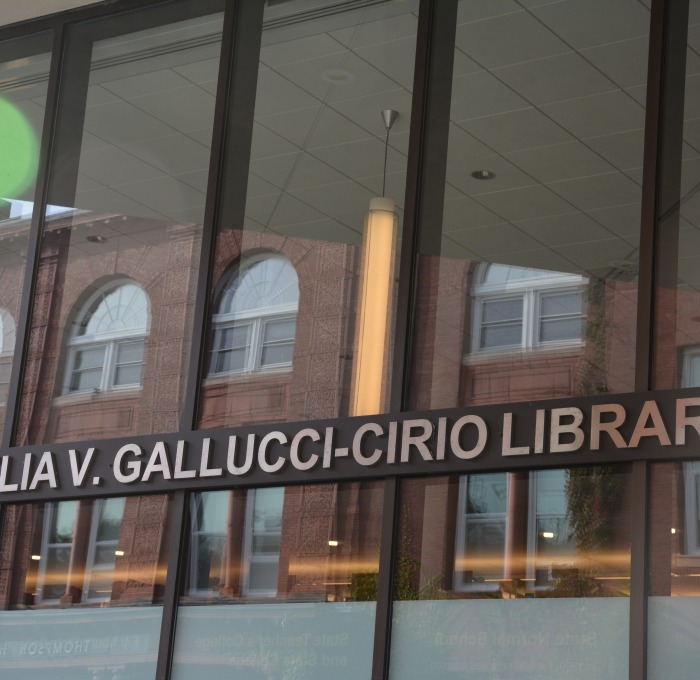 Effective Friday, May 27, Hammond Hall will be closed until further notice because of emergency repairs to its heating, ventilation and air conditioning system. Please contact us via email during this time. 
Through an initial gift from Mrs. Amelia V. Gallucci-Cirio of Phoenix, Arizona, the Center was established in 1999 as one of the University's community outreach programs. Several major gifts have been added to an endowment fund that provides annual income for the Cultural Series and the Center's Italian language and culture initiatives.
The CIC Archives at Fitchburg State can help you preserve your Italian heritage artifacts for future generations. Your photos, paper documents, films, paintings, sculptures, biographies, etc. will be shared online and made available for scholarly research. Please feel free to contact the CIC Archives via email with any questions. 
Join us for the June 11 CIC Gala
Library and Archive Center
The Library is open during the academic year when classes are in session.
Images of the CIC
Scholarships
Center for Italian Culture / AVGC Scholarship
More CIC Information
Six Reasons to Learn Italian
Learn to eat, live and love like an Italian
From Six Reasons to Learn Italian by Michael San Filippo, updated March 14, 2018
When you have an innumerable amount of other "useful" languages to choose from, why would you choose Italian? It is a language spoken by around 59 million people, compared to Mandarin's 935 million, for example.
Despite the fact that every day more and more Italians are learning English, there is still a huge appeal to learn la bella lingua.
Here are six reasons for you to study (or continue studying) Italian:
Investigate Your Family History
Many people feel drawn to Italian because it's a part of their ancestry, and learning Italian can be a great tool to utilize as you. While you can do a lot of research in English, actually visiting your great grandfather's birth town in Sicily will require more than just a list of survival phrases. To truly get a feel for the locals and hear stories about what the town was like while he was alive, you will need to know Italian. What's more, being able to understand and tell stories to your living family members will add a depth and a richness to your relationships.
Experience a More Authentic Italy
Imagine that you're going to Italy for ten days and you'll be flitting between Rome, Pisa, Florence, and Venice. It would be relatively painless to get by with English. However, by learning enough Italian to order food at restaurants, ask for directions, shop at fashionable boutiques, and make small talk, you'll see a more authentic side of Italy that typical tourists rarely experience.
Dive into Italian Literature and History
While there are plenty of the classic Italian texts translated from Italian to English, there is something magical about reading Boccaccio in its original native form. The language has changed a lot since the Renaissance, so you can't be expected to understand every word. If you only need to reference, instead of rely on, the English version of the text, you'll gain a deeper understanding of the sentiment behind the literature and have a better appreciation of the historical context it was written in.
Improve Your Craft
Perhaps you're an aspiring musician who wants to learn what adagio, allegro, and andante mean, or an who wants to improve her pronunciation. If you engage in any kind of craft that has Italian influence, it's likely you'll find new techniques to explore, new artists to discover for inspiration, and a renewed passion for your art.
Improve Your Memory
If you're at all concerned about the possibility of Alzheimer's or Dementia, that learning a language can delay the negative effects for up to seven years. However, at this point, there is no evidence that learning foreign languages can prevent the diseases entirely.
Live in Italy
If you've ever dreamed of waking up and walking outside to be greeted by an Italian lifestyle, learning Italian is a must if you want to feel integrated and experience how Italians live. When you make friends or are able to participate comfortably in community events, you'll find yourself behaving, speaking, and eating like an Italian. If you're interested in researching how to move to Italy, here is a great place to start.
Why Italian?
From the Italian American Committee on Education
A knowledge of Italian is important for people in business, the arts, technology and many professions. It also is useful for high school and university students planning careers in art, fashion, history, music, linguistics, education and international relations.
Students preparing for the SATs who have studied Italian tend to score higher on vocabulary and grammar. The reason is simple: Italian developed from Latin and an estimated 60 percent of the English vocabulary also comes from Latin.
Italian is the 4th foreign language most spoken in U.S. homes, according to the U.S. Census Bureau. It also is spoken in Switzerland, parts of Africa, the Balkans, and the island of Malta.
Italy is one of the top five economies and is a leading member of the G8 Group of the wealthiest democracies in the world.
An estimated 7,500 American companies do business with Italy, and more than 1,000 U.S. firms have offices in Italy including IBM, General Electric, Motorola, Citibank and Price Waterhouse.
Italy is a world leader in machine tool manufacturing, with advanced technologies in robotics, electro mechanical machinery, shipbuilding, space engineering, construction machinery, and transportation equipment. Many of these firms have offices in the United States.
Italy's economy is changing: state-owned companies are becoming publicly held, opening up the Italian market to American investment.
Italy is a world leader in the culinary arts, interior design, fashion, graphic design, furniture design, etc. Those planning careers in such fields benefit greatly from knowing Italian.
Italy has long been a magnet for the tourism industry: in the Jubilee Year 2000, Rome alone hosted over 30 million visitors.
Young Americans who want to become physicians, dentists, and veterinarians, but who cannot afford the tuition at American schools, can study at Italian universities for a fraction of the cost. Their degrees are valid in the U.S.
Art historians need Italian. According to UNESCO (the cultural and educational agency of the United Nations), over 60 percent of the world's art treasures are found in Italy.
Center for Italian Culture Study Room
Located on the 4th floor of the Amelia V. Gallucci-Cirio Library in the Hammond Campus Center, this special collection consists hundreds of books, periodicals, CDs, videotapes, manuscripts, archival material and records pertaining to Italian language and culture.
Sogni d'Oro Project
This oral history project completed in 2002 captured the familial stories of area citizens of Italian descent on audio tape, compact disc and in print.
The Italian American Collection at Fitchburg State University
Located in the Archives and Special Collections room in the Amelia Gallucci-Cirio Library, the collection, which consists of donated materials from individuals, families and organizations, presents archival documents and artifacts related to the history of Italian Americans in New England. The Italian American collection is accessible to any member of the university community, alumni, scholars and the public. Due to the fragile and unique nature of the items it is necessary to make an appointment in advance. We are available Monday-Friday, 8:30-4:30. Please contact Asher Jackson, Reference, Archives & Special Collections Librarian, at (978) 665-4869 or ajacks19@fitchburgstate.edu.
American Association for Italian Studies
The American Association for Italian Studies is dedicated to encouraging, supporting, and conducting research and pedagogical activities in Italian culture in such areas as:
Language
Art
Music
History
Film
Literature
Folklore
Popular culture
Italy's influence on and interaction with other cultures
Arba Sicula
Arba Sicula (Queens, NY) is a nonprofit international organization that promotes the language and culture of Sicily.
Centro Attività Scolastiche Italiane (C.A.S.IT)
Founded by the Boston Italian Consulate General, C.A.S.IT is a nonprofit educational and professional organization for the promotion of Italian language and culture in the public and private schools of New England.

C.A.S.IT's mission is to assist communities that wish to introduce, preserve, rejuvenate or broaden the study of the Italian language in their schools. The organization offers grants of varying amounts for the establishment of Italian language and cultural programs with the ultimate purpose to institute Italian as a subject in the school curriculum.
Consulate General of Italy
The goal of the diplomatic-consular missions is to protect the interests of, and provide services to, Italians when not on Italian soil.
The services are administered based on equality, impartiality, efficiency and transparency, for the purpose of protecting Italian citizens and promoting respect for human rights and freedoms. The Consulate (Boston, MA) hosts educational and entertainment events, administers visas for travel to Italy, and verifies documentation for those applying for dual Italian citizenship.
Dante Alighieri Society of Massachusetts
The Dante Alighieri Society (Cambridge, MA) is a nonprofit organization whose objective is to promote and foster Italian language and culture by helping to develop an appreciation of Italian achievements in the arts, literature, science, and industry. The Society also supports the study of the Italian language and spirit of understanding among people through the arts and other cultural activities.
Delicious Italy
Delicious Italy is an independent guide to the food, wine, culture, history and traditions of Italy by region and territory. The website also offers local Italian incoming tourism service
The Rome-based guide is for anyone who likes to eat and travel well. It promotes experiences of local gastronomy, culture and hospitality through personal contacts and recommendations for regional tourism and unique stays.
Digital Dialects Italian Games
Digital Dialects is a website featuring interactive games for learning the Italian language.
Ellis Island Museum
The Ellis Island Museum (Ellis Island, NY) provides databases to search 65 million passenger records of those who immigrated to the U.S between 1892 and 1954.
Embassy of Italy
The Embassy of Italy (Washington, DC) coordinates a network of 9 Consulates, 5 Cultural Institutes, 6 Italian Trade Agency offices, and 3 Italian Tourist Board offices. The staff of the Embassy, based in various offices, is composed of personnel from the Italian Ministry of Foreign Affairs and International Cooperation and from other Italian ministries and public entities.
Find a Language Teacher, Tutor or School
Learn a foreign language with help from a qualified teacher, tutor or language school. Find language teachers, tutors or schools in the city of your choice. Alternatively, take lessons online via email, text, voice chat or video conferencing. Over a thousand Italian language tutors are listed.
Giorgio Cini Foundation
The mission of the Giorgio Cini Foundation is to promote the redevelopment of the monumental complex on the Island of San Giorgio Maggiore. The foundation encourages the creation and development of educational, social, cultural and artistic institutions in its surrounding territory.
Il Circulo, The Italian Cultural Society of the Palm Beaches
Il Circolo (Florida) was incorporated by The Italian Cultural Society of the Palm Beaches as a nonprofit organization on April 6, 1977 and has sponsored numerous cultural and social events.
The organization's mission is to promote Italian culture as a part of the mosaic of our daily lives, influencing our vision of the following:
Art
Beauty
Fashion
Design
Architecture
Cuisine
Nature
Language
Poetry
Philosophy
Thought
Opera
Music
Since its founding, annual scholarships have been given to qualified students to study in Italy. In addition, Il Circolo has been a major supporter of Florida Atlantic University's Italian Studies Program, one of only two major programs in the Florida State University System. 
i-Italy
i-Italy is part of a multi-platform media network dedicated to information and entertainment concerning Italy and Italian America. The network features music and videos, as well as articles on new events, travel, and cooking.
Italian American Press
The IAP helps promote books primarily written by authors of Italian heritage who write about Italian American and Italian culture, heritage, and/or history. The Press believes that reading stories of Italian American culture and history will educate, inform, and entertain people of all nationalities.
Italian American Studies Association
The IASA is devoted to the interdisciplinary study of the culture, history, literature, sociology, demography, folklore, and politics of Italians in America. Since its founding, the IASA has published over thirty volumes of the proceedings of its annual conference meetings. The IASA uses scientific and scholarly methods as it seeks to explore and disseminate authentic information and interpretation of the wide-ranging experiences of Italians in America.
Italiamerica
Italiamerica is a cultural organization honoring families that have emigrated from Southern Italy and Sicily. The organization provides services for those who want to pursue dual-citizenship.
Italian Cultural & Community Center
The mission of the Italian Cultural & Community Center (Houston, Texas) is to advance, celebrate and preserve Italian culture and heritage. The Center coordinates the activities of more than 20 Italian clubs in the greater Houston area. The IC&CC has a wide-range of year long activities, including Italian Summer Camps for children 4-10 that expand a child's knowledge of Italian language, culture, traditions and culinary arts without leaving Houston.
Italian Tourism Official Website
The official Italian tourism website provides information on vacations, art and culture, history, events, nature, lakes, mountains, golf, science, boating, thermal spas, sports and adventure.
ItaliaMia
ItaliaMia is a website that highlights Italian culture, news, services and products made in Italy.
Italian American Studies Association
The Italian American Studies Association is devoted to the interdisciplinary study of the culture, history, literature, sociology, demography, folklore, and politics of Italians in America. It has published over thirty volumes of the proceedings of its annual conference meetings. IASA uses scientific and scholarly methods as it seeks to explore and disseminate authentic information and interpretation of the wide-ranging experiences of Italians in America
Italian American Heritage Month
The goals of Italian American Heritage Month are as follows:
To inform the public about the contributions made by Italians and Italian Americans to our civilization, especially in the arts, the humanities and the sciences
To celebrate the impact that Italian culture and language have had and continue to have on our lives as Italian Americans
The organization is responsible for relations between the Italian American Heritage Month Committee and the more than 70 Italian American organizations throughout Massachusetts who participate in this observance. They hope to continue a new era of cooperation in the Italian American community in Massachusetts.
Italian American Museum
Located in the heart of New York's "Little Italy," the Italian American Museum is dedicated to the struggles of Italian Americans and their achievements and contributions to American culture and society. It sponsors lectures, symposia, musical programs, film, festivals, theater, and art exhibitions and preserves, exhibits, and interprets Italian contributions to the American way of life.
Italian American Museum of Los Angeles
The mission of the IAMLA is to foster a deeper understanding of Southern California's diverse heritage. The museum is responsible for research, historic preservation, exhibitions and educational programs that examine the history and continuing contributions of Italian Americans in multi-ethnic Los Angeles and the United States.
Italy Discussion Network
The Italy Discussion Network (Humanities & Social Sciences Online at MSU - East Lansing, MI) is a member of H-Net Humanities & Social Sciences Online. H-Italy offers scholars a central source for information and collaboration in the field of Italian history with the common objective of advancing teaching and research in the arts, humanities, and social sciences. The organization is committed to pioneering the use of new communication technology to facilitate the free exchange of academic ideas and scholarly resources.
The Italian Tribune
The Italian Tribune has been the premiere Italian American Weekly Newspaper since 1931.
Learning and Teaching Italian
Teachers and students can use these comprehensive Italian language guides to improve reading, writing, and comprehension skills for beginner, intermediate and advanced levels.
Language Learning Library
The Language Learning Library is a large and comprehensive language learning portal offering highly relevant and useful language learning related resources.
The Library was created to meet the needs of both teachers and students alike. The site will save time and frustration from the usual web search. We surfed the net so you don't have to, and compiled the most comprehensive and well organized information.
Massachusetts Italian Teachers Association
The purpose of the MITA is to promote the cause of Italian studies and to bring about a more effective cooperation among teachers of Italian in the schools, colleges and universities of Massachusetts. Its goal is to unite and serve the needs of a profession dedicated to the development of Italian as a Foreign Language. The MITA aims to provide its members, students and teachers alike, with educational and insightful universal perspective in an age of ever increasing globalism.
Museo Italo Americano, San Francisco
Since 1978, the city of San Francisco has been home to the nation's only museum dedicated to Italian and Italian American art and culture. The museum displays and researches works by Italian American artists and includes sculpture, photography and painting in its permanent collection. Besides collections of artwork and special exhibits, the Museo Italo Americano offers educational programs, language classes, lectures and film festivals.
My Language Exchange
My Language Exchange is an online community that helps thousands of people find language exchange partners and improve their second language.
The National Italian American Foundation
The NIAF (Washington, DC) is a nonprofit organization that serves as a resource for the nearly 26 million Italian Americans. The goals of the NIAF are:
To preserve the Italian American heritage and culture, making "Italian American" part of the national conversation
To promote and inspire a positive image and legacy of Italian Americans
To raise the prominence of all things Italian in American culture and society
To strengthen and empower ties between the United States and Italy
National Organization of Italian Women
The NOIAW was founded in 1980 to educate and instill pride in Italian American women. Through educational and cultural programs, including scholarships, the organization strives to showcase the accomplishments of Italian American women and to foster the goals of young women of Italian heritage. Through an international network, the NOIAW helps create relationships with women of Italian ancestry worldwide.
Order Sons of Italy in America
The OSIA is the largest and oldest national organization of men and women representing the estimated 26 million Americans of Italian heritage. The organization is dedicated to promoting Italian American culture, traditions, language, the legacy of our ancestors, and contributions to the U.S. and the world.
PRIMO Magazine
PRIMO Magazine is a bimonthly publication for and about Italian Americans. PRIMO features in-depth articles on Italian American history, heritage, neighborhoods, accomplishments and current events. In every edition, PRIMO features articles on travel, food, and wine, as well as reports on one or more of Italy's diverse regions. PRIMO features comprehensive guides that consist of well-researched information on topics of great interest and importance to Italian Americans. PRIMO features Italy's relationship with America and the impact that it has on the American culture.
Senator John Heinz History Center
The Italian American Collection documents the history and culture of Western Pennsylvania's Italian American community. The collection consists of three main elements:
Approximately 800 objects, including textiles, utensils, tools, sculptures, housewares, and other three-dimensional items
Thousands of archival materials in the form of books, photographs, immigration materials, family papers, and records from businesses and fraternal organizations
Oral histories from more than 300 first, second, and third generation Italian Americans
The Sistine Chapel
A virtual tour of Michelangelo's Sistine Chapel.
Vittore Branca Center
The Vittore Branca Center aims to provide a place of study and meeting for young researchers and expert scholars interested in furthering their knowledge, from an interdisciplinary point of view, in a field of Italian civilization, such as:
The culture of the Veneto
The visual arts
History
Literature
Music
Drama
Questions? Get in Touch!
The Center for Italian Culture assists in sponsoring the Fitchburg State University Cultural Series, scholarships, and various Italian language and culture initiatives.
Amelia Gallucci-Cirio Library, Fourth Floor