We welcome the unique perspectives and experiences every international student brings to our community.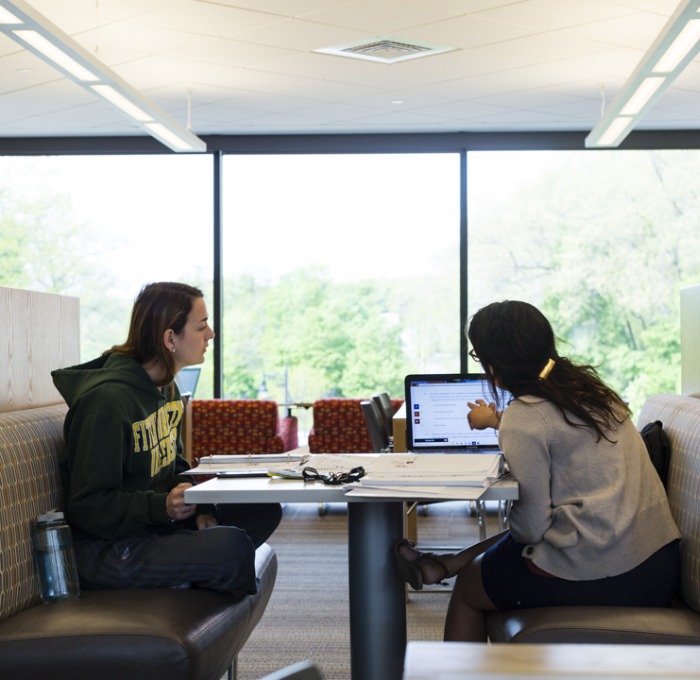 We welcome applicants from all over the world. We are here to support you as you explore your options for advancing your education. Below, you will find important information about application deadlines and requirements. 
Priority Deadlines
Fall 2021
March 15
(Applications will be accepted on a special basis after this date for the fall 2021 semester)
International Admission Requirements
International Undergraduate | International Graduate


International Undergraduate Admission Requirements
Undergraduate admission requirements will be added soon. Please contact us using the information at the bottom of this page with any questions you might have. 
---
International Graduate Admission Requirements
The below requirements are for international students applying to a graduate program at Fitchburg State University. It is highly recommended that you complete your application and submit all of your supporting materials by the priority deadline for the term in which you are applying to. We will continue to review applications and credentials after the priority deadline and will do our best to get you in for the term in which you have applied.
International Credential Evaluations
Applicants who have attended and earned their bachelor's degree outside of the United States are required to submit a general evaluation. We accept evaluations from the following credentialing agencies:
The credential evaluation provides the Graduate Admission Office with a degree equivalency that must demonstrate the degree earned outside of the U.S. is equivalent to a U.S. bachelor's degree. If you have completed any coursework or degree beyond a bachelor's degree in another country, it is advised to have those transcripts or mark sheets evaluated as well.
Official Transcripts or Mark Sheets
Many NACES and AICE member agencies will provide us with official copies of your academic credentials. In lieu of this, we will need official transcripts or mark sheets from all post-secondary work. Please note that any application item submitted to Fitchburg State University becomes the property of the institution and we are unable to return any documents received. 
English Proficiency
Demonstration of proficiency in English is required for international applicants. Applicants can demonstrate English proficiency by submitting official test scores from one of the following approved exams:
English proficiency requirements may be waived for applicants who received a degree from a regionally accredited college or university in the United States or your first/native language is English and you are from one of the following countries:
Anguilla
Antigua and Barbuda
Australia
Bahamas
Barbados
Belize
Botswana
British Virgin Islands
Brunei
Canada
Cayman Islands
Dominica
Ethiopia
Falkland Islands (Islas Malvinas)
Fiji
Gambia
Ghana
Gibraltar
Grenada
Guernsey
Guyana
Ireland
Jamaica
Jersey
Kenya
Kiribati
Lesotho
Liberia
Malawi
Malta
Mauritius
Montserrat
Namibia
New Zealand
Nigeria
Norfolk Island
Papua New Guinea
Saint Helena
Saint Kitts and Nevis
Saint Lucia
Saint Vincent and the Grenadines
Seychelles
Sierra Leone
Singapore
Solomon Islands
South Africa
Swaziland
Tanzania
Tonga
Trinidad and Tobago
Turks and Caicos Islands
Uganda
United Kingdom
Vanuatu
Zambia
Zimbabwe
Requirements for graduate admissions can vary by program. Please visit the Graduate Admissions page for the full list of requirements and links to the program pages.
Application Information
Costs for the academic year:
Tuition and fees:             $16,033
Living Expenses:            $8,649
Health Insurance:           $2,755
TOTAL (US funds)          $27,610
These costs also include books.
Additionally, these minimum costs must be noted on the official bank letter that F-1 visa applicants must submit.
Yes! All foreign transcripts must be formally evaluated before we are able to make an admissions decision. Undergraduate applicants are required to submit a "course by course" evaluation.
Approved Credential Evaluation Agencies
Original credential evaluation reports showing the United States equivalency for academic credentials earned in other countries may be provided by:
All undergraduate applicants whose native language is not English are required to submit testing to demonstrate English proficiency; except for those who have earned a high school, associate's, bachelor's, or master's degree from an institution in the United States OR applicants from Great Britain, Ghana, Guyana, New Zealand, Ireland, Australia, Canada, or any English speaking country of the Caribbean.
For all undergraduate applicants, the TOEFL, IELTS or DUOLINGO is accepted - the minimum passing score for the TOEFL is 79 (Internet-based), IELTS (Academic Test) result is 6.0, and the minimum passing Duolingo English Test result is 95.
Undergraduate applicants to any program other than Nursing are not required to submit SAT or ACT scores as part of their application. 
All exams must be completed before an admission decision can be made.
Fitchburg State Codes for Official Test Scores
SAT code is 3518
ACT code is 1902
TOEFL code is 3518
IELTS (No code please select Fitchburg State as a recipient)
Have Questions? Let us help!
Don't hesitate to get in touch with all your questions. 
Please use this email only for International questions.
The Office of International Education provides assistance to international students and students studying abroad.
Hammond Hall 316