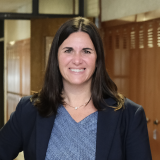 I want students to leave here prepared, with as many doors open to them as possible.
Dayana Carlson may not have anticipated the career path that she has found, but she wouldn't trade it for anything.
She has worked at the Montachusett Regional Vocational Technical High School ("Monty Tech" to the students from the 18 cities and towns it serves) for nine years, but in fall 2022 became its first graduate, first female, and the first Latina to serve as its principal.
A first-generation college student herself, Carlson got to know Fitchburg State by taking dual enrollment courses while still a student at Monty Tech. "The teachers here saw my potential and pushed me to continue with my education," she said. 
A native of Uruguay, she began her career in education as a liaison for students learning English as a second language at Leominster High School. The school had an unexpected opening for a Spanish teacher, and Carlson found herself with a new role.
As she looked to build her career in education, Carlson returned to Fitchburg State and its master's offerings. "It was affordable, it was local, and I was able to continue in my career while enhancing my resume," she said. She worked at school by day, and took her master's in counseling courses at night and during the summer. "The wonderful thing about being in the school system while I was in the graduate program was I was able to immediately apply what I was learning."
Carlson was a guidance counselor for 11 years before joining the Monty Tech administration as an assistant principal, and now its principal.
From her new office, Carlson said she enjoys time spent in classrooms and vocational areas, continually inspired and proud of the teaching and learning that takes place in her building. Carlson also enjoys opportunities for face-to-face interaction with students, from lunch duty to extracurricular events. And as an administrator she looks forward to building upon a strong network of collaboration to increase career and college opportunities for them, including encouraging them to explore the opportunities available to them at her alma mater.
"I want students to leave here prepared, with as many doors open to them as possible. I want them to be both career- and college-ready." she said. "When I was a guidance counselor, if I was talking to students about nursing, I'd tell them we have one of the greatest nursing schools in our backyard. Providing those opportunities and identifying those pathways is so important."
This article first appeared in the Winter 2022 edition of Contact magazine.