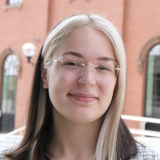 My political science simulations taught me communications and management skills. Even if I don't agree with you, I can understand your position so we can try to meet in the middle.
As a newly-minted university graduate, Rebecca Hess '22 has already made a career out of constituent service.
The Leominster native enrolled at Fitchburg State University four years ago because she wanted to stay local while pursuing a college degree in political science, and planned to keep working part-time.
"As soon as I turned 16, I had a job," said Hess, who counts Chuck E. Cheese and Barnes & Noble among her prior posts. 
Those jobs weren't glamorous, but Hess learned a lot about customer service from the daily interactions with patrons. "I had years of interacting with so many different types of people," she said. "What I've learned is you can't be taught those skills without having that experience in customer service."
Hess dipped into her skills when she began an internship in Spring 2021 in the regional office of State Rep. Michael Kushmerek, himself a two-time Fitchburg State alumnus. It turned into a life-changing experience.
"When I came to Fitchburg State I knew I thought politics was interesting, but I didn't even know what a legislative aide was," she said. "Now I know I want to keep working in this aspect of government."
Even before graduating in May, Hess was hired as Rep. Kushmerek's full-time legislative aide. She spends most of her time in his regional office located inside Fitchburg City Hall.
"All constituent service calls go through me," said Hess. "I'm that front point of contact with the office."
She said she enjoys that she can help residents of the legislative district solve problems. "Generally, no one who's calling me is having a great day," she said. "My experience in customer service taught me how to de-escalate and reorient the conversations so they can get the help they need."
Her duties include regular trips to the Statehouse, as well as representing Rep. Kushmerek at civic events.
Hess said her coursework at Fitchburg State was very relevant to her duties as the legislative aide, specifically citing simulations in the classrooms of Professor Joshua Spero and Professor Eric Budd.
"In those simulations I learned how to interact with other people in government or organizations," she said. "They taught me communications and management skills. Even if I don't agree with you, I can understand your position so we can try to meet in the middle."
Balancing work and school was a challenge, but Hess said she always made a point of setting some time aside to give herself a break. "I knew I needed to set boundaries for myself," she said. "I took Sundays off so I could recharge. I also knew it wasn't forever, and it was worth it in the long term."
"From the start of her tenure as an intern, Rebecca displayed a real aptitude, and later a mastery, for policy work and legislative analysis, something I credit to her preparation in the classroom at Fitchburg State," said Rep. Kushmerek. "Through her fifteen months as an intern, it's been amazing to watch her professional growth and development. Because of this, she really hit the ground running and had my full trust and confidence on day one."
Hess said she is grateful to be working with Rep. Kushmerek, who was understanding about her finding a balance between school and work. "He understands the importance of prioritizing education, and he went through the same thing I'm going through," she said. "I like seeing how much he cares about this city. I'm happy I went to Fitchburg State, and I know I like it here."