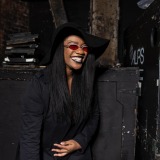 Fighting for equality is always at my core, along with human rights. We should all be able to start with a clean slate.
By Jordan Costa '21
Shalayah C. Washington '14, who now goes by the name Red Shaydez, was a sophomore at Fitchburg State when 17-year-old Trayvon Martin was shot to death in Florida. Martin's shooting ignited an ongoing cultural conversation about the value of Black lives and systemic racism.
"My friends and I were so outraged," she recalled. "This is around the time that Black people dying became prevalent on social media. It was overt. We were in disbelief at how it all played out and there was an eeriness on campus. Organizations like Black Student Union strived for social justice."
Shaydez has been exploring these themes of social justice since she was an undergraduate at Fitchburg State. Her sociology professor shared these topics and have impacted her career since.
"I minored in Sociology and most of my classes in this concentration were taught by Professor G.L. Mazard Wallace. He shared so many gems in his courses that I still think about and apply today. Due to this fact, I study behavioral interactions and what motivates people to do what they do."
Shaydez, always obsessed with hip-hop, wrote poetry as a teen and produced homemade mixtapes exploring different musical styles. Since graduating in 2014, she has taken her musical ambitions professional, performing and recording under her Red Shaydez alter ego.
"In my earlier years, social justice was a big part of my career," Shaydez said. "Fighting for equality is always at my core, along with human rights. We should all be able to start with a clean slate."
Beyond her music career, Shaydez is also an entrepreneur and public speaker. "I address aspiring musicians, college students, and the youth," she said. 
She said her experience at Fitchburg State helped her hone skills like networking, collaboration, and time management that have all helped her navigate her career.
Shaydez said music has been an outlet to share and bring important themes of social justice to light. For example, her latest album, Feel the Aura, includes a song called "Buy All the Land Up" that addresses student loan debt, land ownership, gentrification, and what it's like being a Black woman in modern America.
Shaydez said her career gives her a platform to be a role model in her community.   
"Music can change the world," Shaydez continued. "I make music to positively impact others and to spark change. My music is catchy, so oftentimes you have to listen a bit more closely to catch the underlying themes and lessons in them. I'm always dropping hints for ways to make the world a better place."
This article was originally published in the Winter 2021 edition of Contact magazine.