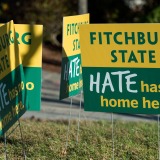 Our goal is to hear voices we don't always hear. Our students are so smart, and so connected, we want to hear all the solutions they have.
The university's academic deans established an Anti-Racism Fund with a goal of supporting initiatives that will counter bias. Its inaugural programs span disciplines but could yield long-lasting positive results for the entire campus.
In the Behavioral Sciences Department, Professor Kori Ryan and Professor Zachary Miner will conduct focus groups to identify and examine barriers to student success in their field. An outside consultant will help facilitate candid conversations, and students will also participate as research assistants, giving them valuable first-hand experience.
"We need to do more than 'thoughts and prayers,'" Ryan said. "Our goal is to hear voices we don't always hear. Our students are so smart, and so connected, we want to hear all the solutions they have."
"We don't want this to be a top-down situation," Miner added. "We want this to be a collaborative process where students tell us what they need."
Education Department Chair Denise Sargent and Professor Nancy Murray are embarking on a year-long faculty professional development program to explore equity and social justice issues related to curriculum, instruction, and advising. Through their work, the School of Education will engage in a supportive and collegial review of Eurocentricity and racial bias in order to support authentically inclusive excellence.
"Our goal is to provide a safe space to enable faculty to be vulnerable and reflective in order to carefully analyze the curriculum, materials, and teaching techniques used within their courses," Murray said. "This foundation is designed to support the review of how racial bias impacts not only the curriculum and instruction, but each and every interaction with our BIPOC students and colleagues."
"We need more ethnically diverse teachers, and we've put a lot of energy into that," Sargent added. "I'm hoping this project will give faculty members good resources and help us do some self-reflection to strengthen our curriculum and advising."
In the Biology/Chemistry Department, along with other STEM fields, Professor Ronald Krieser will help launch a faculty and staff development program that includes a book reading group, and a speaker series focused on inclusive excellence.
"The problem isn't how to fix the students; it's how to fix the faculty," Kreiser said. "What I need is more training on how to be inclusive in my pedagogy. Ever since I started at Fitchburg State 13 years ago, we've been very dedicated to student success. That's my job, to help them succeed."
The work builds on efforts the university has undertaken through its Inclusive Excellence Group, including faculty and administrators from the education and STEM fields.
At the Amelia V. Gallucci-Cirio Library, librarian Lori Steckervetz and the library's anti-racism team will launch an online/virtual film festival focused on race and the impact of systemic racism, while also soliciting creative reflections that could comprise an exhibit in the fall.
This article was originally published in the Winter 2021 edition of Contact magazine.