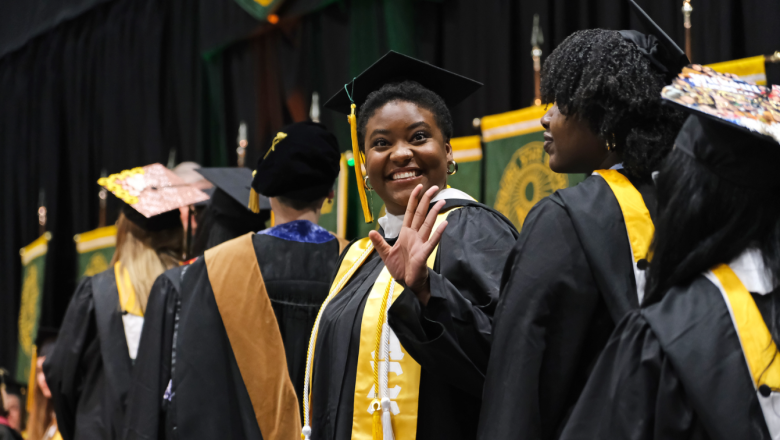 Fitchburg State University held the winter ceremony of its 126th commencement exercises on Friday, Dec. 16.
See photos from the ceremony on the Burg Blog.
President Richard S. Lapidus gave the commencement address at the ceremony, where undergraduate and graduate degrees were conferred. The graduating class included 619 students from 30 states and four countries.
President Lapidus highlighted stories of perseverance from the graduating class and encouraged the graduates to continue to show resilience and courage as they chart their future paths.
Student speakers also addressed the graduates and guests. Graduate Student Leadership Award recipient Spencer Fuller, a member of the Northborough Police Department, completed his Master of Science degree in criminal justice. He also completed his Bachelor of Science degree in criminal justice at Fitchburg State as part of the university's five-year police program, whose graduates receive certification to work in municipal police departments in Massachusetts and other New England states.
Fuller was nominated for the award by university faculty, who described his leadership skills as a mentor and role model to younger students.
"You can truly find success in your life when you start to see the people around you succeeding and you start finding happiness in their success," said Fuller, who cited Fitchburg State Police Academy Director Lisa Lane McCarty as a key mentor. "She displays all the qualities that make someone a great leader: selfless acts for the benefit of others. She puts other people above herself, in order to help these people succeed."
The undergraduate valedictorian was Helen "Hallie" Dyer of Westwood, who completed her Bachelor of Science degree in criminal justice, also through the university's police program. Dyer, who had a perfect 4.0 grade point average, described the challenges of the undergraduates who navigated the disruptions of the COVID pandemic during their studies.
"In the months of being isolated from that community to which I had become connected, I realized just how much all my new relationships meant to me," Dyer said. "I realized while getting through some of the most challenging transitions in my education that I am not in a vacuum; the support of my friends and family is what allowed me to be as resilient as I was. When we returned to campus, that same sense of community remained, and I made a decision that I didn't want to forget how important it was. I realized that growth is not just academic achievement; it's community, it's grace under pressure, it's overcoming adversity when challenges arise." 
View the ceremony, filmed by Fitchburg Access Television, on the university's YouTube page, and see additional photos from the ceremony here.