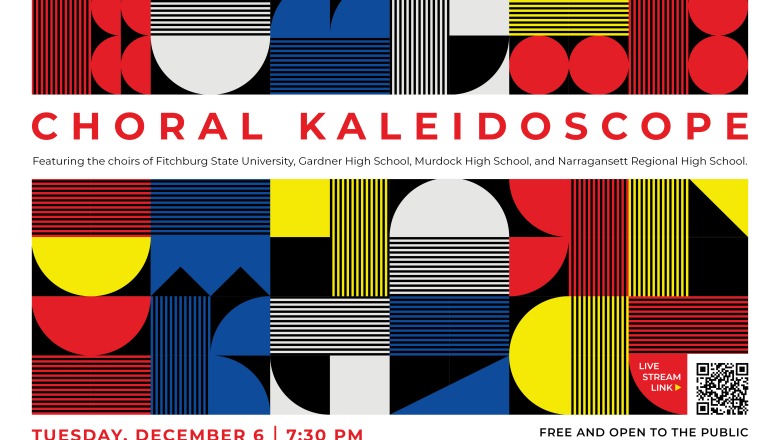 The Fitchburg State University choirs will be joined by voices from local high school groups when the campus presents its "Choral Kaleidoscope" concert in December.
The performance will be held at 7:30 p.m. Tuesday, Dec. 6 in Weston Auditorium, 353 North St. Admission is free and open to the public. 
"We're very excited to bring back our annual Choral Kaleidoscope event for the first time since 2019, collaborating with local high school musicians," said Assistant Professor Jonathan Harvey of the university's Humanities Department, who conducts the Fitchburg State choral program.
The Fitchburg State choirs will be joined by singers from Gardner High School, Murdock High School and Narragansett Regional High School.
The concert will include pieces from the Middle Ages to the present, from cultures around the world, including favorites like Bill Withers, Queen, selections from The Greatest Showman, and video game music.
The first 80 guests will receive a free set of "Hildegard's Horde," a medieval miscellany of entertaining education from Fitchburg State's global Middle Ages students.
Learn more about Fitchburg State's choral groups at https://www.fitchburgstate.edu/academics/academic-schools/school-arts-and-sciences/humanities-department/music/fitchburg-state-choirs.