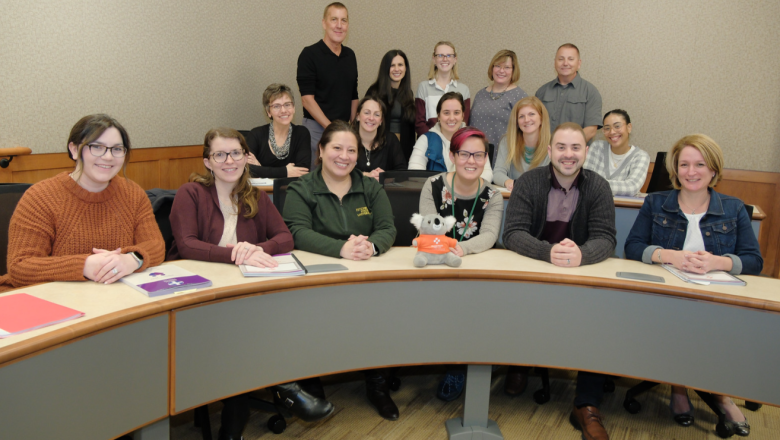 To further the university's efforts to provide real-time mental health support to students, 16 administrators and staff members from across campus participated in an intensive three-day training last week to become certified Mental Health First Aid instructors.
Assistant Dean Robert Hynes, director of the university's Counseling Services, said Mental Health First Aid is an international, evidence-based program that aims to raise awareness regarding mental health challenges, and provide individuals with basic tools to identify signs of mental illnesses and substance use disorders and provide appropriate support.
"With this new capacity that has been established, we hope to roll out the curriculum to a wide cross-section of Fitchburg State faculty, staff, and student body," Hynes said.
"The hope in bringing Mental Health First Aid to our campus is to bolster our community's shared efforts to address and effectively support the various mental health needs of our students," said Amanda Sapienza, assistant director of Counseling Services.
The training, facilitated by Mental Health First Aid instructors Donald Decker and Anthony Campbell of the National Council for Mental Wellbeing, was made possible through a mental health grant that Fitchburg State recently received from the Massachusetts Department of Higher Education.
Elizabeth Swartz, director of TRIO Student Support Services, joined several members of her department in the training.
"It's very empowering, because we're given real strategies to help students in the moment," Swartz said. "We can help make arrangements for them to get future help, but this training creates a lovely bridge where we can respond to students' needs in the moment."
Rachel Graddy, director of Disability Services, said she also felt better equipped to serve students by taking part in the training. "It gives us concrete, actionable things we can do to help people who are in mental health distress," she said. "I'm not a mental health professional, but this gave us tools that we can utilize to help."
Vice President for Student Affairs Laura A. Bayless joined members of her department for the duration of the training.
"Mental Health First Aid supports students and will help inform our policies and protocols as a university division," Vice President Bayless said. "I'm so appreciative of the attention and commitment my colleagues are giving this important topic as we create a campus community that is truly student-ready."
Other participating offices included Career and Advising Services, University Police, and Community Health Connections.