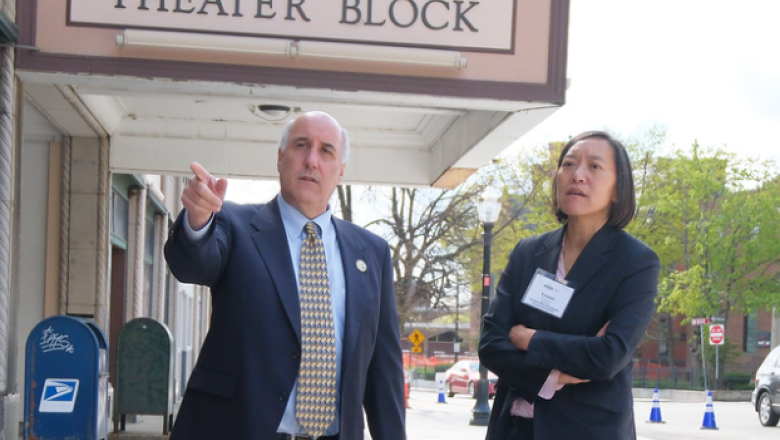 Executive Office of Economic Development Secretary Yvonne Hao toured the downtown theater block on Wednesday as part of her visit to the city to address mayors from across Massachusetts.
University President Richard S. Lapidus was also a featured guest at the mayors' meeting, where he presented details of the performing arts center being proposed downtown.
Prior to the meeting, Hao toured the theater and heard from President Lapidus and Fitchburg Mayor Stephen L. DiNatale about its transformative potential for the city and region.
The university purchased the theater block in 2016. Its first phase of construction included the game design studio – site of the capstone experience for students in the university's game design program – and the ideaLab, a coworking space designed to foster creativity and entrepreneurial innovation that has supported more than 250 businesses since its inception.
The next phase will be the activation of several storefronts within the theater block, including a restaurant and an art gallery. Following that, construction is expected to begin in 2024 on a new "black box" theater adjacent to the main building. That project recently received a $500,000 matching grant from the National Endowment for the Humanities following a competitive national cycle.
The performing arts center will play a key role in the revitalization of Fitchburg's Main Street, President Lapidus said.
Hao and members of her staff met with mayors and municipal officials following the theater tour. Affordable housing, road improvements and expanded broadband access were among the topics the mayors raised with Hao and her staff during the meeting, which was held in the city's Legislative Building on Main Street. 
"The challenges we have in housing and transportation, these issues didn't happen in three months or three years or even 10 years," said Hao, who was appointed in January. "These are going to be multi-decade investments. We need to have some of these tough conversations now."
Hao also described the challenges facing Massachusetts, with its large healthcare and education sectors that were hard-hit by the pandemic. The good news, she said, is those segments will continue to recover and there are opportunities to build on their success. "Life sciences are going to continue to grow, but I want to see us grow not just in Boston and Cambridge," said Hao, who also touted the importance of advanced manufacturing in the state's economic health.
The mayors' meeting also included statewide updates on American Rescue Plan Act funding and pending legislation.