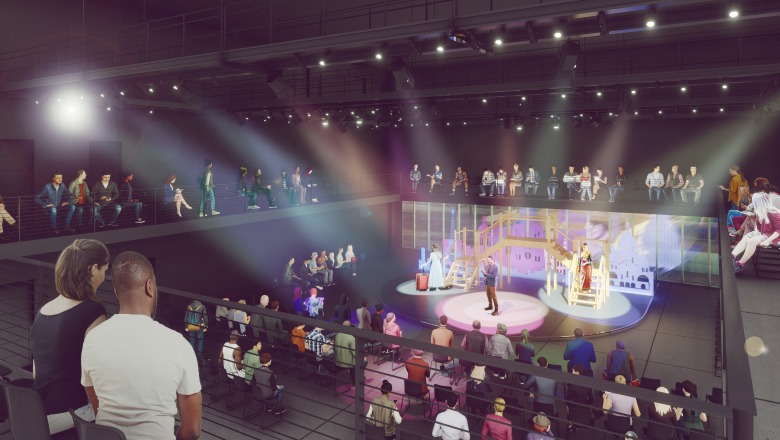 The National Endowment for the Humanities (NEH) has awarded Fitchburg State University $500,000 to support the development of a performing arts center on Main Street.
The grant, announced Tuesday, April 18, was awarded by the NEH Challenge Grant program, and will catalyze additional fundraising efforts by the university.
The NEH grant will support the construction of a 15,830-square-foot "black box" theater adjacent to the historic theater at 717 Main St. in the heart of downtown Fitchburg. The new space will support university students and the community, serving as an applied humanities learning laboratory for students as well as a mechanism to drive downtown revitalization through expanded arts and cultural experiences.
University President Richard S. Lapidus said the successful application for these competitive grant dollars was a validation of the institutional belief in the importance of the humanities in the future of higher education.
"We are grateful to the NEH for supporting this public-private partnership that will be transformative for our students while enhancing the quality of life in the city and region," President Lapidus said. "This theater space will create singular learning opportunities for students, provide a state of the art resource for community groups, and drive the continuing revitalization of downtown Fitchburg."
The 250-seat, black box theater represents the second phase of the project, which began with the university's purchase of the historic theater in 2016. The building is already home to the university's game studio for senior students in the game design major, as well as the interdisciplinary ideaLab that supports the development and growth of new and existing businesses in the community. Since its inception, the ideaLab has served 257 small businesses, including 150 low-moderate income owners, 115 women owners, 88 immigrant/ESL owners, and provided grants and loans totaling $3.37 million.
The black box will also include infrastructure that will serve the future renovation of the historic theater itself. When completed, the site will comprise the Fitchburg State University Performing Arts Center. The project complements major development efforts downtown including the restoration of City Hall, the upcoming renovation of the Fitchburg Public Library, and the conversion of the former B.F. Brown School into 60 units of artist live/work space.
Construction of the black box is expected to begin in 2024.