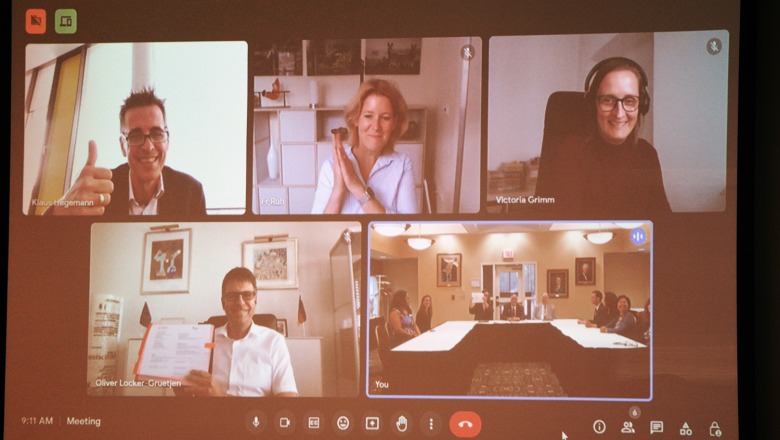 The longstanding educational partnership between Fitchburg State University and Rhein-Waal University of Applied Sciences in Kleve, Germany is taking a leap forward with the signing of a new transfer agreement. 
The parties held a virtual signing ceremony on Friday, June 23.
The agreement spells out clear transfer opportunities between the institutions, enabling students from both countries to complete baccalaureate degrees. Under terms of the pact, German students may complete Fitchburg State's Bachelor of Science in economics with a concentration in international business and economics, while American students may complete a bachelor of arts in international business administration through Rhein-Waal University of Applied Sciences (HSRW).
Kleve, Germany and Fitchburg have been "sister cities" for more than three decades.
"Fitchburg State has enjoyed a long and mutually beneficial relationship with Rhein-Waal University of Applied Sciences, in which our students and faculty have taken part in meaningful interactions, both in-person and in virtual space," Fitchburg State President Richard S. Lapidus said. "This new agreement outlines clear pathways for students from both countries to pursue powerful academic credentials, and creates tremendous opportunities for our future graduates."
"The cities of Fitchburg and Kleve have been sister cities for more than 30 years and thus maintain friendly relations between the Lower Rhine and Massachusetts," said HSRW President Oliver Locker-Grütjen. "I am pleased that we are now taking a step further in the cooperation between the two educational institutions to deepen ties and exchanges."
Delegations from the partner institutions have made several trips to each other's campuses, with a cohort of students and faculty from Fitchburg State visiting the German institution this spring as part of a course on major themes in contemporary European history, politics and economics. The Heart of Europe class will next be offered in Spring 2025.
Officials from both institutions have signed the agreement, and a celebration of the expanded partnership will be held when the delegations may gather in person.