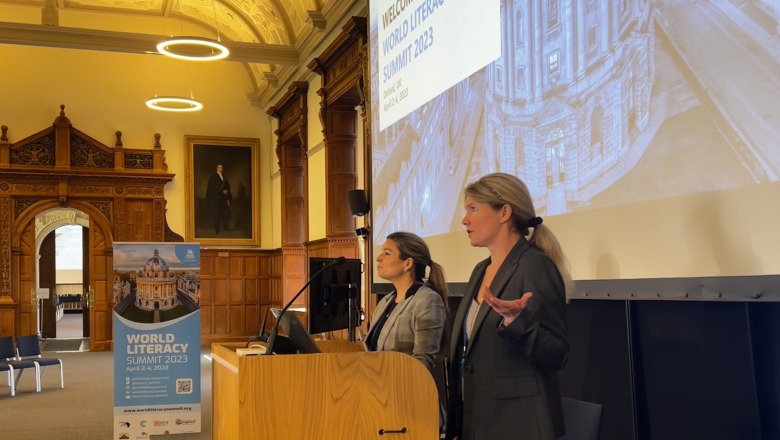 Two Fitchburg State University faculty members recently traveled to England to present at the World Literacy Summit at Oxford University, sharing their research on how to promote critical literacy for early readers.
The selective conference included just 120 presentations representing educators and researchers from 85 countries, with an in-person and virtual audience that exceeded 45,000 attendees.
Associate Professor Katharine Covino of the Fitchburg State's English Studies Department and Associate Professor Lyndsey Benharris of the Education Department are looking to show teachers how they can inspire readers to consider complicated questions about the subjects they are learning.
The faculty members are also co-authors of a new book, Challenging Bias and Promoting Transformative Education in Public Schooling Through Critical Literacy, that will be published later this year.
"It's all about bringing marginalized voices to the conversation," Covino said. 
For Benharris, an analysis of books targeted to young readers about the life and legacy of Christopher Columbus inspired this work. Columbus' legacy is more complex than many of the volumes indicate, she said, and the work she has undertaken with Covino is about how to appropriately introduce those complications into elementary school classroom conversation.
The professors said they know this approach can raise cultural hackles, but insist the issues are more nuanced than the current state of national dialogue may allow.
"It's not about banning books," Benharris said. "If you just sit in your own comfort and you don't think about other perspectives, and challenge the narrative, you're going to be stuck in those patterns."
"For us, it's about, 'how can we make it more complicated?'" Covino said. "How can we present different perspectives? How can we give teachers the tools to have a more complicated conversation? It's not about saying Christopher Columbus wasn't brave; you can be an explorer and also cause a genocide. But we've only privileged one narrative, and haven't talked about the other. Our work is about how we talk to children and make it more complicated, and do so in a way that's age-appropriate and that children can understand." 
While Covino and Benharris are looking at the traditional narratives surrounding Columbus and his legacy, the underlying themes of that exploration are universal.
"This notion of the colonizer changing where they go is not just an American issue, it's a global issue," Benharris said.
Presenting at an international conference was a daunting but rewarding experience, the professors said.  "It's fantastic that we get to share our scholarship at Oxford. It validates our work and helps spread our message regarding the importance of critical literacy," Covino said.