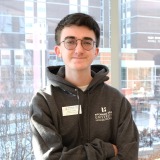 It's a great fit, I'm a member of that community, and we exist among each other and support each other.
Elliot Zopatti '24 said Fitchburg State had an unexpected leg up when he toured the campus as a high school student: its school colors of green and gold.
"Green is my favorite color, so that was my first foot in the door," Zopatti said with a laugh.
Of course, his final college decision was not made so lightly. Zopatti, who had concentrated on graphic design as a student at Bay Path Regional Vocational Technical High School, was impressed by what he saw in the Communications Media Department at Fitchburg State.
Beyond graphic design, he saw the concentrations in film/video and game design, and his imagination was triggered. He is now in the technical theater concentration, and was looking forward to building sets for the spring's main stage production.
Zopatti also responded to the vibe he experienced on his campus tour, which did not push the same hard sell he had seen on other college visits. "It wasn't as intimidating," they said. "It was very inviting."
Fostering that inviting atmosphere is important to Zopatti, who is a resident assistant in Russell Towers, supporting the university's LGBTQIA+ residential learning community (RLC). The university's Housing and Residential Services offers several RLCs for students, designed to create unique and intentional environments whose occupants share common goals and interests. 
Zopatti first lived in the Honors program RLC, but for his second year sought the resident assistant position with the LGBTQIA+ area. The community promotes the education, awareness and acceptance of the LGBTQIA+ culture. Community allies are welcome as members, and members of the community strive to a better understanding of self and their intersecting identities.
Zopatti said being an RA has been a very positive experience, and he's been gratified to work with students in a welcoming community. They have also been able to balance coursework with the responsibilities of his role while also engaging with other clubs on campus like the Gay Straight Alliance and the Minecraft Club. Working with the residents of his RLC has been especially gratifying, they said.
"It's a great fit," said Zopatti. "I'm a member of that community, and we exist among each other and support each other."
This story was originally published in the Spring 2022 edition of Contact magazine.