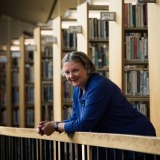 To me, a liberal arts and science degree is the ideal course of study for anyone who isn't really sure of the path they want to take. You never know when a particular subject or teacher will light a spark that will shape the rest of your life.
Sharon Bernard '99 has always been a bibliophile, a fitting passion for the longtime director of the Fitchburg Public Library, whose 50-year career began in the Main Street landmark as a page.
"I chose English for my undergraduate major because I loved to read, which is almost a requirement to be a librarian, and I enjoy analyzing the words on a page," she said. "One of my favorite days in class was in a seminar on Jane Austen with Professor Colin Bourn. We spent the entire hour and a half discussing the first sentence of Pride and Prejudice. It was exciting."
That exciting moment was a long time coming for Bernard, whose on-again, off-again educational training included one semester at Fitchburg State after graduating from St. Bernard's Central Catholic High School. "I commuted from North Leominster, and I didn't feel like part of the campus, as such," she recalled. "I was a shy kid and I just didn't feel like I belonged."
Schooling took a back seat when she met her future husband and started a family. Later, Bernard decided to resume her higher education with some courses at Mount Wachusett Community College. She felt more comfortable in that arena, alongside other adult learners.
She returned to Fitchburg State in 1997, and her perceptions of her place in the institution evolved. "It was different being an older student," she said. "I felt more comfortable raising my hand in class."
Her self-confidence grew when she took a course on Shakespeare with Professor Kelly Morgan, which evolved into her working as his assistant on the cultural series he was starting. That lasted several years. "I met so many students and community members, and it was great fun," she said.
A degree in library information science at Simmons College followed in 2001. "My goal was to be a catalog librarian," she said. "I liked the order of it. There was only one way to do it, and that's the way it was."
She was balancing part-time library jobs when a catalog librarian post in Fitchburg opened up. "I anticipated doing that until I retired, but then the budget for 2009 happened." The city of Fitchburg encountered serious financial problems and slashed municipal spending, with the library taking a cut that cost the facility its state certification. "The library budget was cut 69%, we lost most of the staff, we didn't know what was going to happen moving forward, if we were going to keep our health insurance."
She found another job, but when she learned Fitchburg's interim director was going to be retiring, Bernard was summoned back. 
"It's nothing I ever planned on," she said. "It was not my goal to be director, but I felt like they needed me at that point in time. I'd been there most of my life, I knew most of the staff and knew we could work well together."
Under Bernard's directorship, the library's certification was restored and it resumed its vital role in the life of the city. Her work has laid the foundation for a major planned renovation that is on the state's waiting list for funding, and promises to be one more piece in the revitalization of downtown Fitchburg.
But life had other plans for Bernard's final full-time years at the library. The COVID-19 pandemic forced a radical reimagining of the library's operations. Though in-person services returned this summer, library staff had to figure out how to offer curbside service to customers during the pandemic. 
"It's been hard," she said. "It doesn't feel like we're doing our jobs, even though we're doing all the tactile things we do. The fact that we're not gathering people together and having conversations, it's just really strange. We look back at photos of programming and we think, 'Wow, look at all those people who were gathered in one place.' I'm used to it now, but it was jarring. It's been hard on the staff, because they really want to help people. I think the staff is really anxious to help people in person."
Jim Walsh '75, president of the Fitchburg State Alumni Association, has worked with Bernard for years, first in his capacity as Friends of the Fitchburg Public Library and for the past 10 years as a trustee on the board.
"Sharon was the right person at the right time to be the library director," Walsh said. "She had the patience and skills to lead the library during a difficult time. Eventually, the library's certification was restored and, along with, I believe, the morale of the staff. She will be missed but what she accomplished will not be forgotten."
Looking back, Bernard is grateful for the twists and turns of her educational journey at Fitchburg State. Theater classes helped her step out of her comfort zone, for example, and art history courses were fun but informative electives that let her see the world in a different way. Her only academic regret is not taking a graphic design class, which she said would have been helpful in creating promotional materials for the library.
"To me, a liberal arts and science degree is the ideal course of study for anyone who isn't really sure of the path they want to take," she said. "You never know when a particular subject or teacher will light a spark that will shape the rest of your life." 
This story originally appeared in the Summer 2021 edition of Contact, the university's alumni magazine.