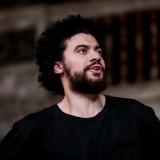 I definitely wouldn't be able to do what I'm doing without my undergraduate experience at Fitchburg State.
Benedict Cezair-Thompson came to Fitchburg State University in 2019 intending to study film, and took an acting class in his junior year with few expectations for the experience. Instead, it changed his life.
In Professor Kelly Morgan's class, Cezair-Thompson took part in a tongue-twisting performance exercise called "the pheasant-plucking championships." Afterward, Morgan pulled him aside to tell him, "You should try this."
That began an odyssey that is continuing now in Cezair-Thompson's pursuit of a Master of Fine Arts (MFA) degree at the East 15 Acting School at the University of Essex in England. It was through that program that Cezair-Thompson recently performed the title role of Macbeth at the Globe Theatre, the recreation of Shakespeare's own iconic stage.
"I'm so blessed, I don't know if I'll ever get a chance to do that again," Cezair-Thompson recalled during a visit back home to Massachusetts days after his performance. 
Cezair-Thompson kept acting at Fitchburg State after that first class, and counts Morgan and Assistant Professor Mary Vreeland as key mentors in his own artistic and personal growth. 
During his senior year, Cezair-Thompson joined many of his classmates in auditioning for the University Resident Theatre Association (URTA), which has a long–and continuing–track record of successfully matching students with graduate and professional programs. Over the past nine years, in fact, 100% of participating Fitchburg State students have received callbacks to participating institutions. 
For his URTA audition, Cezair-Thompson followed Morgan's advice and started with a recitation of a poem he had written about his mother. That led to his acceptance to the East 15 Acting School where he enrolled last October. East 15 has a residency at the Globe, where he was cast as Macbeth for a performance in late March.
"The best thing for me about the Globe is there are no microphones; it's really all about vocal technique," Cezair-Thompson said. "The roof is open, and you have the stars to look up to. When a plane is flying overhead, you have to deliver your lines to the oak." 
It was a powerful experience, he said, thinking of himself as a person of color on that stage, in that role. He has also come to embrace Shakespeare and the universality has made his works resonate for more than 400 years.
"Shakespeare's not some high, upper class thing; it was for everybody," Cezair-Thompson said. "For me, Shakespeare is rap. I'm a hip-hop connoisseur, and it's rhythm and flow."
Cezair-Thompson will be back in England in April to continue his studies, and is already preparing for his next production. Looking beyond school, he hopes his degree will allow him to teach while pursuing his own acting ambitions, letting him serve as a mentor the way he has been supported on his path by people including his mother, Margaret Cezair-Thompson.
"Through all the ups and downs she has stuck by my side, and she raised me on her own," Cezair-Thompson said. "She is truly the reason I'm here today, more than anyone else."
He also credits a strong foundation from his time at Fitchburg State. 
"I wouldn't be able to do an MFA program in England if it wasn't for Kelly and Mary, having those people guide me," he said. "I'm still learning a lot, but I keep a lot of what they taught me in my back pocket. I definitely wouldn't be able to do what I'm doing without my undergraduate experience at Fitchburg State."