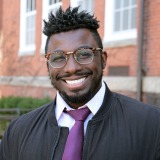 When you graduate, you don't just have a degree. I made sure those four years of growth weren't just academic growth.
For David Demosthenes '17, a little engagement on campus was not enough.
A Fitchburg native, Demosthenes said he had originally hoped to attend music school in Boston, but couldn't beat the price of attending his local public university. "Once I came in, I figured if I'm here, I may as well get involved," he said.
His first exposure to the breadth of campus life was a job on campus helping plan events for commuter students. "That really opened the door and got me involved," he said. 
There was no turning back. Beyond his work with commuter affairs and assisting in the university's Human Resources office, Demosthenes was a building manager in Hammond Hall, and an orientation leader. He was a member of the Fitchburg Activities Board and World Integrated Nations, and helped with programming for the Center for Diversity and Inclusiveness. He also spent three years with the Alternative Spring Break program, traveling to different parts of the country to help build houses for Habitat for Humanity. Back on campus he completed a variety of leadership training programs offered by the Office of Student Development.
"Engagement was a slippery slope for me," he recalled with a laugh. "College became more than just going to school and getting grades. Your life doesn't stop growing during those four years; you grow holistically. When you graduate, you don't just have a degree. I made sure those four years of growth weren't just academic growth."
To be sure, there was academic growth as well; Demosthenes completed a degree in history with minors in political science and music. The multi-talented musician plays saxophone, clarinet, drums and guitar, and teaches music lessons on the side. 
It is in his professional job, however, that he channels all the skills he acquired during his multifaceted on-campus experience. Demosthenes works as an office and grants manager for the Wagner Foundation, where his duties include finance and operations. The Boston-based foundation's mission is to confront social and historical disparities that perpetuate injustice, with a focus on health equity and economic prosperity.
The work resonates with Demosthenes, himself a spiritual person who sees a direct connection between the hours he spent with Alternative Spring Break and the work he does now, which includes interacting with international donors.
"It's taking everything I learned and applying it in a different context," he said. "It's a purpose-driven position. A lot of that Alternative Spring Break work was about having a 'boots on the ground' experience, and that has really translated into philanthropic work."
Demosthenes - whose siblings are also Fitchburg State graduates - has stayed active with his alma mater, serving for several years on the alumni board. The university is still close to his heart, and he said he hopes future Falcons embrace the same variety of opportunities he pursued.
"Growth never stops," he said. "You should be seeking to grow in every aspect of your life, no matter where you are."
This story was originally published in the Spring 2022 edition of Contact magazine.