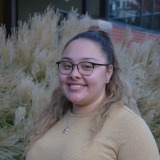 We want to empower students to be the authors of their own stories. It's really about rethinking what this center can do to amplify voices that are most silenced in this society.
In the heart of the campus center in Hammond Hall, the Center for Diversity and Inclusiveness (CDI) has been a fixture for more than 20 years. As part of the university's commitment to diversity, equity and inclusion (DEI) initiatives, its role is being reimagined as an even more vital hub of community discourse.
Faustina Cuevas was hired as a consultant in 2020 to shepherd a number of DEI initiatives, including a refocusing at the CDI. "We want to empower students to be the authors of their own stories," she said. "It's really about rethinking what this center can do to amplify voices that are most silenced in this society."
A major step in that process is rethinking the role of student workers at the CDI, who will be trained to be peer educators who can facilitate meaningful discussions on important topics relative to DEI.
"It's about giving voice to the voiceless, telling their stories, and giving space for the community to learn about DEI and think about ways they can disrupt injustice, or ways they may have colluded with injustice," Cuevas said.
Interim Director Jamie Cochran has been part of the CDI staff since its earliest days and welcomes its growth. "The students are thirsting for a higher profile of the center on campus," Cochran said. "It's still our charge to promote a safe space. Now it's a safe space where we are also creating a sense of belonging, and recognizing the social identities of our population. Not only are we amplifying voices, but the university is listening to those voices."
Peer Educators
Ammar Alykal '21 enjoys sharing his gripping personal story. He fled with his family from Syria in 2013, as its raging civil war closed in on their city. "It was just a matter of time until we were hit," he said. "What you see on TV, the reality is 10 times worse."
Alykal was 20 years old when his family fled, and they left in a hurry. "I wasn't really acknowledging that I was leaving my home forever," he said, recalling the frenzied packing of his belongings. "I thought I was going back."
His family went first to Jordan and applied for visas to go to America. A month later they were in Massachusetts, his parents staying with an uncle in Worcester while Alykal was with a fellow Syrian who had settled in Boston.
In 2018 his family moved to Fitchburg, and Alykal joined them to begin his college studies. He started at Mount Wachusett Community College and transferred in fall 2020 to Fitchburg State, where he is completing a bachelor's degree in business administration.
"Here, I've seen compassion, and a very welcoming crowd," said Alykal, who looked forward to sharing his story with the campus community and beyond as a peer educator at CDI.
Manuela Medina Sanchez '21 is also a peer educator and has worked for CDI since her first year at Fitchburg State.
She remembers not wanting to leave home in Boston to go to college. A first-generation student whose family emigrated from Colombia, Sanchez decided to follow a guidance counselor's advice and tour Fitchburg State when she learned it was a more economically viable option.
"I came here for a tour and I loved it," she recalled. "It was a medium-sized school, and I saw a lot more diversity than I'd seen at other schools. So I took myself out of my comfort zone, and I didn't know anybody, but I don't regret it at all."
Sanchez's journey is mirrored by many other first-generation students at Fitchburg State, and she has found herself using her voice to support her peers.
"When people of color or minority students come here, and they don't see anyone who looks like them, it's kind of intimidating," Sanchez said. "I've found my way to maneuver around it."
She's also used her voice to advocate for change, sharing with senior leadership the need for more people of color in administration and other student-serving offices. "Some of us don't know whom to reach out to about certain situations," she said. "I would love to be able to make everyone feel comfortable and let them know the different resources available to them on campus."
This article was originally published in the Winter 2021 edition of Contact magazine.