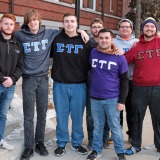 Greek life immediately felt like home. At the end of the day, it's a true brotherhood. This is my family.
Conlon Hickey '24 attributes his sense of community to his involvement in Greek life. In the fall of 2020, during his first semester at Fitchburg State, the pandemic was raging and he felt there were limited opportunities to engage beyond hanging out on the quad and playing manhunt. 
"I thought, 'What's the point of staying in my dorm room?'" Hickey recalled. He was on the quad when a handful of Sigma Tau Gamma brothers approached him and encouraged him to learn more about Greek life. "It immediately felt like home. At the end of the day, it's a true brotherhood. This is my family."
Hickey's enthusiasm recently led to his election as president of the university's Greek Council, which brings together all six of the university's Greek chapters. It includes the fraternities Alpha Phi Delta, Sigma Pi, and Sigma Tau Gamma, and the sororities Alpha Sigma Tau, Phi Sigma Sigma, and Sigma Sigma Sigma. Today, over 90 students are currently involved in Greek life on campus. 
A history major who hopes to pursue a career in teaching, Hickey is on a mission to educate the university community about fraternities and sororities and better showcase the vitality it brings to campus life. "The old way of Greek life is dead," he said. "'Animal House' is no more."
He also wants to highlight the important role philanthropy plays in Greek life. One such endeavor is supporting the Falcon Bazaar food and essentials pantry, located next to the Office of Student Development in Hammond Hall. Hickey said a survey of Greek life members led to the adoption of this effort, which includes placing donation crates at every Greek event this spring and fall.
 
Hickey, who noted that the Special Olympics is a long-time beneficiary of Sigma Tau Gamma at Fitchburg State, expressed gratitude for seeing his brothers and sisters at the university adopt the charitable approach.
 
"We're attempting to establish a better community and put the ideals we preach into practice every day," he explained. "Community is much more than just belonging to something; It's about doing something together that makes belonging matter. What can you do today to ensure the longevity and prosperity of your community after you are gone?"
This story was originally published in the Spring 2022 edition of Contact magazine.