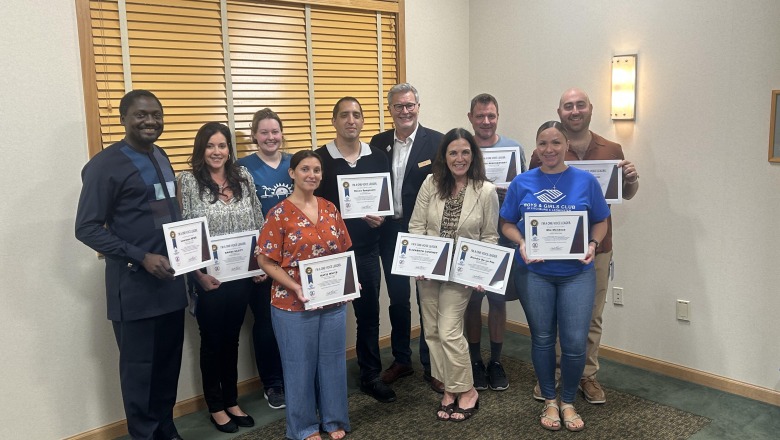 When Elizabeth Coveney assumed the role of chief executive officer for the Boys and Girls Club of Fitchburg and Leominster and Gardner Clubhouses, it marked a turning point in her career.
It was her first executive role in the non-profit arena, following successful leadership posts for major corporations including the Coca-Cola Company and time running her own business.
"Coming into the not-for-profit world was a bit of a transformation for me, personally," Coveney said. "You may have fewer resources, but that doesn't relinquish the responsibility to be creative, and continue to develop and promote a culture."
To do that, Coveney reached out to Fitchburg State University Professor Michael Greenwood, chair of its Business Administration Department and himself a veteran of the corporate world.
"We have very similar backgrounds and we speak the same language, so there was a natural connection," she said. "For me, it would only benefit the kids and the club and our whole organization if we came together as a leadership team. Getting everyone on the same page and building this synergistic relationship was important."
Greenwood led club leadership through his training program "Leading with One Voice," a custom program of three, half-day meetings designed to establish and reinforce strategic high-performance leadership and team-building objectives. Participants learn a common vocabulary of terms, tools and techniques for cross-functional core team effectiveness, and develop a single, shared vision, among other benefits.
"It was a special pleasure working with Elizabeth and her leadership team in support of the important community mission of the Boys & Girls Club," Greenwood said. "We are fortunate to have her on board to lead and inspire in these times where the need is so great. I urge everyone to learn about the work that the Boys & Girls Club accomplishes each day as they change lives for the better. I am inspired by this team and you will feel the same after you meet them."
Coveney said it was a powerful experience that will support her team as they continue their work at the club, which serves hundreds of youth every day.
"I have a very strong bias for action, now I want to go 'do,'" she said. "We have a big responsibility taking care of kids, so I want my team to be great."
To learn more about business training and consulting opportunities available through Fitchburg State's Business Administration Department, contact Professor Greenwood at mgreenw5@fitchburgstate.edu.