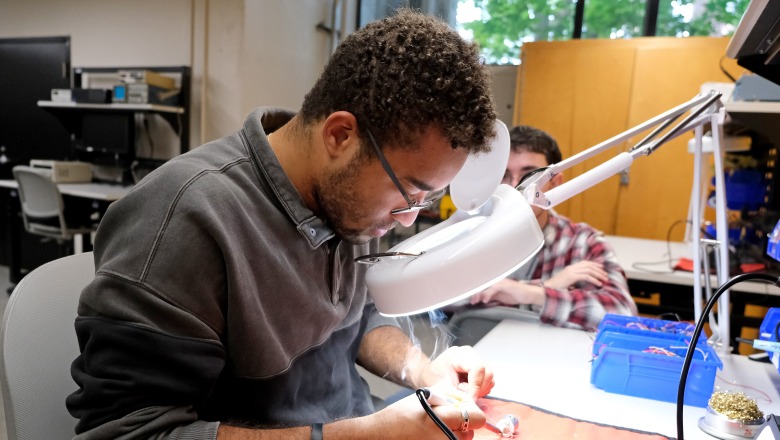 Fitchburg State University's Engineering Technology program seniors will get support in the development of capstone projects thanks to a new Unitil Corporation sponsorship that will also help them to participate in the national Solar Decathlon competition.
The sponsorship program will also support the Engineering Technology efforts to meet Accreditation Board for Engineering and Technology (ABET) standards.
 "Applied learning is central to Fitchburg State's philosophy, and this sponsored program will open doors of opportunity for our Engineering Technology students," said Fitchburg State President Richard S. Lapidus. "We are grateful for Unitil's support of our students and their endorsement of our vision for experiential opportunities that transcend the classroom."
Students in the Engineering Technology program present their capstone projects during the university's annual Undergraduate Research Conference, traditionally held in April. The conference, which spans all university departments, is a forum for students to share research and creative work that is developed under faculty supervision. The university cancels day classes for the conference so all members of the campus community can take part.
The Unitil funds will be used to provide support to the university's efforts in meeting the ABET standards for continuous improvement.
"We applaud Unitil's commitment to quality Engineering Technology programs, not only by this tremendous gift, but for their support for internships, career fairs, and membership on our advisory board," said Engineering Technology Department Chair Dr. Sanjay Kaul.
"By helping to ensure that our engineering technology program effectively prepares students to enter the profession, Unitil significantly complements Fitchburg State's mission and vision," said Dean of Business and Technology Keith Williamson. "The quality of tomorrow's professional workforce is among the most frequently cited concerns by employers. Accrediting the university's engineering technology programs assures Unitil and other employers that entry-level engineering technologists are job ready and prepared to meet the expectations of the profession. ABET accreditation also provides students specifically interested in energy engineering technology careers a way to assess the quality of the programs they are considering.
The Engineering Technology Department serves approximately 190 students annually. Its degree programs in engineering technology and applied sciences and technology include concentrations in construction management, architecture, civil engineering technology, electronics engineering technology, energy engineering technology, and manufacturing engineering technology, as well as technology/engineering education. With an estimated 90% of graduates from these programs living and working within the region, this support will help to ensure a career-ready, highly skilled technological workforce in Central Massachusetts.
In announcing the sponsorship support, Unitil said the agreement recognizes the company's commitment to supporting the education of students in science, technology, engineering, and math and its dedication to the production of a well-trained workforce within the local Fitchburg and North Central Massachusetts community. Unitil has long recognized the value of an informed and collaborative role within the region. It is also a leading adopter of innovative energy efficiency technologies, to provide high-quality, reliable, and safe gas and electric distribution to its customers.
Unitil's sponsorship will also support Fitchburg State's plans to enter the U.S. Department of Energy's Solar Decathlon program. Launched in 2002, the contests inspire student teams to design and build highly efficient buildings powered by renewables, while also taking into consideration affordability, resilience, and occupant health. The winners are those teams that best blend architectural and engineering excellence with innovation in how their building interacts with the world around it.
This sponsorship will provide students with the necessary materials to design and build prototypes that meet the criteria for the Solar Decathlon and smart sustainable building systems.