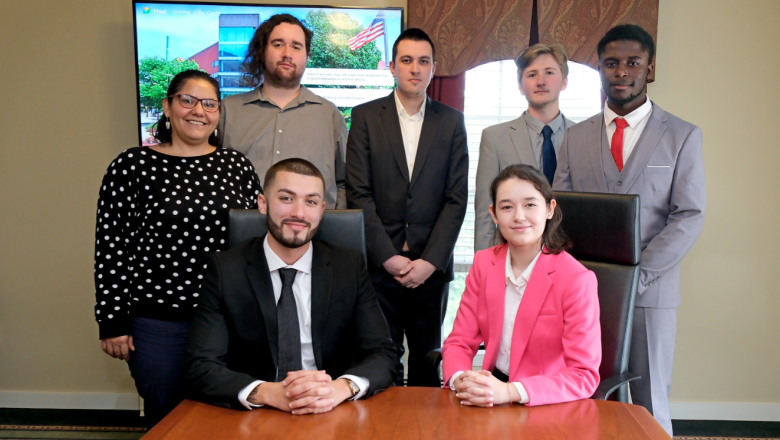 Fitchburg State University this year joined the College Fed Challenge, a national competition wherein teams of undergraduate students from across the country analyze economic and financial conditions and develop monetary policy recommendations. Their proposals are then offered in formal presentations to teams of judges.
This month, Fitchburg State's inaugural College Fed Challenge team took part in the regional competition, which participants said was a valuable learning experience.
Meadow C. Mazza, a senior studying economics and business administration, said the competition was the culmination of five weeks' intensive work. Mazza said her preparation gave her greater appreciation for the inner workings of the nation's economic systems. "What the news tells you is important, and what the economic studies tell you is something else," she said.
"Before this experience, the Fed may as well have been a council of wizards," said River Esielionis, a senior majoring in economics and English studies. "Now, I know what they do."
Team members agreed the competition was valuable both for deepening their understanding of economics and for the experience of researching and creating a polished presentation.
Alexander C.  Marshall, a senior studying international business and economics, said he valued the close collaboration with his teammates in preparation for the competition, and looks forward to passing along notes from this year's experience to future teams. "I'm proud to be a trailblazer," he said.
"Even outside of economics, just working together as a group on a presentation was a valuable experience," said Nicholas J. Vautour, a senior studying economics and accounting.
Jeffrey R. Verge, a senior studying economics and business management, said he was attracted to the field because it blended mathematics and business. "I'm able to put a lot of passions together," he said. 
The College Fed Challenge was a humbling experience, he added. "It tells you that you still have a lot to learn."
Peter I. Yeboah, a senior studying economics with a minor in management, said preparing for the competition was a serious time commitment, but in line with his approach to the practical applications of his major. "Staying informed helps you in the long run," he said.
Professor Ozge Ozay, a member of Fitchburg State's Economics, History and Political Science Department, advised the College Fed Challenge team. "It's been a very rewarding experience to work with our team since the beginning of the semester," she said. "I'm very proud of our team."