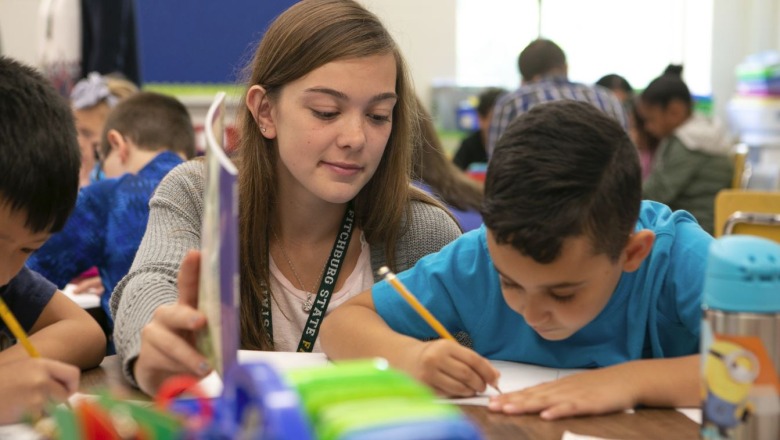 With recent data showing teachers are leaving the classroom at alarming rates, there is a growing demand for professional learning opportunities that support K-12 educators. To meet this need, Fitchburg State University's Office of Extended Campus Programs announces the launch of a new suite of online professional development courses delivered by PCG Education (PCG), a leading provider of research-based, online professional learning for districts and educators. Through this partnership, Fitchburg State will offer 20 graduate-level professional development online courses, developed by PCG's team of educational experts that will allow current K-12 educators to build their skills while actively teaching in the classroom.
All of the courses are credit-bearing and may be applied toward a graduate program or as credentialed professional development that enables educators to improve their practice without losing time in the classroom. The suite of online courses is part of PCG Education's KDS Catalogue, a comprehensive selection of nearly 70 online courses.
"Offering graduate credit for the PCG Education online professional learning courses enables us to better serve all of our students by giving them access to experts in their field and diversifying their course content through flexible and convenient delivery options," said Lisa Moison, Ed. D, Assistant Dean of Graduate and Continuing Education at Fitchburg State. "Leveraging PCG's research-based instructional design model for effective professional learning will help teachers continue their professional development, advance their careers, and ultimately improve student outcomes."
Each of the courses include high-quality videos of authentic classroom practices, documentary -style interviews with the nation's leading education experts, teacher perspectives, and resources to enhance the effectiveness of practices across districts. The courses provide 45 hours of research-based instruction, including application into practice, and are completed online over 12-14 weeks, allowing educators to move at their own pace.
The courses offered in partnership with Fitchburg State focus on the following topics:
Diverse Learners with individual course topics including: culturally responsive teaching, conversations about race, differentiating instruction, best practices for teaching English Language Learners;
College and Career Readiness with individual course topics including: building academic language, Common Core and English Language Arts, and Common Core and Mathematics; and
New Teacher Induction and Leadership with individual course topics including: effective coaching, improving instruction through strategic conversation, social emotional learning, new teacher support and transforming school culture.
"Teacher retention is a national issue and by offering affordable and flexible online professional learning experiences, we hope to not only bridge the talent gap but to empower educators to flourish," said Alvin Crawford, General Manager of PCG Education. "We truly understand teachers and the very real challenges they face both in and out of the classroom and are thrilled to partner with Fitchburg State to offer transformative online professional development that personalizes the educator experience to meet their needs."
Teachers participating in these courses are supported with online coaches that have extensive backgrounds in teaching and leadership. Additionally, through the Professional Learning Platform (PLP), participating teachers are provided with online learning communities to foster collaboration and build enduring capacity.
Fitchburg State provides a wide variety of professional development opportunities including ways to earn professional degree programs and graduate credits. Registration is now open and the spring semester begins on January 23. To learn more about Fitchburg State's graduate-level professional development and credit bearing courses for K-12 educators, visit the Educator Ed website.
About Public Consulting Group
Public Consulting Group, Inc. (PCG) is a leading public sector solutions implementation and operations improvement firm that partners with health, education, and human services agencies to improve lives. Founded in 1986 and headquartered in Boston, Massachusetts, PCG has over 2,000 professionals in more than 50 offices around the US, in Canada and in Europe. PCG's Education practice offers consulting services and technology solutions that help schools, school districts, and state education agencies/ministries of education to promote student success, improve programs and processes, and optimize financial resources.
About Fitchburg State University
Fitchburg State University was founded in 1894 and is accredited by the New England Association of Schools and Colleges, Inc.; ABET, Inc. the Commission on Collegiate Nursing Education; the International Assembly for Collegiate Business Education; the Council for Standards in Human Service Education and the National Council for Accreditation of Teacher Education.