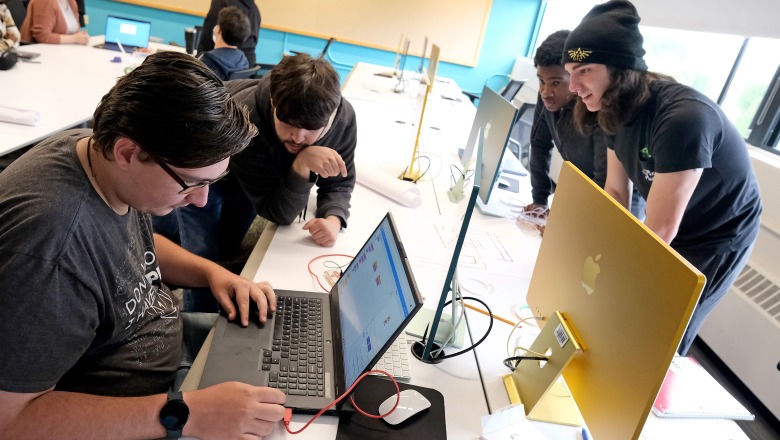 Fitchburg State University is launching a new bachelor's degree in digital media innovation, preparing students for employment in continually evolving and intersecting fields including media/journalism, social media and content development.
The new, STEM-designated program recently received final approval from the state Board of Higher Education.
The 33-credit major will explore digital media and how digital technology and computing are changing social and cultural systems in employment markets as new tools reshape industries across the globe.
"Fitchburg State's new major in digital media innovation weaves innovative interdisciplinary coursework and research already being done on our campus into a curriculum designed to teach students the advanced digital skills they will need to succeed on the job market today and into the future," University President Richard S. Lapidus said. "Students will graduate from this program ready to meet the needs of a flexible and changing global economy."
The courses in the new major will allow students to develop a large cross-section of disciplinary practices and a range of new digital skills that span social media, multimedia storytelling, information design, data studies, coding, and more. It will culminate in a community-engaged capstone project that demonstrates the changing ways we construct narratives using data, and equips students with skills to employ technologies and practices in a digital age.
The capstone project also promotes students' scholarship and professional development, allowing students to develop portfolio pieces that will assist them in their careers.
While the program will be housed in the university's Communications Media Department, its coursework and faculty span numerous disciplines. The curriculum is designed to serve graduates whose careers will require them to move seamlessly between disciplinary silos, while being able to communicate with fluency and translate between the languages of ethics, business, and technical knowledge.
"The beauty of the DMI program is in how it combines digital practices from diverse fields like Geographical Information Systems and Biology to Game Design and Storytelling," said Associate Professor Elise Takehana of the university's English Studies Department, who helped create the new program. "It's a fresh approach to getting students involved in building a more humane digital society in a hands-on way in their own communities."
"Finding solutions to the challenges our world faces in the 21st century will require critical and creative thinking that combines knowledge from across many different fields," said Assistant Professor J.J. Sylvia IV of the Communications Media Department, another of the program's creators. "Our graduates will be equipped with the tools to tackle these challenges, and I can't wait to see the impact that they make."
In addition to this new program, Fitchburg State offers several programs unique among the state's public institutions. These include the groundbreaking police program whose graduates complete, in five years, both bachelor's and master's degrees in criminal justice with full certification to serve in municipal police departments in Massachusetts and New Hampshire. Fitchburg State also hosts the first game design program at a public institution in the state.
Additional details about the new digital media innovation program will be posted to the university's website at fitchburgstate.edu.