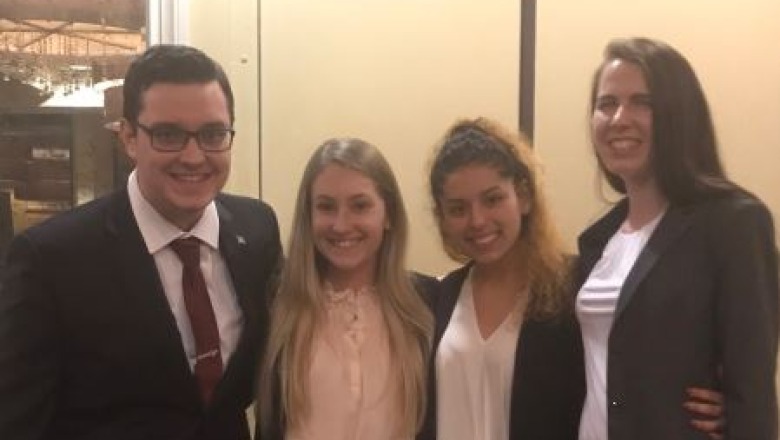 Fitchburg State University continued its streak of strong showings at the American Moot Court Association national championship this month, with a team finishing in the top 10 percent of teams in North America.
Riley Grinkis '18 of Gardner and Matthew Murphy '20 of Milton made it to the second day of oral arguments in the national competition, and also finished second overall in the brief writing contest. Fitchburg State students Kajahna Matos '20 of Lawrence and Theresa Klobucher '20 of Lowell finished 10th in the brief writing competition.
The competition pits students on opposing sides of legal issues in a simulated federal appellate court setting. The students are grilled by panels of judges who analyze their arguments and question their perspectives. Fitchburg State's program, overseen by Professor Paul Weizer, has a long history of success in the competition.
Grinkis graduated from Fitchburg State in December and is headed to Northeastern University Law School on a full scholarship. Matos and Klobucher will graduate from Fitchburg State in May and will enroll this fall at UMass Law School through the "3+3" compact whose graduates will complete bachelor's and law degrees in six years.
Grinkis was competing for the second time in the program this year. "It is truly an honor to have represented Fitchburg State these past two years and I couldn't have asked for a more rewarding experience," she said. "I honestly cannot think of a better program or experience to prepare me for my next endeavor at Northeastern University Law School. Moot court has allowed for me to gain experience in legal writing, oral argument, and case reading and briefing before entering law school, all of which will be an advantage to have experienced beforehand. Moot court has created an environment for me to have a taste of the legal field and ensure that it was something I wanted to do and loved. I couldn't be more grateful for the knowledge and skills I've gained from participating in moot court."
Murphy, who plans to compete again in 2019, said the course is challenging but rewarding. "The greatest lesson I've learned from moot court is that preparation and practice are everything," he said. "The difference is night and day between teams that are well prepared and well-practiced and teams that just try to wing it. Our Fitchburg State teams more than held their own against some of the best teams and most prestigious schools in the country."
Participating in the class has shown Murphy that law school will be his next educational endeavor. "Every student considering law school should take moot court," he said. "The experience gained is invaluable."
Matos and Klobucher, both bound for law school this fall, concurred. "Moot court made me 100 percent prepared for law school," said Matos. "I learned strategies to reading cases and how to present an argument before the court. Being a part of the 3+3 program allowed me to be ahead of the game and pushed me to further limits in my college career. Students like me, who work two part-time jobs and are full-time students, need flexible programs like this to finish school as fast as possible."
Klobucher, who called moot court the most challenging course of her college career, said her critical thinking skills and confidence in public speaking were enhanced greatly by the class. "By the end of the course, I no longer doubted my ability to speak in front of an audience and no longer feared being questioned," she said. "Moot court gave me the confidence I lacked and I am extremely grateful for Dr. Weizer's coaching."
Klobucher has always imagined a career in law, and her experiences with this program confirmed her goals. "I have always wanted to be a lawyer," she said. "The 3+3 program was the main reason why I chose Fitchburg State. Having the opportunity to start law school a year early was an opportunity I felt I couldn't refuse. However, it forced me to work extremely hard and I had to juggle both school work and studying for the LSAT. Balancing this work was very stressful and limited my time. However, being able to start my dream career early was my motivation throughout the semester and drove me to work harder." 
To learn more about the 3+3 program, visit the Pre-Law with UMass Dartmouth (3 + 3 program) page.