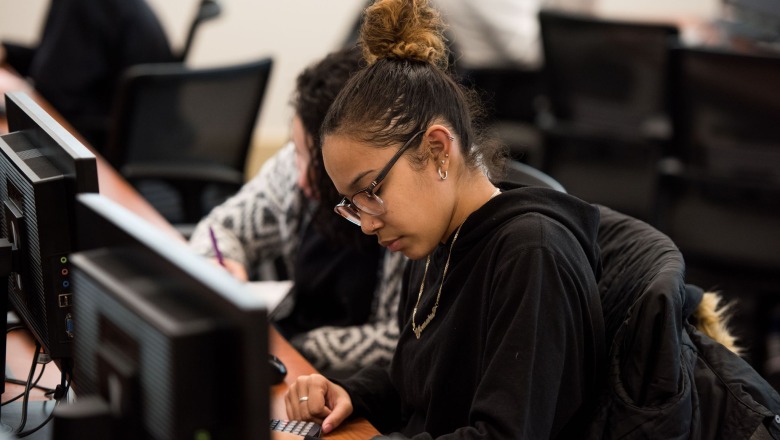 Fitchburg State University recently welcomed 60 students from area high schools for its 42nd annual Elizabeth Haskins Mathematics Contest.
The competition invites sophomores, juniors and seniors from local high schools. This year students from Auburn High School, Hudson High School, Leominster High School, Montachusett Regional Vocational  Technical High School (Monty Tech) and Narragansett High participated.  
In the 90-minute competition, students answer 50 multiple choice questions written or curated by members of the Fitchburg State Mathematics Department faculty. The questions are appropriate for a high school student that include many  branches of mathematics below the calculus level. The scoring includes a penalty  for wrong answers to discourage guessing.
During their visit, students also enjoyed lunch on campus, participated in a solution session run by university faculty member Jessica Oehrlein, and attended an awards ceremony where top scorers were recognized.
The following students received the highest marks in the competition: Grade 10: Orion Horne (Auburn High), first place; Katherine Longmuir (Narragansett High), second place; Lea Fiandaca-Longo (Monty Tech), Alyssa Goulet (Monty Tech) and Jacob Pervier (Narragansett), third place (tie); grade 11: Jacob Goldovitz (Auburn High), first place; Lucas Aucoin (Auburn High), second place; Cooper Lacina (Hudson High), third place; Grade 12: Minh Vu (Leominster High), first place;  Lillian Wyckoff (Leominster High), second place; and Quinn Cahill (Auburn High), third place. Minh Vu of Leominster High had the day's overall top score.
The contest is named for Elizabeth Haskins, a longtime member of the university's mathematics faculty who retired in 1978. She passed away in 2004.