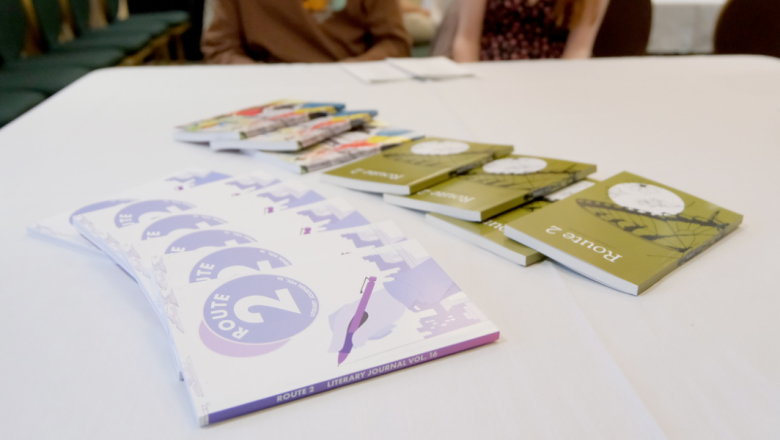 Fitchburg State University recently recognized the winners of its annual High School Writing Contest during an event in Presidents' Hall. The contest is sponsored by the university's English Studies Department. (See photos from the event online.)
The contest recognizes writers from local high schools whose work was selected by a committee of university faculty readers. Prizes included gift cards to the university bookstore of $50 (for first place) and $25 (for honorable mention winners). First-place winners read from their work to the audience.
University students whose work was selected in the campus creative writing contest were also recognized at the ceremony.
This year marked the first in-person celebration since the pandemic, so included acknowledgement of winners from 2020 and 2021.
First place winners included:
Anna Fandy, Shrewsbury High School
Aislynn Paradis, Nashoba Regional High School
McKinley Chabot, Oakmont Regional High School
Lily Killeen, Nipmuc Regional High School
Honorable mentions included:
Carla Vielevski, Nashoba Regional High School
Nina Santiago-Garcia, Leominster High School
Dorthea Gibbons, Groton Dunstable Regional High School
Joseph Carlucci, Oakmont Regional High School
Also recognized were Joenys Carrasquillo, graduate of Montachusett Regional Vocational Technical High School, for the 2020 contest; and Annie Skamarycz, graduate of Oakmont Regional High School, for the 2021 contest.
The university's Louis P. Shepherd prize winners included:
Susannah Meszynski
Ava DePasquale
Kyle Lockwood
Matilda Goad
The university's Matti N. Antila prize winners included:
Michael Burns
Joseph Asare
Rachel Silva
The contest committee is co-chaired by Fitchburg State English Studies Department faculty members Wendy Keyser and Steven Edwards, with faculty members Ben Railton and DeMisty Bellinger-Delfeld also serving.