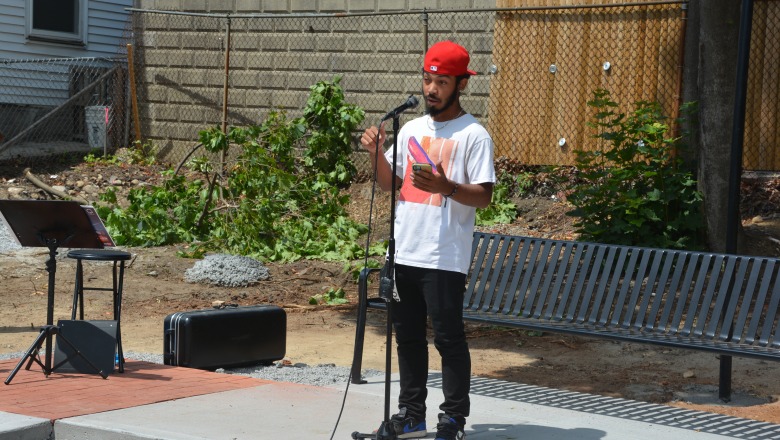 On the first nationally recognized Juneteenth holiday, residents gathered in downtown Fitchburg for the formal groundbreaking of the new Abolitionist Park that celebrates the city's role in the movement to abolish slavery.
Fitchburg State donated the property at 42-50 Snow St. on which the park is being constructed. At the groundbreaking ceremony on Saturday, June 19, Friends of Fitchburg Abolitionist Park Co-Chair Danette Day - also a member of the Education Department faculty - discussed how the project was created through hard work and collaboration.
The park began as a class project at Mount Wachusett Community College but has grown into a much larger movement. "We have built trust and respect for each other while listening and incorporating the dreams and hopes of others," Day said. "What began as a student-centered class activity has blossomed into a community project."
Day said she hoped the project would inspire future generations to look at ways to abolish other systems of oppression that endure.
Fitchburg State Vice President for Student Affairs Laura Bayless greeted the crowd gathered at the celebration and described how the project echoed key elements of the university's strategic plan: education justice, and a commitment to positive contributions to North Central Massachusetts.
"Fitchburg State is proud to partner in the creation of this important community landmark," Bayless said. "We must, as a community, take the time to celebrate moments in our history where we have been pulling toward the ideals of this great nation, this city, and this university. In fact, being able to designate this Abolitionist Park at a time when the disparate impact of COVID-19 and a heightened sense of racism and xenophobia have been so evident makes it all the more meaningful. 
"We salute the volunteers who have worked so hard to make this park a reality, and an enduring monument to the work of Benjamin Snow and the others from Fitchburg and the region who supported the abolitionist movement," Bayless continued. "This project will keep that history alive for future generations. To all of you, congratulations, and thank you."
Fitchburg State student Nasih Thomas shared an original poem to close out the ceremony.
"Umoja"
Pride because nothing breaks us
With history showing only resilience
Pride because despite deprivation, destitution and adversity we prevail collecting accolades as we march
It is one to be known and another to know
And we certainly know and receive reminders daily of how much it is that we know
Yet I am here
I am here as a human not a bullseye
I am here as a speaker not a threat
I am here and our presence is a testament to an old movement with a new drive
Devotion to a vision
Commitment to completion
What do we know of the phoenix
A creature of rebirth from the ashes of its predecessors
I am part
You
We are part
Of the phoenix
See more images from the event on the university's Facebook page. Watch a recording of the ceremony on FATV's on-demand video page here.