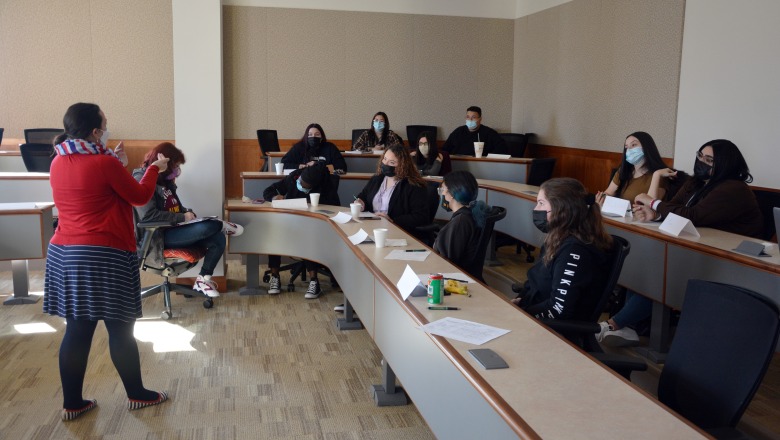 The Future Educator Academy at Fitchburg State University recently welcomed a cohort of local high school students to campus for a day of programming, with more than 20 students completing a badge focused on mental wellness in the classroom and a badge on performing cardiopulmonary resuscitation (CPR) to adults and infants. 
The academy is designed to address ongoing demographic shifts by recruiting and training future educators from traditionally underrepresented populations. According to the state Department of Elementary and Secondary Education, about 40% of the state's public school students are of color, but only 10% of their teachers come from minority groups, noted Lourdes Ramirez, coordinator of field placements, partnerships and recruitment for Fitchburg State's School of Education.
"We want to offer relevant programming that will provide high school students with marketable skills, while seeing themselves as future educators and change makers," Ramirez said. "This is a very exciting initiative and we have received strong support from the high schools and district-level administrators." 
The program's future educators participate in workshops that allow them to earn badges that will ultimately result in leadership certificates from Fitchburg State. The program participants also get access to free, credit-bearing university courses they can apply towards their degree as part of early college engagement. The academy's programs focus on culturally relevant education that values students' cultural, linguistic and ethnic contributions as future teachers. 
Students from Fitchburg High School and Leominster High School recently visited the university campus for training on supporting student mental wellness in the classroom. The 4.5 hour program, led by Fitchburg State Professor Megan Krell from the Behavioral Sciences Department, included strategies to support student learning, universal design for learning, trauma-informed teaching, and the growth mindset. 
Leominster High School student Jianelis Delgado found the presentation informative. "I learned how to keep everyone's feelings and home life in mind when dealing with each, and also learned how to promote growth," Delgado said.
Another group of students, meanwhile, received certification to perform CPR at a session led by Fitchburg State University Police Officer Timothy C. Grant. The training showed these future educators how to evaluate an emergency situation, and how to perform CPR, and how to use an automated external defibrillator (AED) if needed. 
The academy will continue in the spring with additional programming.