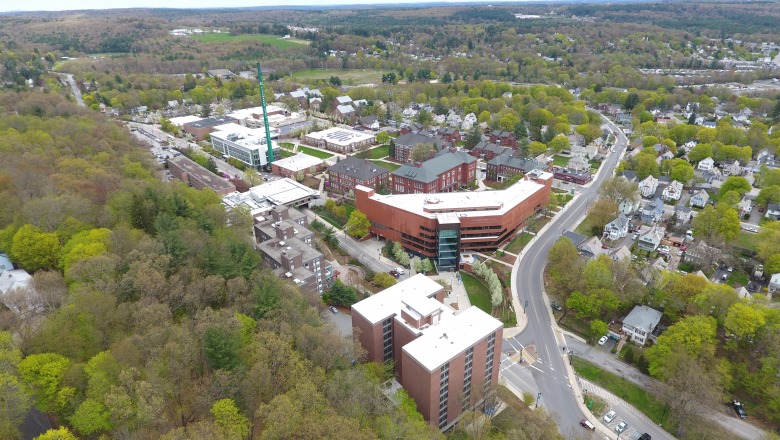 Leaders from Fitchburg State University and Montachusett Regional Vocational Technical High School recently signed an articulation agreement that will let high school students receive credits in early childhood education toward their bachelor's degrees.

The agreement is designed to support students by building on past learning experience and eliminating unnecessary duplication of learning outcomes.

Under terms of the agreement, Monty Tech students who have completed the Early Childhood Education Career Pathway Levels I-IV with a grade of B or higher will be granted six college credits at Fitchburg State, replacing the collegiate courses on Foundations of Inclusive Education and Designing Environments for Young Children. The credits will be accepted for four years after the student graduates from Monty Tech. The agreement was created after a lengthy review of course objectives at the high school and collegiate level to insure students were acquiring college level knowledge and competencies.

"This agreement recognizes the caliber of early childhood education preparation occurring at Monty Tech, and will give students a head start on their collegiate aspirations," Fitchburg State President Richard S. Lapidus said. "We're proud to continue the constructive collaboration with area school districts that result in opportunities for student success."

"Monty Tech is thrilled to partner with Fitchburg State University on the Early Childhood Program articulation," said Monty Tech Superintendent-Director Sheila M. Harrity. "With this agreement, our Early Childhood program students will have the opportunity to earn six college credits from Fitchburg State and apply it to their undergraduate program at no cost to them or their families. This is a wonderful way to build the early childhood training and workforce pipeline that is needed in our region. In addition, this partnership has allowed our Early Childhood program instructors to work directly with faculty from Fitchburg State. These conversations allowed for the sharing of curriculum and improving the rigor of our coursework at the high school level."

The articulation agreement is effective immediately and will be reviewed in May 2023.