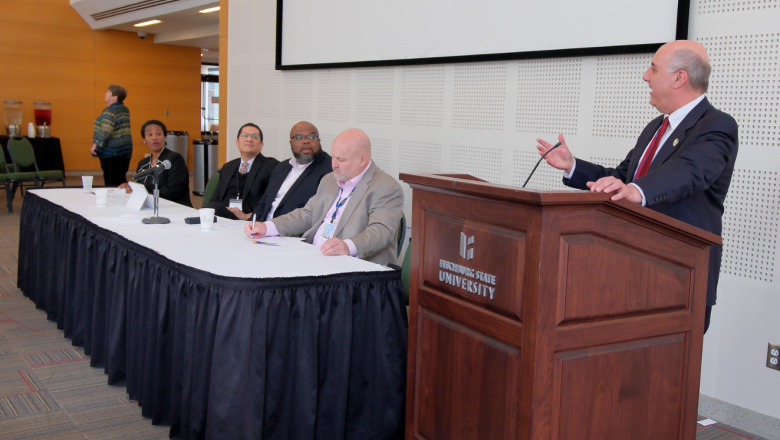 Fitchburg State University hosted educators and administrators from across Massachusetts on Wednesday, April 12 for a daylong series of discussions and workshops on Early College, a program that lets high school students experience and complete college-level coursework. (See photos here.)
Massachusetts Secretary of Education Patrick Tutwiler, Department of Elementary and Secondary Education Commissioner Jeffrey C. Riley and Department of Higher Education Commissioner Noe Ortega cited the success of Early College programs in opening doors of opportunity for students. 
Fitchburg State President Richard S. Lapidus opened the event by citing the growth of Early College on the university's campus, with the number of participating students growing by more than 40% in the last year. The university has formal agreements with Mount Wachusett Community College and local high schools including Athol, Fitchburg, Gardner, Leominster, Narragansett Regional, and Sizer School that create credit-bearing opportunities for students. 
"When these students arrive on campus they tell me they're unsure of their abilities and don't know if they belong at the university," Lapidus said. "They come to realize that they do belong."
Tutwiler recalled his own participation in a dual enrollment program when he was in high school in his native Minnesota. He was apprehensive at first about embarking on a college course, he said, but in the end the experience demystified what college was all about. "I could see myself in a collegiate setting," he said.
Early College will be a key element of the state's continuing efforts to reimagine high school with an emphasis on student engagement and opportunities for access, Riley said.
"We need to do a better job supporting and challenging our kids," he said. "There are so few silver bullets in education. (Early College) is one area so many people can agree that it's a benefit to our kids."
There are currently 6,000 high school students in Early College programs in Massachusetts, Riley added.
Ortega, who also spent Tuesday at Fitchburg State as part of his tour of the state's public higher education institutions, said Early College has a proven track record of success, and educators need to determine how best to scale those practices. "We need to figure out what we are learning, and how (our institutions) can become learner-friendly."
Learn more about the state's Early College Initiative at https://www.mass.edu/strategic/earlycollege.asp.