Homecoming is our annual celebration that brings our entire Falcon community together for an amazing fall weekend on our beautiful campus.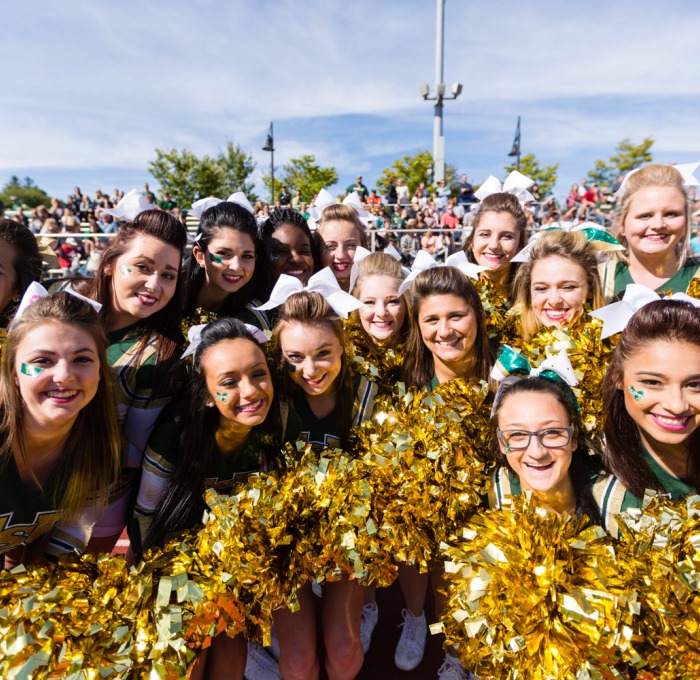 Homecoming & Alumni Weekend
An amazing weekend of celebrations are planned for Fitchburg State's Falcons from yesterday and today. Details below, and visit our alumni office website for additional information.
Friday, Oct. 1
Rainbow Reception, Falcon Hub, 4-6 p.m.
LGBTQ+ Alumni and Allies are invited to help kick off LGBTQ History Month. Come celebrate at the Rainbow Reception! Photo booth, DJ, appetizers and cash bar. Event starts at 4PM, speaking program and parade of flags at 4:45PM. Join us in the Falcon Hub in Hammond Hall. $10 per person. Register for Rainbow Reception.
Carnival, Pep Rally and Bonfire, Ross Street parking lot, 5 p.m.
All students, faculty, staff and alumni are invited to celebrate our athletic teams and the opening of Homecoming weekend with a visit to campus. Food will be served at 5 p.m. (the dining hall will be closed). The pep rally, starting at 6 p.m., will includes performances from our cheerleaders, the Dance Performance team, and introduction of our fall sports teams. 
The carnival will run from 7 to 11 p.m., with rides including Round Up, the Scrambler, a Ferris Wheel, Cliff Hanger and Yo-Yo. Games will include the Kentucky Derby and Water Race.
Free to students and staff with Fitchburg State OneCard, and alumni please register online.
* This event will take place Saturday, Oct. 2 in the event of rain on Friday night.
Saturday, October 2
Gold Key Induction Ceremony, Hammond Hall Main Lounge, 9:30 to 11:30 a.m.
Fitchburg State University alumni from the classes of 1970, 1971 and earlier are invited back to campus for their induction into the Gold Key Society. This annual ceremony is held to recognize the collective achievements of all those in the society and to induct the 50th reunion class. Alumni from earlier class years who have not yet received their Gold Key are welcome to receive it at this year's event. Register for Gold Key Induction Ceremony.
Men's Soccer Game, Elliot Field, 11 a.m.
Watch Fitchburg State take on Bridgewater State!
Football Alumni Reunion, 11 a.m.
Past Falcons football players are invited to return to campus, first with a tour of the renovated Landry Arena, followed by time with teammates on the main quad. Join up for the main event, when our Falcons football team takes on Bridgewater State at 3 p.m. at Elliot Field, and wrap up the night at Slattery's at 6:30 p.m. Register here for Football Alumni Reunion.
Cornhole Tournament, Elliot Field practice fields, 12 p.m.
Show your bean bag tossing skills at this annual tournament, which grows every year. Register for Cornhole Tournament to participate.
Alumni Celebration, Main Quad, 12 to 3 p.m.
Be sure to check out our newest event, bringing graduates back to the quad to celebrate on their campus. There will be a BBQ lunch available for purchase from 12 to 2 p.m., with a beer garden for those over 21 years of age. Get some selfies in our photo booth with an M&M chair, pose with the school seal, or check out other Fitchburg State memorabilia. There will also be an "amnesty tent" for anyone looking to return any Fitchburg State property that may have turned up in their closet or garage. No questions asked!
This event will also include the Falcon Walk for members of the Class of 2020 who were not able to enjoy an in-person commencement because of COVID-19. Class of 2020 grads can get professional photos in their caps and gowns while family and friends cheer them on! You must have pre-registered for this event to participate. We are unable to accommodate walk-ins.
Football Game, Elliot Field, 3 p.m.
The Falcons take on Bridgewater State in the signature athletic matchup of the day. 
Food and desserts will be available for purchase at the field, along with activities like axe throwing, a mechanical bull, and a photo booth.
Half-time will include a performance by our cheerleaders and our Dance Performance Team, along with a contest featuring a chance to win $500 toward tuition and fees.
Free T-shirts will be given to the first 500 fans in attendance!
50th Reunion Dinner, Hammond Hall Main Lounge, 6 to 9 p.m.
Alumni from the classes of 1970 and 1971 are invited to join your classmates for dinner as we celebrate your 50th reunion. Cash bar (beer and wine only) will be available. Bring photos and memorabilia, reminisce and reconnect. Register in advance for dinner.
Comedy Show, Falcon Hub, 8 p.m.
Featuring comedians Jared Goldstein and Teresa Lee. Free admission and food!
Sunday, Oct. 3
Alumni Awards, Hammond Hall Main Lounge, 9:30 a.m.
This invitation-only event will feature the presentation of our annual alumni awards.