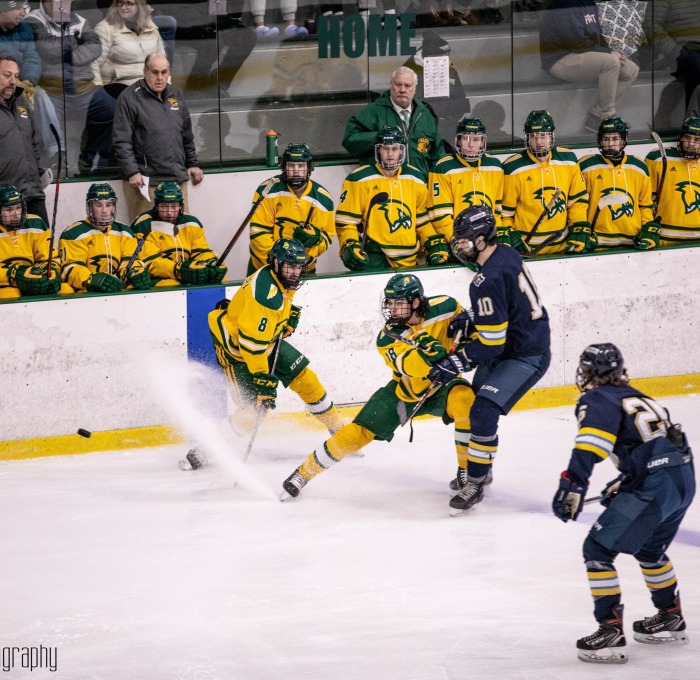 Go Falcons! 
Our students succeed in the classroom and on the playing field. Our varsity teams are members of six intercollegiate athletic associations, and we are a member of the Massachusetts State Collegiate Athletic Conference (MASCAC), which includes seven other state colleges and universities.
Intercollegiate Sports: NCAA Division III
Fall:
Football — Men
Soccer — Men and Women
Field Hockey — Women
Cross Country — Men and Women
Volleyball — Women
Winter:
Ice Hockey — Men
Basketball — Men and Women
Indoor Track — Men and Women
Spring:
Softball — Women
Baseball — Men
Track and Field — Men and Women
Lacrosse — Women
Athletic Facilities
Wallace Civic Center ice rink
Weight training rooms
NCAA basketball arena with seating for over 1000
Baseball and softball fields
Outdoor athletic facility, Elliot Field, includes a synthetic turf field, an 8-lane track, lighting, seating for over 1500
Fitchburg Falcons Website

Show your Falcon Pride, get some apparel
Check out the Burg Blog for pictures from our National Collegiate Athlete Honor Society.
Questions? Get in touch!
Oversees the university's 17 NCAA (National Collegiate Athletic Association) Division III teams.
Rec Center 211