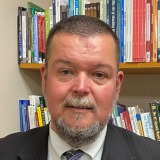 All of us are being asked to do things differently, so none of us feels alone. I think the way teachers work is going to change.
Educators across the country found themselves having to radically reinvent their professions in the wake of the COVID-19 pandemic. For Norton Public Schools Superintendent Joseph Baeta '92, the challenges will be enduring.
"We're in total non-normal right now," he said, expressing concerns that staff members who are nearing retirement age may decide they have had enough of what was already a stressful profession. "It's a whole different dynamic, for the students, for the staff, for the families."
While many are concerned about students' regressing in their learning, Baeta is confident that students can learn in a variety of settings. "I'm more worried about their social/emotional well-being," he said. "I'm worried about the long-term implications of this period and what it means."
For Baeta's district, that includes trying to find ways to honor graduating students and reschedule rites of passage like the prom. He's confident that today's students will be resilient enough to weather these challenging times.
Baeta's own career began soon after he graduated from Fitchburg State, where he was choosing between a life in education or pursuing a law degree. He took the entrance exam for law school but a friend's father offered him a job as a full-time, one-year substitute teacher, and he had found his path. "I got to see the world as a teacher," Baeta said, describing work in vocational-technical schools as well as in districts with severe poverty as well as affluent communities. For seven years he has been superintendent in Norton.
The challenges of the pandemic blur a lot of lines.
"All of us are being asked to do things differently, so none of us feels alone," said Baeta, who thinks the opportunities of online education will have far-reaching effects for traditional and special education models. "I think the way teachers' work is going to change."
This story was first published in the Summer 2020 edition of Contact, the university's alumni magazine.