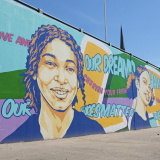 The health of a city is often seen mostly in economic terms, but public art projects can shift the focus to the creative, cultural richness of the community and its role in urban revitalization.
Fitchburg State has long embraced the importance of supporting the city beyond the borders of campus, and this summer that included some fresh paint and a lot of artistic expression.
Several Falcons played key roles in the design and creation of a series of major public art murals that were unveiled this summer. The Community Mural Institute led the effort, which supported 12 artists in the design and creation of pieces on large public facades in the heart of the city.
Jon Allen '13 has created several downtown murals and was eager to pursue the opportunity for another installation when he saw the call for artists this spring.
"I love the idea of art being available to the public," he said. "I lived in New York City for 10 years from 1999-2009, and I did the gallery grind for a while, and the politics of the art world in general really left me deflated and disillusioned. I hated the elitism of it, and I became more and more interested in public art as a means to bring an outdoor gallery to everyone."
Allen's design for this project was created at the east end of Boulder Drive, created in collaboration with the Spartacus Youth and Teen Center at the local YMCA. The mural, designed by Allen with fellow artists Jennessa Burks and Keenan Cassidy, features portraits of five city teens before the word "LAUNCH, along with the phrases "Our dreams have power," "Our voices matter," and "We are survivors." The students featured in the mural were at the dedication ceremony this summer.
"They were really great and so excited to be a part of this process," Allen said. "I love the fact that I was able to portray young people in our community in a mural. It was really fun and inspiring. Seeing my work embedded in the community feels good, and I am proud of each piece that I have done. The euphoria of completing a new mural always happens the first moments after you finish the last brush stroke, but as a professional I am always looking forward to the next project. Overall I hope that my work can serve as a basis to facilitate more arts in the area."
Another mural on Boulder Drive, across from Viola Tire, was designed in collaboration with the city's Art Stewards program. That colorful scene, featuring butterflies and children and a man playing music, includes the text "Art is Healing, Art is Community, Art is Innovation." Amber Haney '18 was part of the team that created the mural.
Haney traces the roots of her involvement in community-engaged public art projects to her time at Fitchburg State, when she was in the Active Minds club (which supports mental health awareness and education).
"My passion for public art, particularly that centered around wellness and healing, carried with me throughout my community work as an artist and my master's program at Lesley University, where I earned a degree in mental health counseling with a specialization in art therapy," said Haney, who published her graduate thesis on the power of public art. "Since then, it has been my mission to gather all the data I have collected through my education, connection to the community, and experiential learning through arts practice to support, engage in, and create community public art projects. I trust that there will be many, many more to come."
Monique Guthrie '18, who uses the name Monique Reverie in her artistic endeavors, worked as part of the team with Haney to bring the lead artist's design to fruition. She said she was inspired to help create public art that makes people challenge their beliefs. 
"This mural was not my project to design as an assistant artist, but my graphic design skills have contributed to previous murals I have created," said Reverie, whose public mural work includes an installation at the Fitchburg Public Library.
"The walls of buildings can convey vision and voice, which can be seen every day by residents and visitors alike," she said. The downtown murals created in the recent program centered around giving a voice to underrepresented groups in public art, including people of color, youth voices, LGBT+, minorities and women. "It makes me feel such a sense of pride to have created murals in Fitchburg and even more so to know I am making the community a brighter place to live and be." 
Professor Petri Flint of the Humanities Department was also part of the mural project, working with a team of five artists on a mural celebrating the life and work of local civil rights activist Adrian Ford. The mural, including Ford's likeness and words, is located on a parking structure between Main Street and Boulder Drive.
"I have many years of experience painting and teaching art, but recently I've also been thinking a lot about the role of art in fostering a more public, community-oriented dialogue, so I was excited when I heard about the opportunity to apply for a position working on this project in Fitchburg," Flint said. "This project was a huge learning experience for me, both in terms of the technical aspects involved in the specific technique we used and the process of creating public artworks where the design concept is developed through community engagement."
Flint said he appreciated how the murals were developed as community-engaged works of art. "The health of a city is often seen mostly in economic terms, but public art projects can shift the focus to the creative, cultural richness of the community and its role in urban revitalization," he said. "On a purely visual level, it is great to be able to walk or drive around downtown Fitchburg now and see what had been blank brick or concrete walls transformed into engaging artworks, but the fact that each mural also celebrates the good work that is being done by community organizations around Fitchburg makes it that much more meaningful."
Haney said she loves seeing her work displayed for the public. "Seeing the finalized work in the community affirms that art matters, community matters, and our voices matter," she said. "Fitchburg State has nurtured a creative nature in me that has allowed for creative problem solving, teamwork, and trust in the process of creating and publicly sharing artwork. Fitchburg State is where I learned my talents and aspirations as they related to art; it is where I learned about community-engaged art, the healing qualities of art in human service work, and where I learned that I wanted to pursue a career in art therapy."
Flint, who had Haney and Guthrie as students, said he hopes to develop a new, project-based studio art course to teach the techniques and approaches that were used in this mural project. "I'd love to see Fitchburg State continue to contribute to making the arts central to Fitchburg's identity," he said.