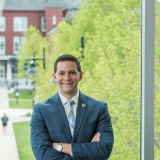 A Fitchburg State education has opened every door that was presented to me.
Michael Kushmerek '08, '13 can truly say he found his calling at Fitchburg State.
The Saugus native faced a number of challenges at home, encountering substance abuse and mental illness in his family. A high school dropout, he first set eyes on Fitchburg State when he tagged along with a high school friend for a campus tour.
"I knew right away it was the perfect fit," Kushmerek recalled. "It was exactly what I was looking for – large enough to get lost in my personal experience, but small enough that I knew I'd know my fellow classmates, and my professors would know my name. I got to meet the president of the university on my tour, and that spoke to how approachable the campus and staff were."
By demonstrating his seriousness as a prospective student, Kushmerek was granted admission and set about charting his course. "I had no idea what I wanted to do," he said. "In the absence of that, I wanted to do something I was passionate about."
His first class at Fitchburg State was a course on the history of ancient arts taught by Professor Robin Dinda of the Humanities Department. "He really challenged us to leave our preconceived notions at the door," Kushmerek recalled. "That was the first time I was intellectually stimulated."
He liked the sensation, and found a passion for history.
"History was something I was really able to sink my teeth into," Kushmerek said. "From the classics to modern political and U.S. history, it allowed me to take a broad-based look at the interconnectedness of the world."
Coursework in sociology, psychology and English furthered that perspective. "It made me appreciate that nothing happens in a silo," Kushmerek said. "There's a foundational approach to everything we do, and without that foundation, you're nowhere."
He majored in history and political science, and also completed minors in criminal justice and French, with his linguistic skills getting a boost by studying abroad in France.
Kushmerek had found his home at Fitchburg State, and after graduating began working in its Office of Alumni and Development. Beyond his day job, however, Kushmerek had a desire for public service. He won a seat on the Fitchburg City Council in 2014, and served as the Ward 4 representative for five years before being elected councilor-at-large. His colleagues elected him council president in 2016, where he presided over the council meetings and worked closely with the mayor's office and the regional legislative delegation on issues facing the city and region.
Fueled by a passion to serve his community at the state level, Kushmerek mounted a campaign for state representative for the 3rd Worcester District in 2020. He won that seat and began his term in the Legislature in January 2021, promising to advocate for mental health resources, public higher education, and helping businesses and families hard-hit by the COVID-19 pandemic. Kushmerek was re-elected in November 2022.
Kushmerek said he has loved in his time in the Legislature, and being able to serve his diverse constituency while representing his adopted hometown where he lives with his wife, Carissa (Scottfenton) Kushmerek, a licensed social worker and fellow double Falcon who completed her bachelor's degree in human services in 2011 and an MBA in 2020.
"If I had to do it all over again, I'd come back to Fitchburg State, definitely," Kushmerek said. "A Fitchburg State education has opened every door that was presented to me, including the doors to the Statehouse."