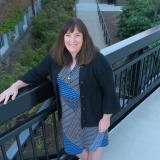 I'm so grateful to the people who listened to me and paid attention to me that I've adopted a pay-it-forward approach. I literally would not be here if folks hadn't taken the time to know me.
Professor Jannette McMenamy of the Psychological Science Department found her passion when she took her first college psychology class.
"Once I started psychology, I just absolutely loved everything about it," she recalled of her early days at Holy Cross in Worcester. "It was the perfect combination of everything I enjoy: asking deep questions about why people do what they do, think the way they think, and being able to do statistics and research. By the time I was a senior I knew I wanted to pursue a PhD."
That was a significant epiphany for the first-generation college student, who had never dared to dream of academia as a career path.
"Some of the strongest and most influential relationships I had were with my teachers," she said. "My parents, although they were hugely supportive, did not know the rules of the game when it came to applying to college or guidance. It was my teachers who made a huge difference."
McMenamy met her husband in college and they began a family as each pursued their advanced degrees. While McMenamy was writing her doctoral dissertation, one of her faculty mentors brought her along to work as a researcher. That post included teaching classes one night a week, and the experience refocused McMenamy's own career aspirations. Soon thereafter, in 2004, McMenamy was hired at Fitchburg State, and she has never looked back.
"At the most fundamental level, teaching makes you value and realize the tangible impact you can have," she said. "There are a lot of ways I can relate to our students, in terms of that first-gen experience and other experiences. The reality is, I have been a mom for a large part of my academic career, so I know what it's like to have to find balance with a competing set of demands that so many of our students experience. I'm so grateful to the people who listened to me and paid attention to me that I've adopted a pay-it-forward approach. I literally would not be here if folks hadn't taken the time to know me. More than anything, it really is the mission I live my life by. It's remarkable what has been done for me."
McMenamy said she is also inspired by her students and their perseverance. "I see a lot of our students in need of a champion," she said. "I see so many who really want to make a mark in this world, who have this honest and deep desire to do something and make a difference. So many of the students who come across my desk want to do counseling, or maybe they tried nursing and it wasn't so successful. They want to have a meaningful career and make a difference, but the pathway is not crystal clear in how to get there. By fostering that connection with students, by helping to provide clarity, they can do really amazing things."
Madison Cole, a 2019 graduate, was one of McMenamy's advisees and said the professor was a trusted source of counsel throughout her studies.
"When picking classes for the semester, I would first enlist in as many of Dr. M's courses as my schedule would allow and then fill in the rest," Cole recalled. "Her passion for the field of psychology and its subject matter is evident. Her teaching methods are interactive and stimulate students' thoughts to be engaged in what they're learning. Dr. M. always takes an encouraging approach that motivates you to work hard. Although her courses were never easy, she always provided all the elements you needed to succeed, and it was on you to utilize them."
Cole is now in graduate school and continues to seek McMenamy's guidance. "She was a pivotal mentor in my academic career and has continued mentoring me throughout graduate school and my professional career," said Cole. "Even after graduating, she has continued to answer my persistent questions. All along the way, Dr. M has imparted knowledge to me and served as the most remarkable mentor I could have ever asked for."
McMenamy said feedback from former students is powerful fuel.
"What I love more than anything, you'll be coming into work and thinking about what I need to do today. Then all of a sudden an email pops up from a student you had in 2009, and you open that email, and it says something like, 'Hey Dr. M, I was thinking about you today, and I just wanted to let you know what I'm doing now. I'm not sure you remember me, but I wanted to let you know and say thank you, and hope you have a great day.' There is no better way to make someone have a great day than that popping up in somebody's inbox."