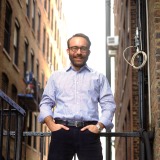 In any career path, you're always communicating. It's important you're describing things coherently and consistently, whether it's in a design document or an email or making a pitch to an investor.
Randy Meech '97 wasn't sure where his studies would take him. A self-described late bloomer, the Billerica native enjoyed high school English and was interested in film. Early on at Fitchburg State, he found himself responding to courses in communications and history.
"What I liked about Fitchburg State was, if you applied yourself you got noticed by the faculty," he said. He missed the energy of mounting theater productions in high school, so was encouraged by Professor Chola Chisunka (English Studies) to help restart the dormant Falcon Players student theater troupe.
"If I look back, that's really what I learned the most from," he said. "You want to do a play? You need to get the budget, you need to sell ads, you need to get approval from the Student Government Association. Then you need to build a set, and work with the electricians. That was a really big practical education. Now, working in start-ups, it's the same thing: bringing something from nothing."
Meech was a sophomore when he was producing a play written by another student. The production went over its approved budget, so Meech had to approach then-President Vincent J. Mara for assistance. "It was the scariest meeting I ever had," he recalled with a laugh. "He put the screws to me a little bit, but he gave us the funds in the end."
As an undergraduate, Meech was always interested in the religious aspects of the English and history courses he took. He went on to get his master's degree from Harvard Divinity School, but emerged from school into a challenging job market. He had done some basic website updating for the American Repertory Theater while in school, and looked for additional jobs in that arena. "I just became more technical," he said. "As the economy collapsed, I built up my skill set."
He landed at Google in 2002 and spent five years there before launching his career in start-ups. For the past 12 years, he has worked in maps, helping to build software that supported open source maps. "I got hooked on the idea that these maps could be updated by the community," he said.
He worked for large companies and smaller entities, with one of his ventures being acquired last year by Snap, Inc. (operators of the hugely popular Snapchat), where he is now director of engineering for maps. "We want to facilitate meeting up in real-time with real friends," Meech said, adding that privacy settings keep these applications safe.
Meech said the lessons he learned on the Fitchburg State campus still resonate. "You're learning the subject matter, but you're also learning about the clarity of your arguments," he said. "I code a little, but most of what I do is reading and writing. In any career path, the higher you go, it's still a sales job. You're always communicating, and it's important you're describing things coherently and consistently, whether it's in a design document or an email or making a pitch to an investor."
This story originally appeared in the Summer 2021 edition of Contact, the university's alumni magazine.